Recreation and Special Events
Portugal Cove-St. Philip's has much to offer its residents and visitors. With annual festivals such as our Winter Carnival and Regatta Festival, there is also have a variety of events every month, including an Environment Fair, Community Awards, and celebrations of the holidays. Please check back as we are always coming up with new ways to celebrate living in this great town in this fantastic province!
Many of our programs require online registration and payment through eServices. If you are a resident and you have not yet used eServices to pay for a program in PCSP, you will be prompted to enter a "sign up key" the first time you use eServices. Please contact Joe Donkers, Accounting Technician, at 895-5666 or [email protected] to receive your sign up key. If you are living in a rental property in PCSP and you are not the registered owner of the home, you will need to sign up as a guest account and you will not require a sign up key.
---
Upcoming This Season
October 27th, 2019: Drive-In Movie & "Trunk" or Treat
Come out on Sunday, October 27th, 2019 at Voisey's Brook Park for a screening of Hotel Transylvania 3! Starts at 6pm. Cost is $10 per car. Please bring your own snacks! Registration begins Oct 15th on eServices.
Before the Drive-In Movie, join us for a new PCSP celebration: Trunk or Treat! Park your car by 4:30pm to participate in the halloween fun. Children will trick or treat between the trunks of each car from 4:30 – 5:30pm to collect their snacks for the movie at 6pm! Just like halloween night, parents are asked to please bring treats to exchange with other cars and open up your trunk to let everyone know you are participating.
Pre-registration is required for Trunk or Treat and the Drive-In Movie through eServices.
---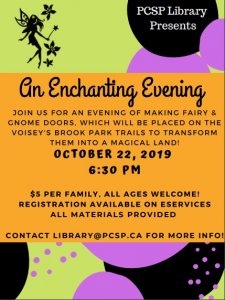 October 22, 2019 – An Enchanting Evening
Join us for an evening of making fairy and gnome doors, which will be placed on the Voisey's Brook Park trails to transform them into a magical land!
This event is $5 per family, all ages welcome! Registration is available now on eServices. All materials provided.
If you're interested in learning more, please contact our Librarian, Elyse, at [email protected]
---
September – November, 2019: Fall Fitness Classes
Join us for Fall Fitness in the Town of PCSP! Grab your friends and come out for a range of unique and challenging classes. There are classes available for people of all fitness levels, including: Adult Fitness, Yoga, Zumba, Tabata, and Seniors Sit n Fit! Contact [email protected] to register or call 895-5671.
---
November 5th, 2019: Guy Fawkes Night
Guy Fawkes Night is a night steeped in history and tradition, dating back to 1605. Bonfire Night or Guy Fawkes Night always takes place on November 5th, the original night of the Gunpowder Plot, and this year will take place on Tuesday, November 5th, 2019. The Town invites the community to come out enjoy a great bonfire, roast marshmallows, and have some
---
November 9th, 2019: Babysitting Course
Registration is now open through eServices for the next babysitting course! Youth ages 11-16 are encouraged to take part in our Babysitting Course, which is facilitated by the Canadian Red Cross and First Aid Vitals. If you would like further details, contact Mike Stone at 895-5671 or [email protected]
---
November 23rd, 2019: Stay Safe Course
Are you between the ages of 9-16? If so, check out our Stay Safe Course! Learn the skills to stay safe when you're on your own at home or in the community. The next Stay Safe at Home Course is taking place on Saturday November 23rd, 2019 from 9:00am – 3:00pm in the PCSP Library. The cost is $50.00 To register now, visit eServices. Space is limited!
---
Come by the PCSP Library this season for a range of exciting events for the whole family. There's always something fun happening at the Library! Check out the Library Page for all the details.
If you have any questions, reach out to our Librarian, Elyse, by calling the Library at 895-5655 or email [email protected]
---
Events Throughout the Year
Special Events
Expos and Fairs
Sports
Groups
Local Competitions
Seniors Events
Camps
Fitness Classes
Courses/Classes
Library
Grants
Schools
Check out our school newsletters for all the latest updates on town events and programs for our local students!
Send us a Message