Recreation and Special Events
Portugal Cove-St. Philip's has much to offer its residents and visitors. With annual festivals such as our Winter Carnival and Regatta Festival, there is also have a variety of events every month, including an Environment Fair, Community Awards, and celebrations of the holidays. Please check back as we are always coming up with new ways to celebrate living in this great town in this fantastic province!
---
What's On This Season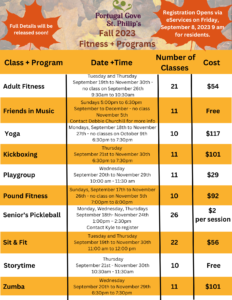 Our Fall 2023 Fitness and Programs Schedule is here! The Fall Programming 2023 Overview document, which includes all you need to know about class offerings, including rules, what to bring for each class, what to expect and further information, will be released shortly.
---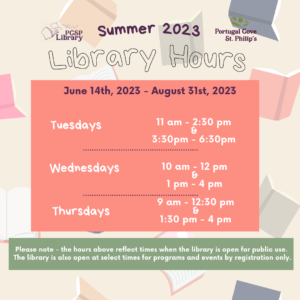 2023 Summer: Library Programs and Events
Join us in the PCSP Library Tuesdays, Wednesdays and Thursdays to see what's new on our shelves, read on our comfy couches, and check out a book with new adventures to be told. Our Summer hours are in effect from June 14th, 2023 to August 31st, 2023.
---
eServices
Many of our programs require online registration and payment through eServices. If you are a resident and you have not yet used eServices to pay for a program in PCSP, you will be prompted to enter a "sign up key" the first time you use eServices. Please contact Joe Donkers, Accounting Technician, at 895-8000 (ext. 260) or [email protected] to receive your sign up key. If you are living in a rental property in PCSP and you are not the registered owner of the home, you will need to sign up as a guest account and you will not require a sign up key.
---
Events Throughout the Year
Special Events
Expos and Fairs
Sports
Groups
Local Competitions
Seniors Events
Camps
Fitness Classes
Library
Community Garden
Grants
Commemorative Program
---
Parks & Facilities
Send us a Message