Recreation and Special Events
Portugal Cove-St. Philip's has much to offer its residents and visitors. With annual festivals such as our Winter Carnival and Regatta Festival, there is also have a variety of events every month, including an Environment Fair, Community Awards, and celebrations of the holidays. Please check back as we are always coming up with new ways to celebrate living in this great town in this fantastic province!
Many of our programs require online registration and payment through eServices. If you are a resident and you have not yet used eServices to pay for a program in PCSP, you will be prompted to enter a "sign up key" the first time you use eServices. Please contact Joe Donkers, Accounting Technician, at 895-5666 or [email protected] to receive your sign up key. If you are living in a rental property in PCSP and you are not the registered owner of the home, you will need to sign up as a guest account and you will not require a sign up key.
---
Upcoming This Season
Celebrate the season with us in Portugal Cove-St. Philip's! We are very excited to offer a range of activities for the whole family! Check out the pages listed here for details on each event: Christmas Events 2021
---
We are excited to announce that pickleball sessions have been added to the schedule for the Rec Centre Series! No experience or equipment necessary. The cost to play is $2.00 per session. Must bring proof of Covid-19 vaccination & 1 piece of photo ID.
---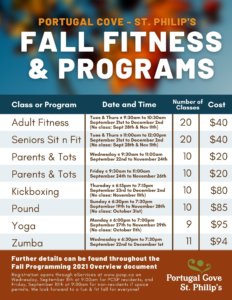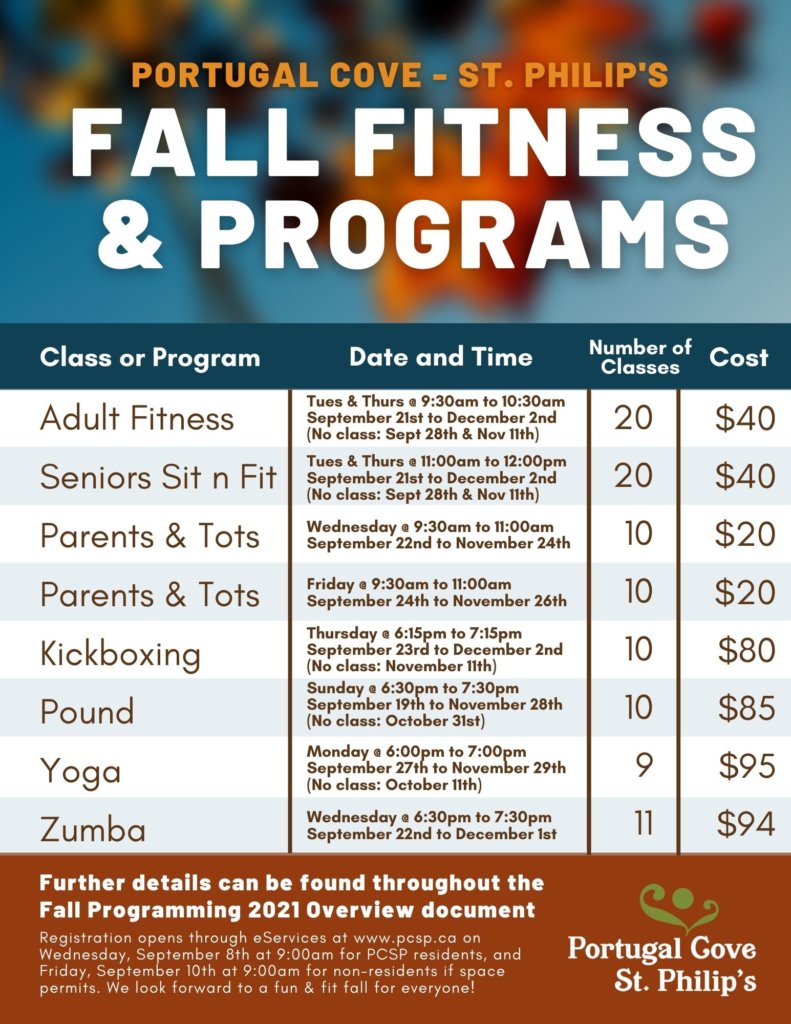 Fall 2021: Fitness and Programs
Try out one of our many exciting classes and courses in Portugal Cove-St. Philip's! There's something for people of all ages and abilities in our Town. Classes range from Yoga, to Zumba, to Seniors Sit n Fit, and lots more.
---
We are excited to announce the PCSP Library will re-open for public use as of November 1st, 2021! Check out the hours on the image here. Please note – the hours here reflect times when the library is open for public use. The library is also open at select times for programs and events by registration only.
---
Events Throughout the Year
Special Events
Expos and Fairs
Sports
Groups
Local Competitions
Seniors Events
Camps
Fitness Classes
Courses/Classes
Library
Community Garden
Grants
---
Parks & Facilities
---
Schools
Check out our school newsletters for all the latest updates on town events and programs for our local students!
Send us a Message