Recreation and Special Events
NOTICE:
The following changes to our recreation programming are in effect to to the ongoing COVID-19 situation.
The Town Hall has now opened for public appointments. In order to enter the Town Hall residents and businesses must schedule an appointment.
The Recreation Centre remains closed to the public for rentals. However, some recreation programming has resumed.
All other town building facilities are closed to the public until further notice. This includes the Library and Park Huts.
The following park facilities are now open:

Soccer Fields
Softball Fields
Basketball Courts
Skateboard Parks
Community Playgrounds (Rainbow Gully, Voisey's Brook, and Summerwood)
Washroom facilities at the park huts
All walking trails

Facilities to remain closed until further notice:

Library
Park hut buildings and canteens (except washrooms)
---
Portugal Cove-St. Philip's has much to offer its residents and visitors. With annual festivals such as our Winter Carnival and Regatta Festival, there is also have a variety of events every month, including an Environment Fair, Community Awards, and celebrations of the holidays. Please check back as we are always coming up with new ways to celebrate living in this great town in this fantastic province!
Many of our programs require online registration and payment through eServices. If you are a resident and you have not yet used eServices to pay for a program in PCSP, you will be prompted to enter a "sign up key" the first time you use eServices. Please contact Joe Donkers, Accounting Technician, at 895-5666 or [email protected] to receive your sign up key. If you are living in a rental property in PCSP and you are not the registered owner of the home, you will need to sign up as a guest account and you will not require a sign up key.
---
Upcoming This Season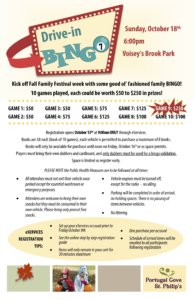 October 18th – 24th, 2020: Fall Family Festival
Due to the ongoing COVID-19 pandemic our Fall Family Festival will look a little different this year. Instead of a one-day event we will be expanding the festivities over a week!  Events will include:
Pumpkin Carving Contest
Spooky Stroll
Halloween Craft Time
BOO-KS are fun!
Drive in Movies
50 KM Run – See details
100 Km Bike Challenge – See details 
Halloween Rock Challenge
Drive-In BINGO
---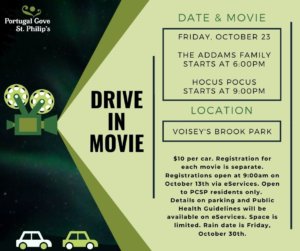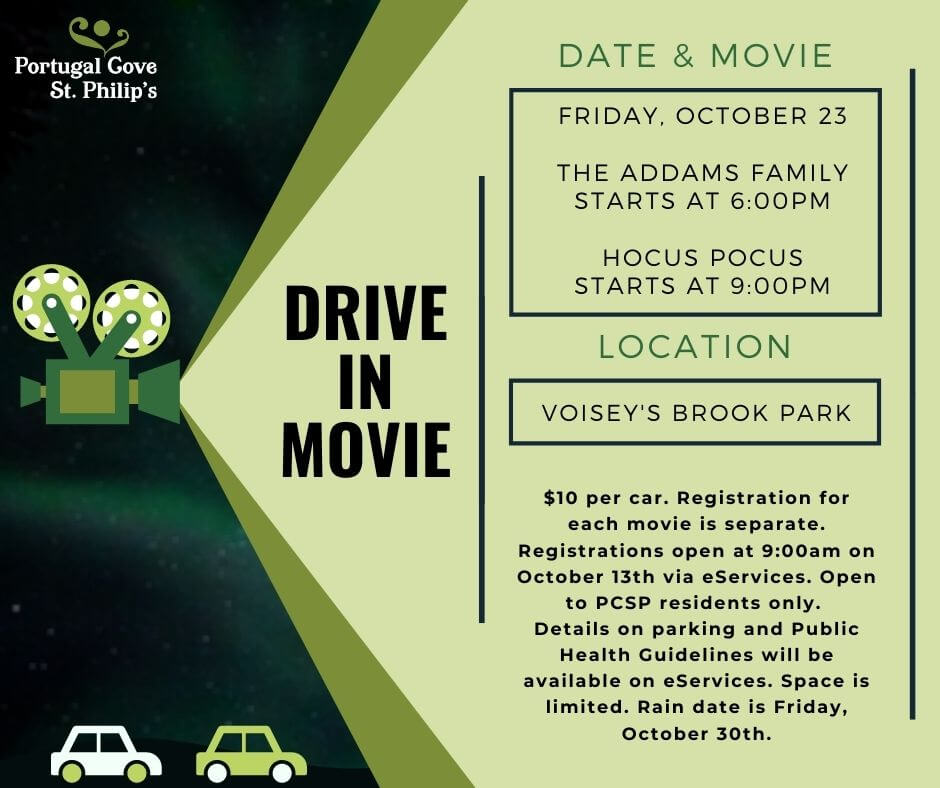 October 23rd, 2020: Drive-In Movies "The Addams Family" and "Hocus Pocus"
Get ready for a spooky screening in the dark at Voisey's Brook Park! As we celebrate Halloween, we're screening back-t0-back movies in the park.
Drive-In at 6:00pm for The Addams Family, or swing by at 9pm for a frightfully fun showing of Hocus Pocus!
---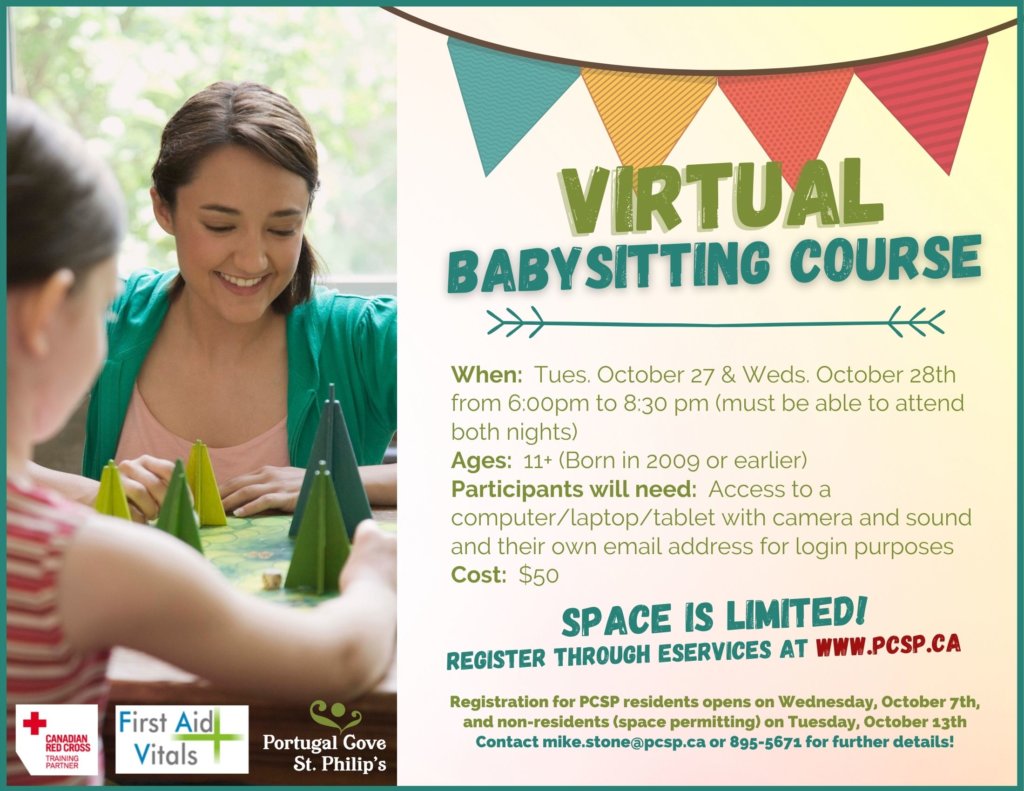 October 27th, 2020: Virtual Babysitting Course
Join us for an online babysitting course in partnership with the Canadian Red Cross and First Aid Vitals! Recommended for youth ages 11+. Check it out!
---
Fall 2020: Fall Fitness & Programs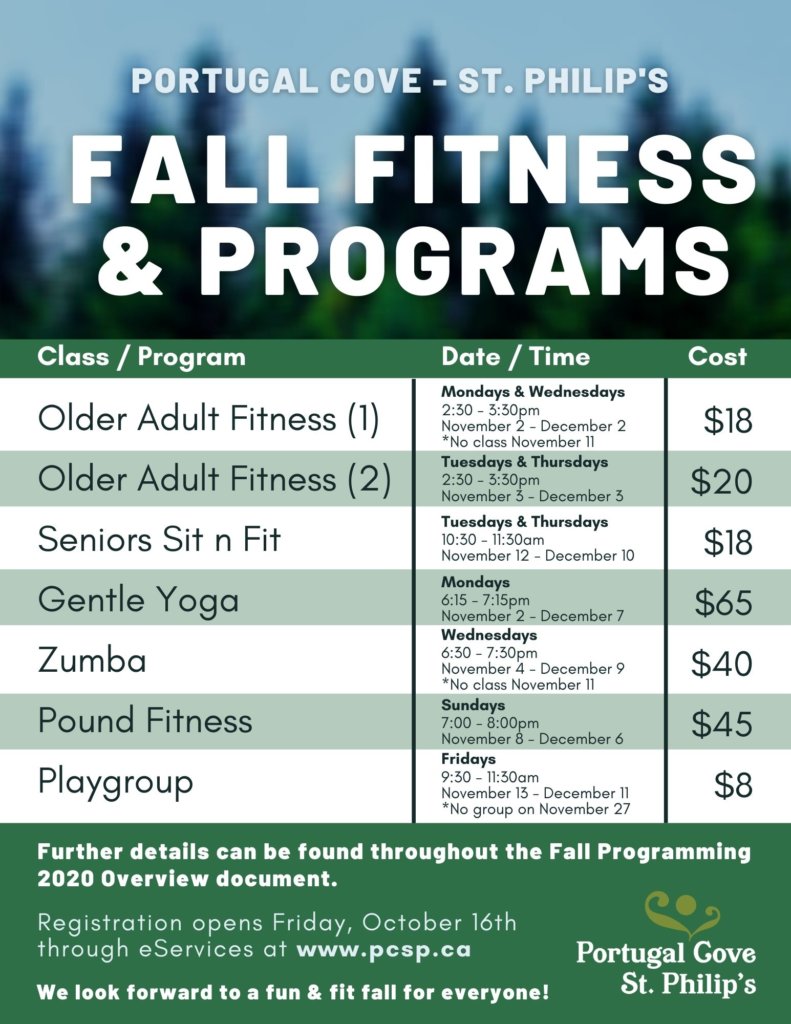 There's something for everyone in Portugal Cove-St. Philip's this Fall! Try out an old favourite or join in for something new. From Seniors Sit n' Fit, to Playgroup, to Zumba, we are sure to offer a class for you!
For fitness registration inquiries, please contact Mike Stone at [email protected] or call 895-5671.
---
Events Throughout the Year
Special Events
Expos and Fairs
Sports
Groups
Local Competitions
Seniors Events
Camps
Fitness Classes
Courses/Classes
Library
Community Garden
Grants
Schools
Check out our school newsletters for all the latest updates on town events and programs for our local students!
Send us a Message