Winter Carnival
IMPORTANT WINTER CARNIVAL EVENT NOTICES – FRIDAY, FEBRUARY 21ST AND SATURDAY, FEBRUARY 22ND
POSTPONED – Snow & Stars Hike (Friday)
Due to extreme cold conditions, the Snow and Stars Hike will not be going ahead tonight, Friday, February 21st, 2020. Please check back for updates as this event will be rescheduled in the coming weeks.
GOING AHEAD – PCSP Hiking/Walking Club – Winter Walk (Saturday)
On Saturday, February 22nd the Winter Walk in Voisey's Brook Park is a go! Join members of the PCSP Hiking/Walking Club on a tour of more than 4km of beautiful trails in Voisey's Brook Park. You are welcome to wear your snowshoes and bring your dogs (must be on a leash). Hot chocolate and refreshments will be served in the hut following the hike.
POSTPONED – Family Skate (Saturday)
While the ice depth is great, due to the strong winds and rain earlier this week, the surface of the ice is not conducive for skating. This event, which was originally scheduled for Saturday, February 22nd from 2-4pm at Murray's Pond, is postponed and will be rescheduled when weather conditions permit. We apologize for the inconvenience and appreciate your understanding.
GOING AHEAD – St. John's Edge Basketball Game (Saturday)
The basketball game is a go! We are very excited to have almost 300 people attending the game from PCSP! Important reminder: If you are getting the bus to the game, you must be at Beachy Cove Elementary by 5:00pm at the latest.
---
2020 Event Details: 
VIEW THE 2020 WINTER CARNIVAL GUIDE HERE!
The 2020 Winter Carnival guide is available to view online at the link above and it will be mailed to all households in Portugal Cove-St. Philip's in early February 2020. Due to the closures related to the winter storm event and state of emergency in January, there have been some delays in the printing of the guide this year. We apologize for any inconvenience and thank you for your understanding!
February 14th – 22nd, 2020
Sleigh Rides, Community Breakfast, St. John's Edge Game, Bingo, Cards and More.
This annual event provides opportunities to people of all ages to get involved and enjoy social and recreation activities during the winter season at several different venues around the Town. Residents are invited to come out, have fun, and take in the cool crisp winter air.  The week-long festival includes exciting events like the favorite community breakfast, card games, bingo, horse and sleigh rides and much more. It is guaranteed that there is something for everyone. Everyone is more than welcome to drop by any of the events to participate or observe the fun and activities being enjoyed by other groups.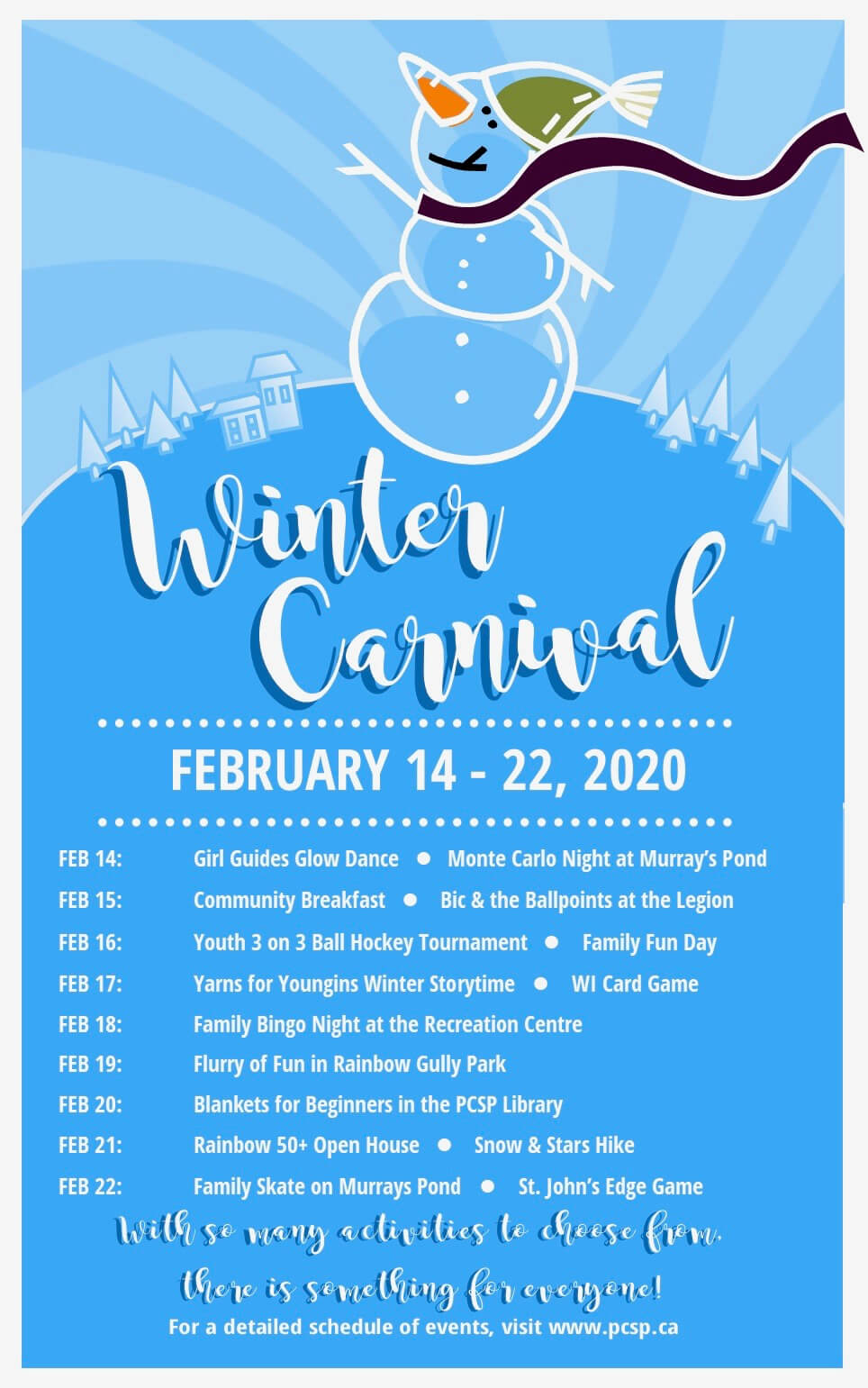 ---
Due to the delays caused by the recent winter weather events, there are some updates and new dates for Winter Carnival 2020 event registration outlined below:
Youth 3 on 3 Ball Hockey Tournament

New registration deadline: Wednesday, February 12th, 2020
Email [email protected] to register your team!
---
---
Blankets for Beginners – Thursday, February 20th, 2020

Registration will open on Friday, January 24th via eServices. For more information please contact Nicole Clark at 895-5662 or

[email protected]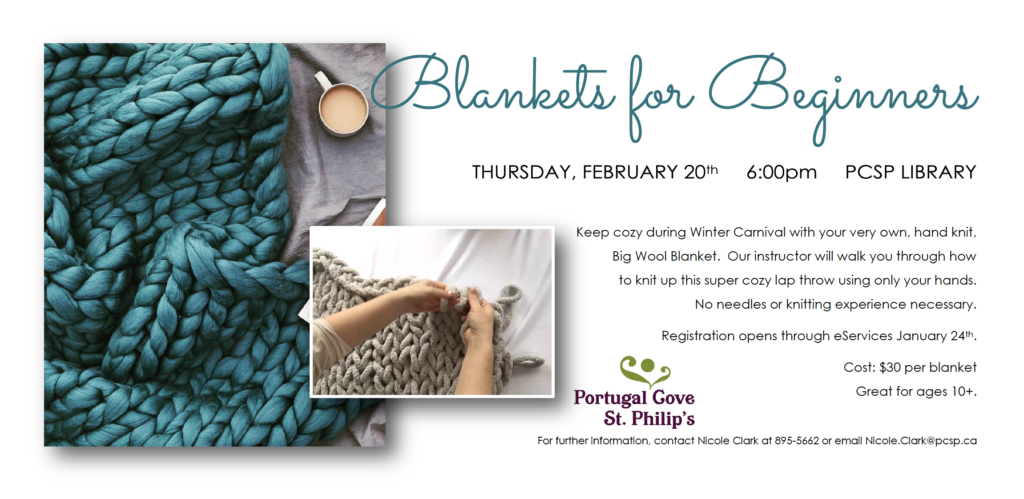 ---
Bic and the Ballpoints Concert – Saturday, February 15th, 2020

Tickets go on sale Monday, January 27th at 10am (this date has not changed)
Tickets will be available through eServices and a limited quantity will be available at the Town Office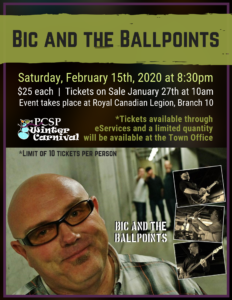 ---
Girl Guides Event – Glo Dance

Grades:

K-3 at 6:30-7:30pm
4-6 at 7:45-8:45pm
7-9 at 9:00-10:00pm

Wear white or bright colour to glow
Admission $5
Canteen Available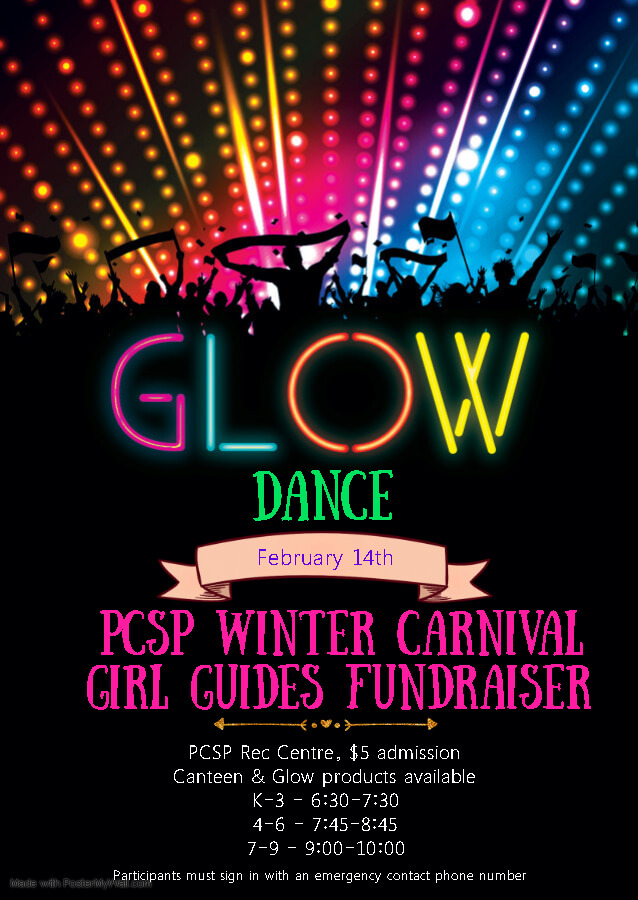 ---
Monte Carlo Night at Murray's Pond Fishing and Country Club

NEW DATE: Saturday, March 21st, 2020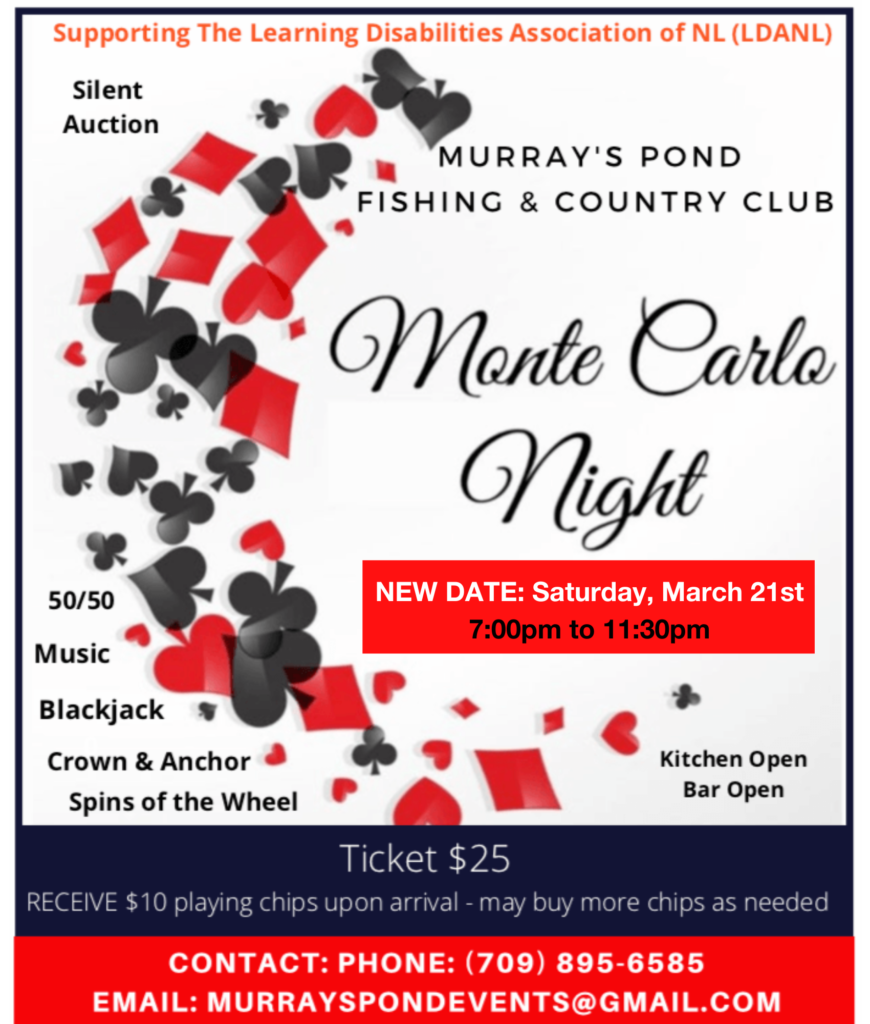 ---
Registration through eServices
Many of our programs require online registration and payment through eServices. If you are a resident and you have not yet used eServices to pay for a program in PCSP, you will be prompted to enter a "sign up key" the first time you use eServices. Please contact Joe Donkers, Accounting Technician, at 895-5666 or [email protected] to receive your sign up key. If you are living in a rental property in PCSP and you are not the registered owner of the home, you will need to sign up as a guest account and you will not require a sign up key.
---
Send us a Message