Winter Carnival
2019 Event Details: 
February 8th – 17th, 2019
This annual event provides opportunities to people of all ages to get involved and enjoy social and recreation activities during the winter season at several different venues around the Town. Residents are invited to come out, have fun, and take in the cool crisp winter air.  The week-long festival includes exciting events like the favorite community breakfast, card games, bingo, horse and sleigh rides and much more. It is guaranteed that there is something for everyone. Everyone is more than welcome to drop by any of the events to participate or observe the fun and activities being enjoyed by other groups.
---
Watch: 2019 Winter Carnival Bar Making Class Promo
Winter Carnival Promo: Bar Making Class

Looking to impress your valentine this year? Register online now for our Valentine's chocolate bar making class with Newfoundland Chocolate Company! ❤️🍫This event is a part of Winter Carnival in PCSP and it takes place on Tuesday, February 12th from 6:30 – 7:30pm at the Recreation Centre. Check out our website for more info: https://pcsp.ca/winter-carnival/

Posted by The Town of Portugal Cove – St. Philip's on Monday, February 4, 2019
---
The winning buttons numbers for 2019 are as follows:
Friday, February 8th: #23
Saturday, February 9th: #99
Sunday, February 10th: #29
Monday, February 11th: #64
Tuesday, February 12th: #79
Wednesday, February 13th: #11
Thursday, February 14th: #16
Friday, February 15th – 36
Saturday, February 16th – 94
Saturday, February 17th – 12
Weekly Prize Number – 52
Online auction in support of the Janeway:
During the week of

Winter Carnival in PCSP

, two awesome residents, Rachel and Julianne, are holding a Janeway Auction Fundraiser.

You can help support the cause by joining the group and placing your bids, here:
https://www.facebook.com/groups/340106740163264/
UPDATED SCHEDULE OF EVENTS: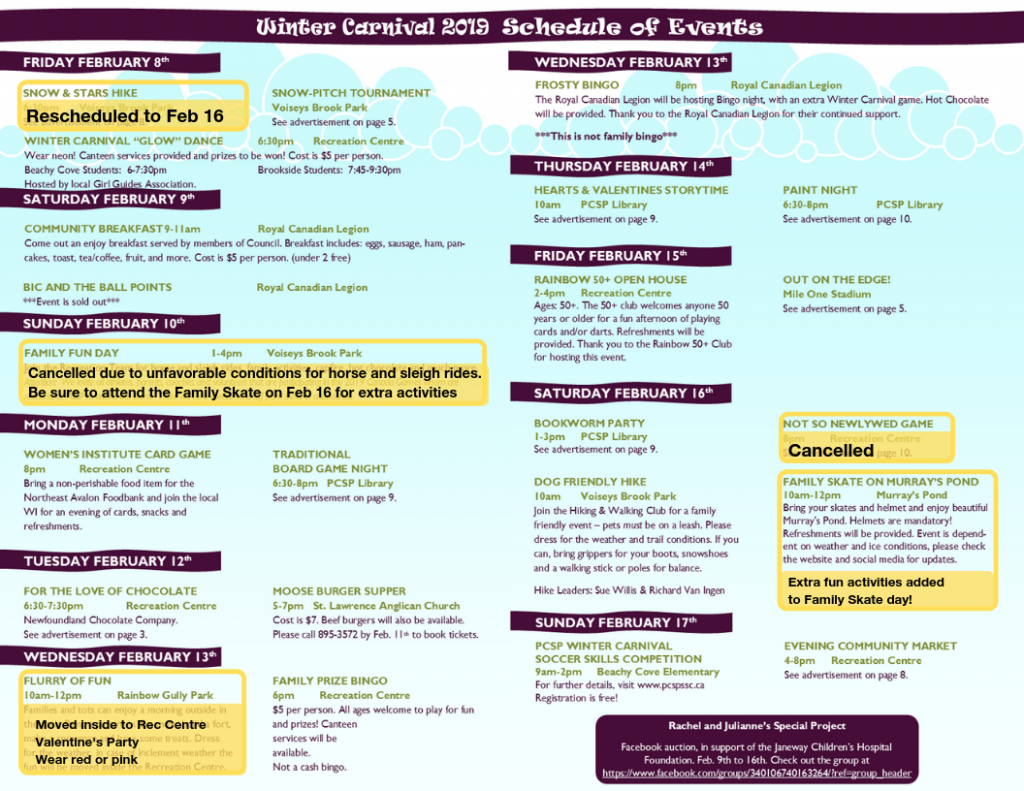 ---
Community Food Sharing Association Food Drive Information: 
In light of the devastating fire at the Community Food Sharing Association's (CFSA) warehouse and in addition to the regional efforts with our fellow municipalities, the Town of Portugal Cove-St. Philip's will be contributing a donation of $5000.00 to help mitigate the unexpected expenses now faced by the CFSA.
The Town is also encouraging residents to join in and support the cause by bringing non-perishable food items to any of the upcoming Winter Carnival events. The Town of Portugal Cove-St. Philip's food drive campaign is called "Snow Your Support: Fill the Fish Tub." There will be food donation bins available at each of the Winter Carnivals events from February 8th to 17th, 2019.
Registration through eServices
Many of our programs require online registration and payment through eServices. If you are a resident and you have not yet used eServices to pay for a program in PCSP, you will be prompted to enter a "sign up key" the first time you use eServices. Please contact Joe Donkers, Accounting Technician, at 895-5666 or [email protected] to receive your sign up key. If you are living in a rental property in PCSP and you are not the registered owner of the home, you will need to sign up as a guest account and you will not require a sign up key.
---


---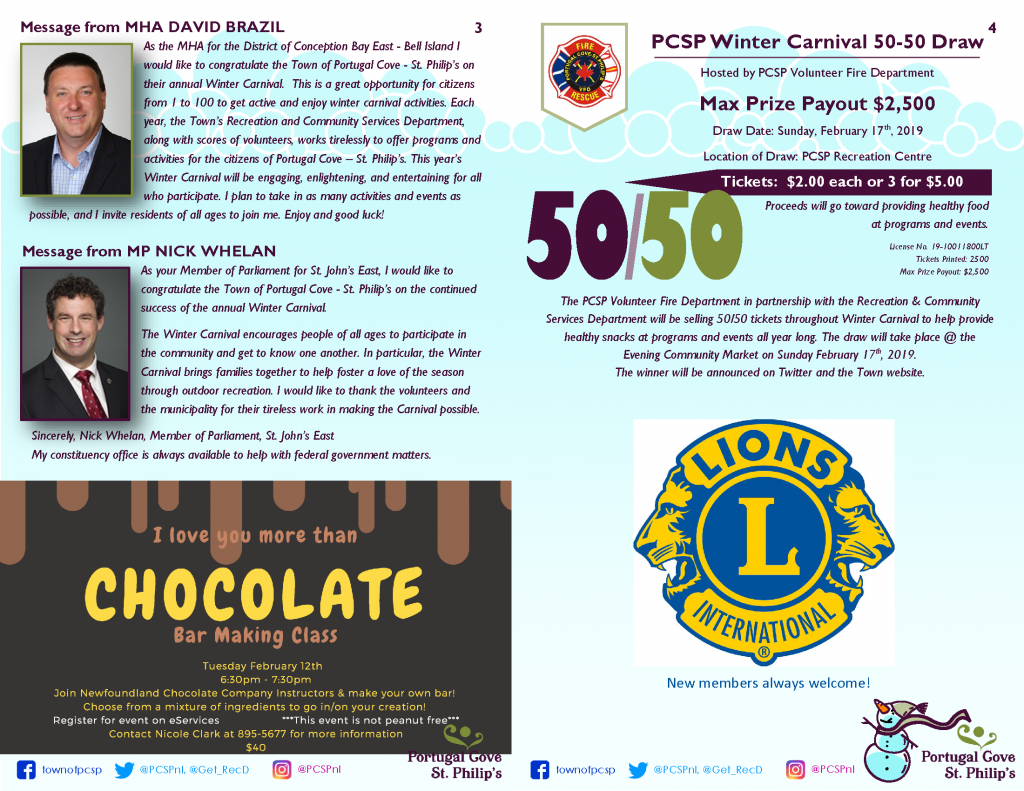 ---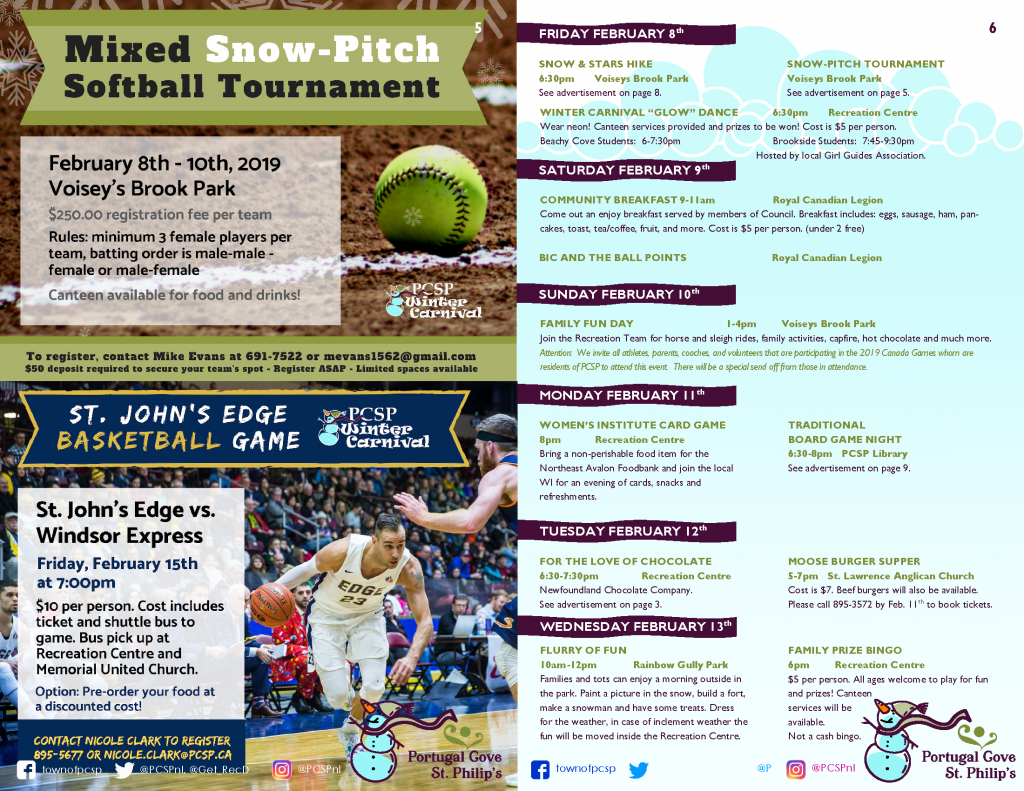 ---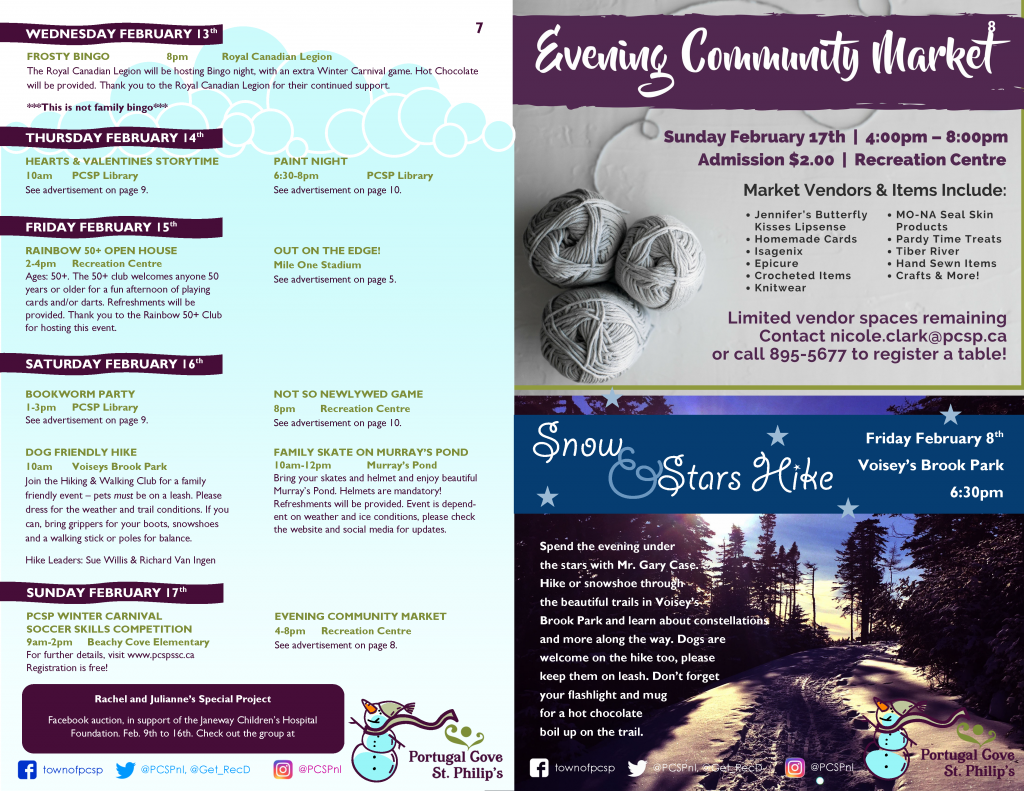 ---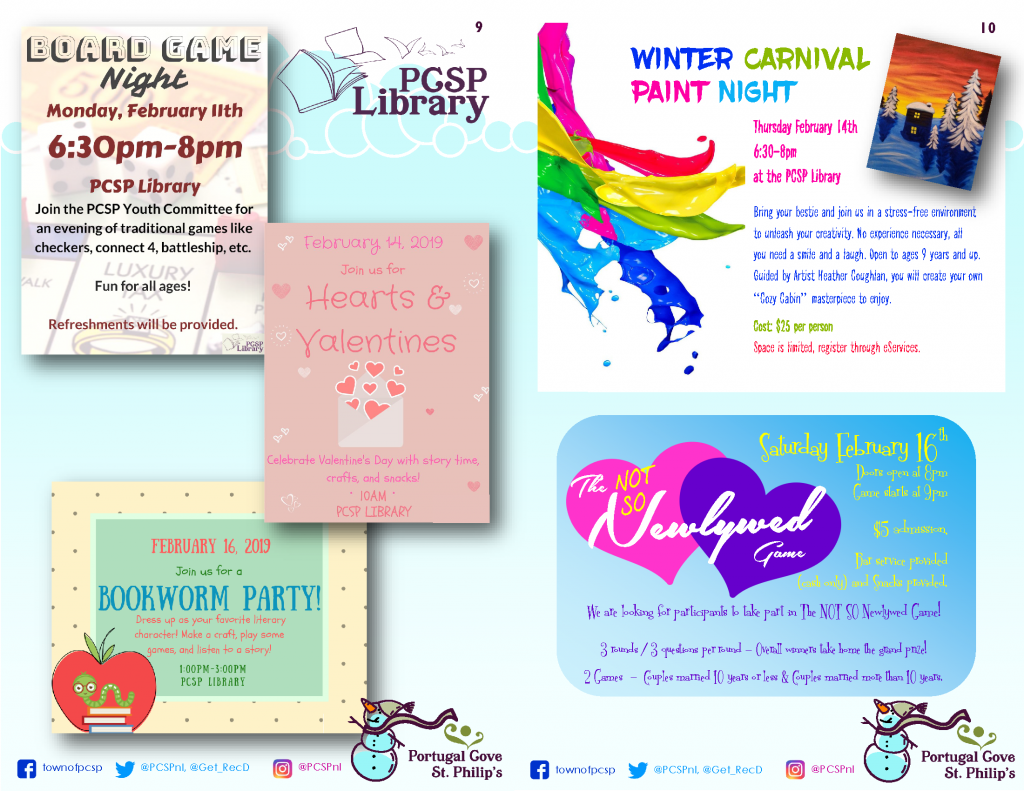 ---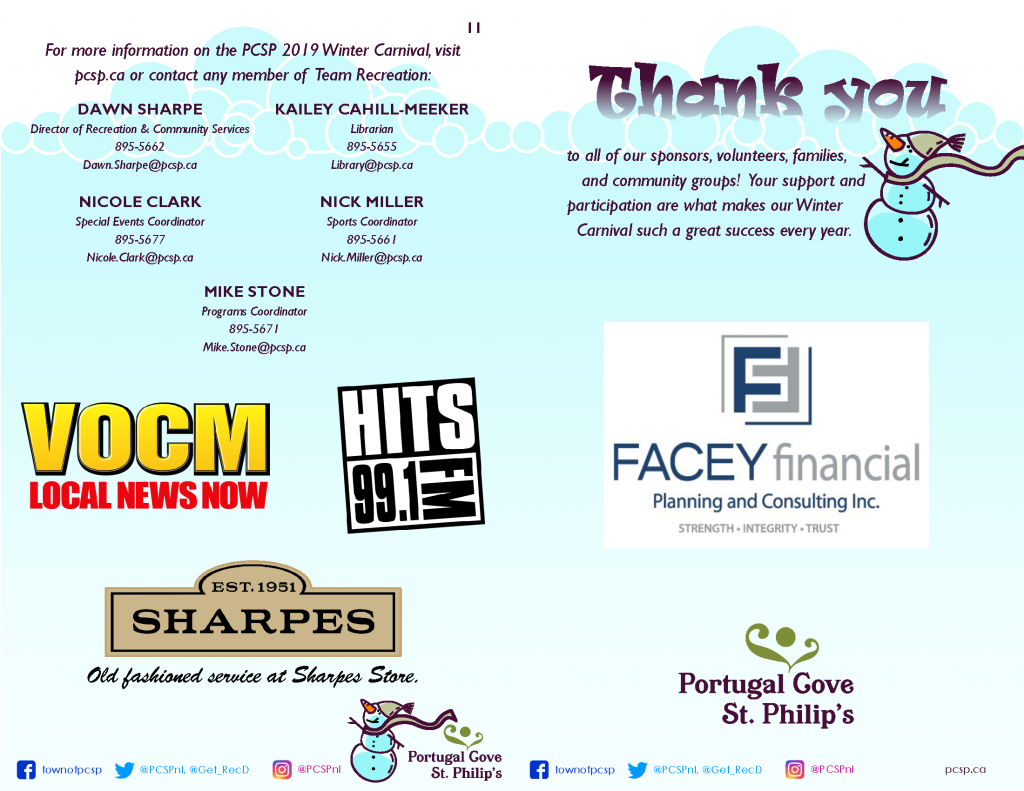 Send us a Message