Library
NOTICE: Due to ongoing concerns related to COVID-19 (Coronavirus) all Town facilities are closed to the public. This includes the Town Hall, Recreation Centre, Library and Park Huts. We have also made the difficult decision to temporarily postpone all upcoming recreation programs in Portugal Cove-St. Philip's.
This includes Easter Camp, Easter Scavenger Hunt, Spring Fitness, Babysitting Course, and Stay Safe at Home Course. Updates on new rescheduled dates for these programs will be posted as soon as they become available.
For our most current updates and advisories on COVID-19 (Coronavirus), please visit the page linked below:
---
Library Catalogue
Click HERE to visit the Online Library Catalogue 
Click HERE to learn how to use the Catalogue
---
Location & Contact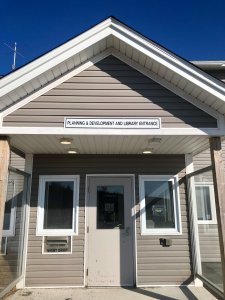 The Library entrance is located at the back entrance of the Town Hall, located at 1119 Thorburn Road. This entrance is also shared with Planning and Development.
Email: [email protected]
Phone: 895-5662
---
Winter 2020 Hours
** PLEASE NOTE THE LIBRARY WILL BE CLOSED AND LIBRARY PROGRAMMING WILL NOT BE GOING AHEAD ON MONDAY, MARCH 16TH, 2020 FOR THE ST. PATRICK'S DAY HOLIDAY **
Monday
9:00am – 11:00am
2:00pm – 5:00pm
Tuesday
3:00pm – 7:00pm
Wednesday
2:00pm – 6:00pm
During the above hours, if the door to the library is locked, please call the Librarian at 895-5655.
---
Membership

Borrowing Policy: Two week loan period of all material
Late Fees: $0.05 per day, per item
Any lost or damaged books must be replaced at cost.
The Membership Policy of $15 per family (or $5 per person) for 2019 includes library card, online catalogue access and entrance to all regular library programs (with the exception of tutoring, which is available at an additional cost). Membership is payable at the library, upon registration for library cards.
---
Library Events and Programs: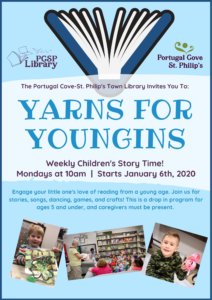 Yarns for Youngins – Mondays in Winter 2020 
Every Monday at 10:00am, children under the age of five and their families are invited to come by the PCSP Library for Yarns for Youngins. At this event, children will read a story and complete a craft. Participants will also sing a song, which is always lots of fun for all the boys and girls!
Admission to this weekly event is free for those with a PCSP Library Membership. If you do not yet have a membership, you can purchase one at the library for an annual fee of $5.00.
For further information, contact us at [email protected] or call 895-5662.
---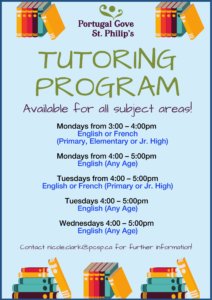 Tutoring and Homework Help
Tutoring is now available for the 2019 – 2020 school year in the PCSP Library! Our tutoring services are available for students of all ages, in all subject areas. We offer our services in French or English.
The current availability is as follows:
Mondays from 3:00 – 4:00pm

English or French (Primary, Elementary or Jr. High)

Mondays from 4:00 – 5:00pm
Tuesdays from 4:00 – 5:00pm

English or French (Primary, Elementary or Jr. High)

Tuesdays 4:00 – 5:00pm
Wednesdays 4:00 – 5:00pm
For further information, contact us at [email protected] or call 895-5662.
---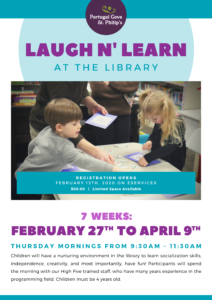 Laugh N' Learn – Thursdays in Winter 2020 
The Town of Portugal Cove-St. Philip's Library is excited to announce our new program for children: Laugh n' Learn! Children will have a nurturing environment in the library to learn socialization skills, independence, creativity, and most importantly, have fun! Participants will spend the morning with our High Five trained staff, who have many years experience in the programming field. Children must be 4 years old. This program runs for 7 weeks, from February 27th to April 9th, 2020. Registration open through eServices. The cost is $60.00 per participant.
---
Community Partnership:
Did you know? The PCSP Library will work with your group or organization for story time events! If you are is interested in learning more or hosting a story time visit from the PCSP Library, get in touch by email at [email protected]
Check out the photos below from a recent fire fighting themed story time event at Frances Little Friends Daycare!
---
Recent Library Programming Photos
Contact Our Staff
Send us a Message