Heritage
Our History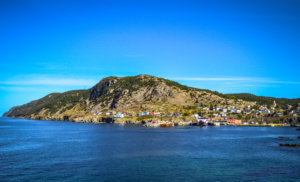 Portugal Cove
Portugal Cove is commonly thought to have gotten its name from the explorer, Gaspar Corte Real, who was commissioned by Ferdinand of Portugal to explore North America in the early 1500s. It is unknown whether Gaspar Corte Real actually set foot in Portugal Cove or merely named the area as he sailed by. According to oral history, two of Corte Real's sailors are buried atop the "Geeze", the land to the north of the ferry dock in Portugal Cove.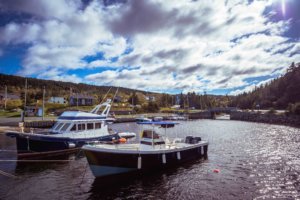 St. Philip's
St. Philip's was settled in the late 18th century. The first settlers were two men, John Squires and Robin Tucker who arrived in 1790. Squires settled the east side of Broad Cove and Tucker the west side. As Squires was more interested in farming than fishing and Tucker more interested in fishing than farming, the two men exchanged properties, the west side of the cove being more conducive to farming.
PCSP Today
Portugal Cove-St. Philip's was amalgamated in 1992, and has since rapidly grown to an estimated 8300 people in 2021. Many people come to the community to enjoy a rural flavoured environment, while still enjoying the amenities that larger centres have to offer. The Town is rich in history and is an excellent place to witness the spectacular views offered by Newfoundland's unique landscape.
---
"Memory Mug Ups" PCSP Oral History Interviews and Heritage Stories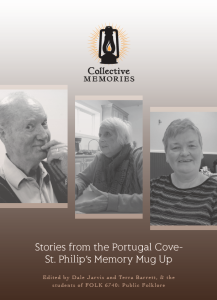 ---
Sights & Memorials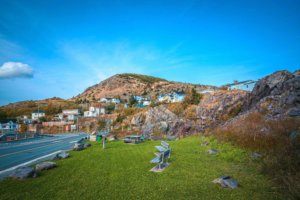 Emma Churchill Dawson Seniors Memorial Park 
Emma Churchill Dawson made a significant contribution to history by being the founder of the Salvation Army in Newfoundland. She was born in Portugal Cove where she lived with her family until she moved to Ontario as a young woman. In Ontario she was introduced to the Salvationists that were sent to Canada from England by General Booth. Emma became an officer of the Salvationist and moved back to Newfoundland. Once back in Newfoundland she held the first ever prayer meeting in 1883 and by 1886 she had officially begun a mission in Newfoundland.
Fanny Goff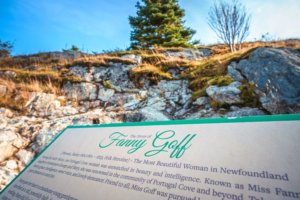 The Fanny Goff memorial site is located on Loop Drive right across from the War Memorial. The site includes a storyboard with the folklore story of resident Fanny Goff from the early 1800's and her headstone which was removed from her resting place several decades ago. The headstone spent some time in storage before it was donated to the Town of Portugal Cove- St. Philip's Heritage Committee.
The story of Fanny Goff is that she was one of the most beautiful ladies in Portugal Cove. She was known as a beauty inside and out and had a sweet voice that seemed to charm everyone she came across.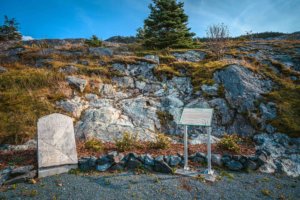 She had many suitors but she only had a heart for one. He was a young businessman from Brigus and they made plans to marry. The week before the wedding Fanny fell ill with typhoid fever and passed away. The news of her death did not reach Brigus in time and her husband to be found out that she had passed away while he was on his way to Portugal Cove to marry her. When he heard the news of her death he turned around and went to St. John's where he is said to have taken to bed and died shortly after of a broken heart.
Portugal Cove War Memorial
Located in historic Portugal Cove is a War Memorial site which was built in memory of those from the community who lost their lives during the first and second World Wars. The first monument was originally erected shortly after the end of World I, through generous donations from the people of Portugal Cove. After World War II, again through the support of community members, a second monument was built to remember those individuals. On November 11th, 2000, a third monument was erected by the Town with the names added that had been left off the original monuments, as well as adding names from the St. Philip's area.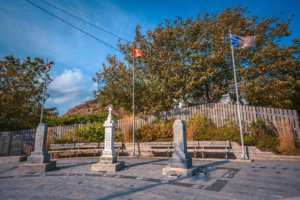 In 2015 the War Memorial site again saw several upgrades. The memorial was redesigned by the Royal Canadian Legion Branch 10 Portugal Cove- St. Philip's. They fundraised and received grants to add another monument, benches, and memorial stones. These upgrades also included the restoration of the 3 original monuments. 97 names were added to the memorial site. 36 from WWI, 54 from WWII, 4 from the Korean War, and 3 Peacekeepers. The site now includes the names of the places and boats that residents from PCSP served or died and the insignias from the original brigade where solders were recruited are etched into the memorial stones.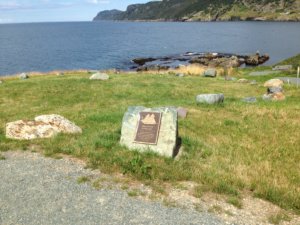 West Point Cemetery
The West Point Cemetery was designated a Municipal Heritage Site in 2013. In August 2004 human remains of 13 individuals were discovered during excavation of a housing development project on West Point Road. West Point Cemetery, also known as Wester Point or The Old Burial Ground, has been a source of mystery and folklore for over 200 years. Some of the found remains were sent to MUN for testing and to California for carbon dating. Local folklore says that the burial ground could have had sailors who perished before ships came ashore similar to that on North Point but is also a well-known local cemetery of the Towns earliest settlers before there was a formal church or cemetery built.  During these times headstones would have faced the ocean so that those resting there could watch the fishermen and miners go back and forth on the water. The names that locals say were on the original headstones that are now long gone due to time were Hammond and Hanlon. In June 2013 the site was officially opened with a repatriation service.
---
Heritage Committee
The Heritage Committee works on projects and research of interest that are aimed at preserving the culture and heritage of the Town. New members are always welcome. Meetings take place on the 3rd Thursday of every month.
If you are interested in learning more or joining the committee, contact: [email protected] or call 709-895-8000 (ext. 229)
---
Family History Club 
The Town of Portugal Cove-St. Philip's has a Family History Club, which typically meets on the second Tuesday of every month. New members are always welcome! If you are interested in learning more or joining the club, contact: [email protected] or call 709-895-8000 (ext. 229)
Click here to join the Family History Club's Facebook Group!
---
Tourism
To learn more about places to see and things to do in Portugal Cove-St. Philip's, please visit:
Contact Our Staff
Send us a Message