Classes and Courses
Our Spring 2023 Fitness and Programs Schedule is here!
Click here to view the full details of classes and programs available for the Spring 2023 season, which includes rules, what to bring for each class, and further information.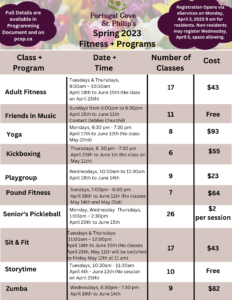 If you have questions on our programs, reach out to Mike Stone, Programs Coordinator, at [email protected] or 895-8000 ext. 265.
---
Click here to return to the Recreation Programs page.
Send us a Message