Regatta Festival
NOTICES:
Pickle Ball and Bocce will be re-scheduled for the coming weeks. Stay tuned for an announcement with those new dates soon!
The Outdoor Movie event has been rescheduled to Friday, September 10th. All those registered have been contacted and those wishing to register may do so through eServices.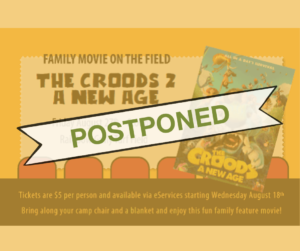 ---
2021 Event Details: 
The 2021 Annual PCSP Regatta Festival will take place from August 23rd to 29th!
We are delighted to welcome everyone to join in the fun! There are a range of exciting activities planned for everyone, from BINGO to Rowing to Fireworks and more! There's sure to be lots of fun for people of all ages. Further details on each event are outlined below.
Registration will open for select events through eServices beginning on Wednesday, August 18th.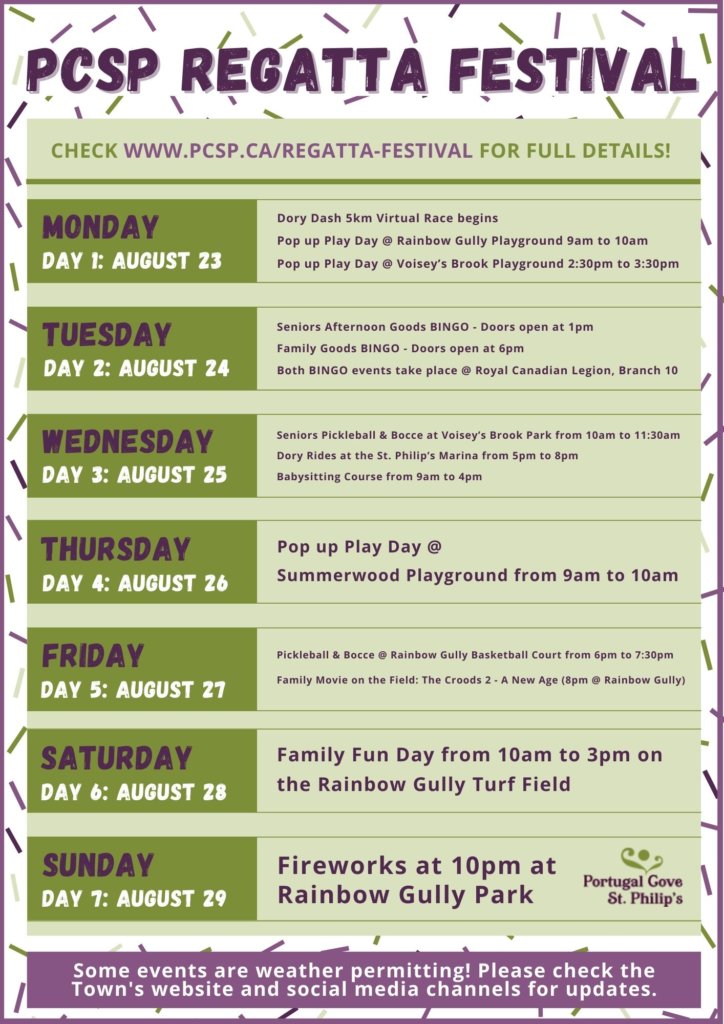 ---
2021 Updates and Daily Schedule: 
Monday, August 23, 2021
Pop Up Playground Day

@ Rainbow Gully Playground 9:00 am-10:00am
@ Voisey's Brook Playground 2:30pm-3:30pm
Dory Dash 5km Race

Racers may begin this day and must have their race completed on or before Sunday, August 29th
Check out the Dory Dash Page for further details on the race
Register by emailing

[email protected]
---
Tuesday, August 24, 2021
Seniors Afternoon Goods BINGO

Royal Canadian Legion Branch 10
Doors open at 1:00pm
Registration open through eServices

Family Goods BINGO

Royal Canadian Legion Branch 10
Doors open at 6:00pm
Registration open through eServices
---
Wednesday, August 25, 2021
Seniors Pickleball and Bocce at Voisey's Brook Park 10:00am-11:30am

This is a FREE event
Bocce is a low-impact, low-intensity sport that can be played by all ages and abilities. It's an exciting and relaxing way to stay active and engage in friendly competition.
Bocce is similar to curling; players will compete individually or in teams to try and toss small colored bocce balls towards the "target" ball.
Pickleball is a great way to get active and enjoy some friendly competition.
The game is played on a badminton size court with a whiffle ball and a large paddle, it's a combination of tennis, badminton, and ping pong
Don't worry if you've never played before – our recreation staff will be on site to show everyone the ropes. All are welcome to come join the fun!
Please check our social media prior to attending as any weather-related cancellations will be posted

Dory Rides (POSTPONED DUE TO FORECAST – STAY TUNED FOR NEW DATE!)

Taking place at the St. Philip's Marina from 5pm to 8pm
This event is weather dependent, please check here or on our social media for updates on the day of the event
Registration is required and is open via eServices
Babysitting Course

9am to 4pm at the Royal Canadian Legion, Branch 10
Cost is $58 per participant
Hosted by the Canadian Red Cross
Participants must be 10 years of age (completed grade 6) and no older than 14 years
Registration open through eServices
---
Thursday, August 26, 2021
Pop Up Playground Day

@ Summerwood Playground 10:00am – 11:00am (Bonus time! This event will now take place from 9am to 11am)
---
Friday, August 27, 2021
Pickleball & Bocce @ RBG Basketball Court
UPDATE: New time coming soon! This event was postponed due to weather.
6:00pm-7:30pm

This is a FREE event
Bocce is a low-impact, low-intensity sport that can be played by all ages and abilities. It's an exciting and relaxing way to stay active and engage in friendly competition.
Bocce is similar to curling; players will compete individually or in teams to try and toss small colored bocce balls towards the "target" ball.
Pickleball is a great way to get active and enjoy some friendly competition.
The game is played on a badminton size court with a whiffle ball and a large paddle, it's a combination of tennis, badminton, and ping pong
Don't worry if you've never played before – our recreation staff will be on site to show everyone the ropes. All are welcome to come join the fun!
Please check our social media prior to attending as any weather-related cancellations will be posted

Movie Night

Update: The Outdoor Movie event has been rescheduled to Friday, September 10th. All those registered have been contacted and those wishing to register may do so through eServices.
Family Movie on the Field: The Croods 2 – A New Age
Starts at 8:00pm on Rainbow Gully Turf Field
Tickets are $5 per person and available via eServices
---
Saturday, August 28, 2021
Family Fun Day Information:

Saturday, August 28th, 2021 from 10am to 3pm on the Rainbow Gully Turf Field
Limited persons will be permitted on the field at a time.
Attendance will be first come, first serve at the gate.
Information for contact tracing will be asking upon arrival.
Please adhere to social distancing guidelines and remain within your bubble
---
Sunday, August 29, 2021
Fireworks Information:

The fireworks will take place on Sunday, August 29th at 10:00pm (weather permitting) at Rainbow Gully Park

UPDATE: The fireworks will take place on Monday, August 30th due to poor weather conditions on Monday, August 29th

If weather conditions are unfavourable, the backup date for fireworks is Monday, August 30th
---
2021 Event Posters: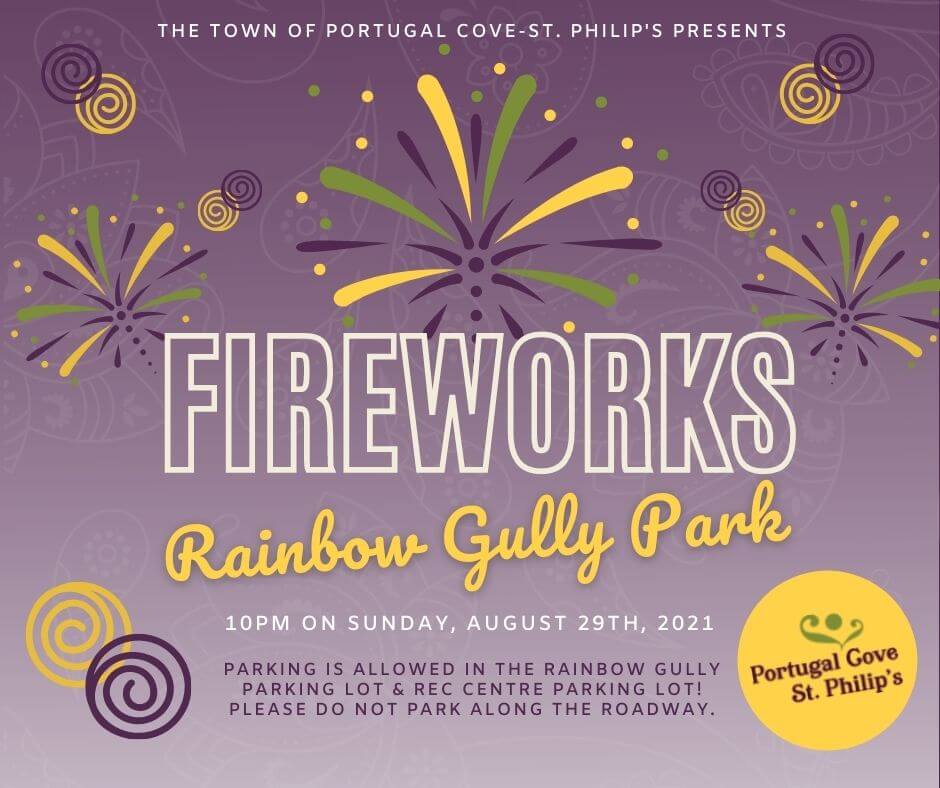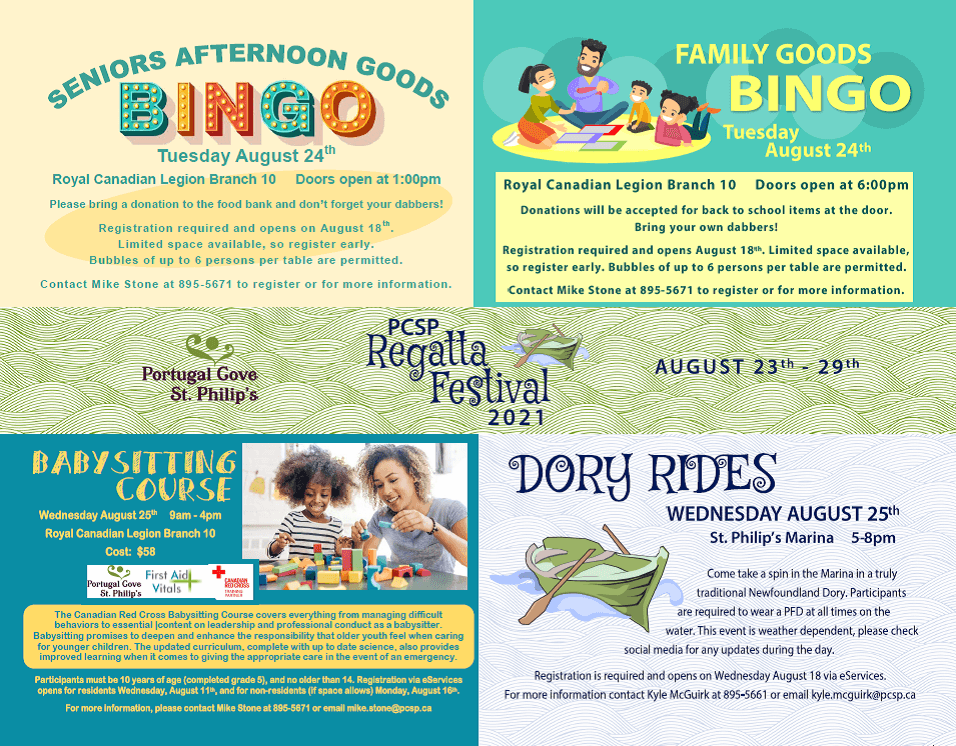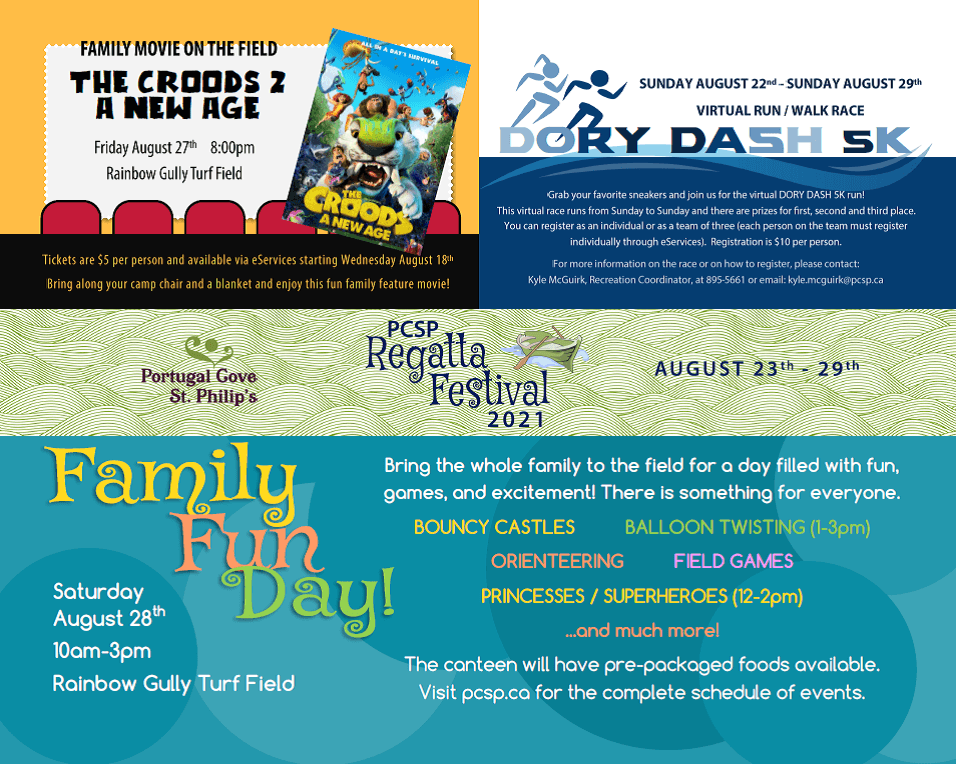 Send us a Message