Tourism
When you visit the historic community of Portugal Cove-St. Philip's, come for the natural beauty of the community and the proud people who call this town home. From the refreshing view at the St. Philip's Harbour (home of the Portugal Cove-St. Philip's Annual Regatta), to the unique vantage point of the world that is offered from the top of Grayman's Beard, you won't be lacking for things to do or see.
---
Nature & Environment
---
Heritage Sights
There are many places to see in Portugal Cove-St. Philip's!
---
Regatta
Each summer, the Town of Portugal Cove-St. Philip's hosts the annual Regatta Festival! The highlight of this week-long celebration is always Regatta Day, which takes place on the St. Philip's Marina. Families and visitors come from near and far to take in a day of games of chance, delicious foods, live music, and of course – the traditional dory boat regatta races! For further details, visit the page below.
---
Festivals & Events
Portugal Cove-St. Philip's is proud to offer annual festivals such as our Winter Carnival, Regatta Festival, and Fall Family Festival. The Town also hosts a variety of events every month, including an Environment Fair, Community Awards, and celebrations of the holidays. Please check the page below for further details, as we are always coming up with new ways to celebrate living in our great town in this fantastic province.
---
Businesses
There are dozens of local businesses in Portugal Cove-St. Philip's in a range of industries, including:
Agriculture and Farming
Arts and Entertainment
Beauty and Personal Care
Building Contractors and Services
Daycare and Education
Food and Beverage
General Services and Repair
Health and Wellness
Media, Print and Communications
Pet Services
Professional Services
Retail Sales and Services
Sport and Fitness
Tourism, Transportation and Travel
Click here to visit our Live Local PCSP Facebook Group!
---
Restaurants
Portugal Cove-St. Philip's offers a unique combination of local restaurants, each with their own flare and flavours. Enjoy a tasty meal, dessert, or snack at one of the fabulous options below: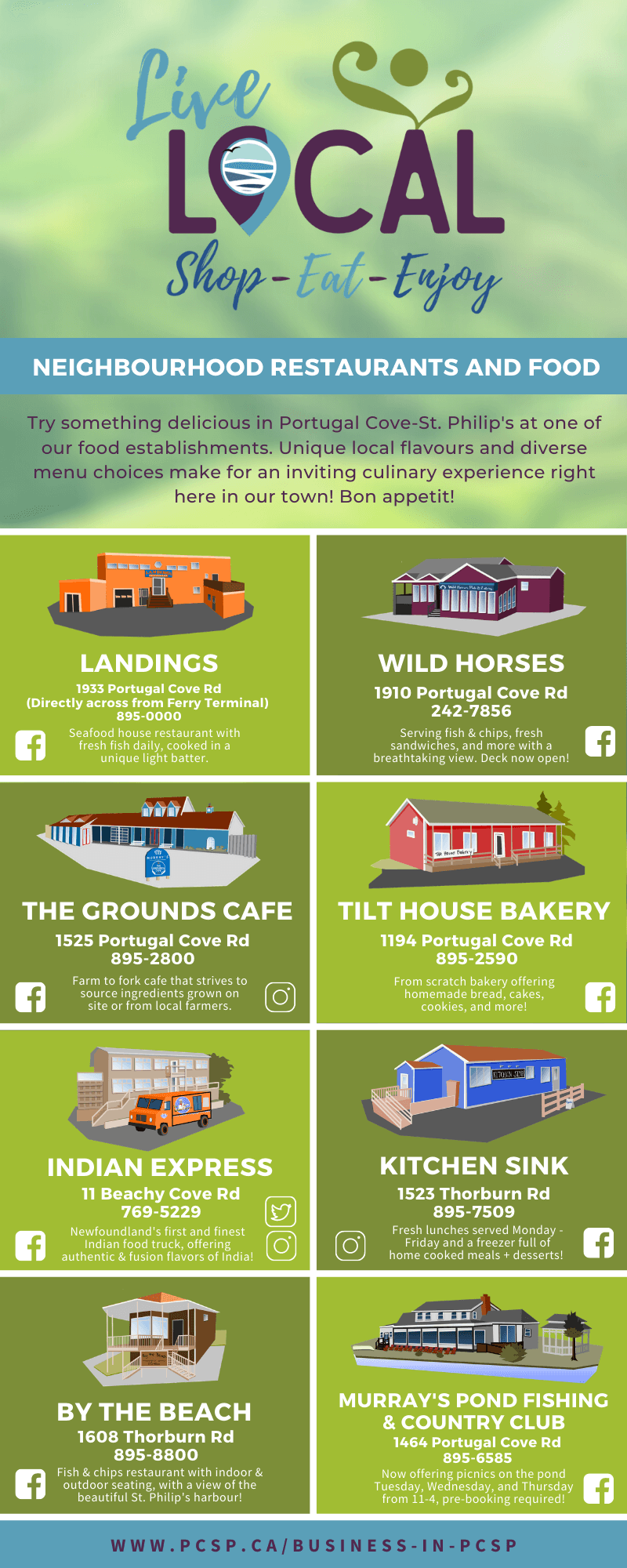 ---
Convenience Stores
Our local convenience stores in Portugal Cove-St. Philip's offer options far beyond the basics! Visit a store for nutritious choices, party supplies, hot fresh meals, and so much more!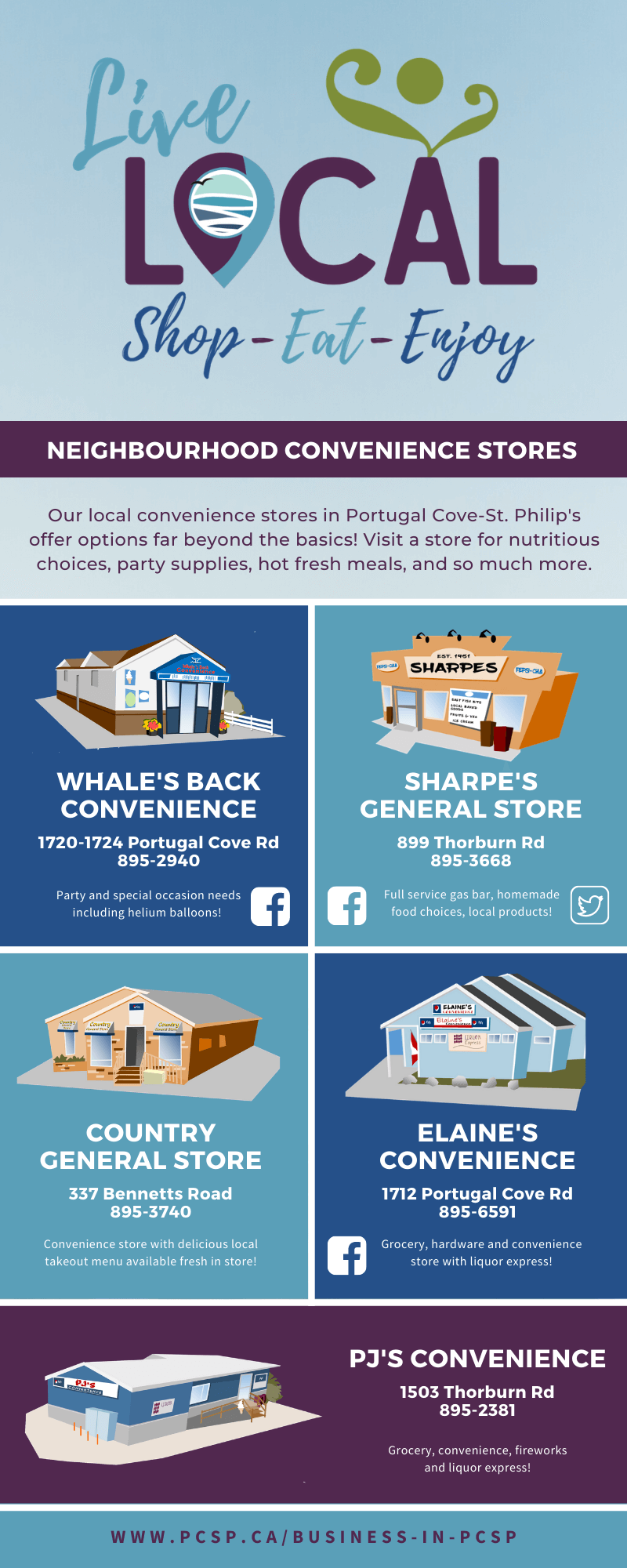 ---
Bell Island
The ferry to Bell Island runs frequently and regularly from the Portugal Cove Marina. It's a scenic 20-minute ride across the ocean with an opportunity to spot wildlife or icebergs in season, and a perfect day trip for those looking for a little adventure.
For further details on Bell Island, visit the pages below:
http://www.tourismbellisland.com/
https://www.newfoundlandlabrador.com/trip-ideas/travel-stories/explore-bell-islands-fascinating-geology-by-land-or-by-sea
Send us a Message