Tourism
When you visit the historic community of Portugal Cove-St. Philip's, come for the natural beauty of the community and the proud people who call this town home. From the refreshing view at the St. Philip's Harbour (home of the Portugal Cove-St. Philip's Annual Regatta), to the unique vantage point of the world that is offered from the top of Grayman's Beard, you won't be lacking for things to do or see.
---
Trails & Parks
East Coast Trail
Explore the rugged coastline of our community and see wildlife, brooks, waterfalls, rock outcrops, and more.  There are several access points to the stunning East Coast Trail system in Portugal Cove-St. Philip's. We are fortunate to have two paths that can take you through the entire community:
Long Shore Path
Long Shore Path is the newest part of the East Coast Trail in PCSP. It is a long trail spanning over 17 kms from Portugal Cove to Topsail with multiple access points in the Town. This is a moderate to difficult trail and takes between 6-8 hours. Further details and maps can be found on the East Coast Trail website.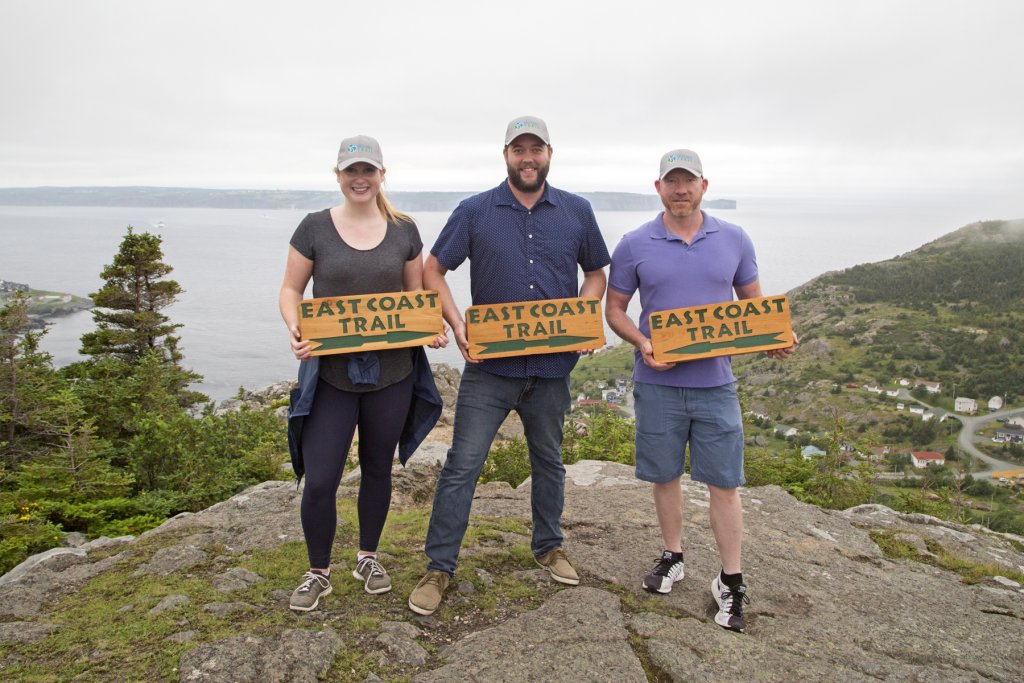 There are areas where you will need to use rope assists and use caution along the shoreline. Long Shore Path can be accessed in St. Philip's on Thorpes Road, Beachy Cove/Long Marsh Road behind the Holy Rosary Church, or in Portugal Cove behind the Post Office. You will be taken through other locally known trails such as Goat Cove Trail, Greymans Beard, and Beachy Cove Hill.  Much of the PCSP sections of the trail are located in the Town's traditional community zone and have significant heritage value. Some of the sections of the trail were traditionally used by miners who would walk to the Bell Island ferry in Portugal Cove to get to the mine. Other areas were once settled communities and used as farm land. Rock walls can still be seen in some areas.
This part of the East Coast Trail is rated as strenuous and can take between 7-9 hours, which will take you all the way to Bauline. Further details and maps can be found on the East Coast Trail website.
To access the popular entry point of Picco's Ridge Path, park behind the volunteer fire hall at 1819 Portugal Cove Road, in rear of the lot as designated by signage. Hike to Portugal Cove Road, turn left, and walk 250m to Loop Drive. Turn right onto Loop Drive.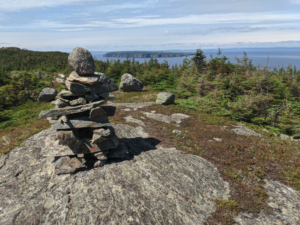 Hike 150m and turn right onto Hardings Hill. Cross the bridge, then hike 300m to North Point Road. Proceed 250m to the end of North Point Road where the Picco's Ridge trailhead sign is located. Hikers are not permitted to drive or park on North Point Road.
The area at the end of North Point Road where the trails starts is locally known as "The Geeze". Local lore suggests that the area got its name from a slang of the word gaze as this area is ideal for overlooking the ocean. Lore also suggests that Gaspar Corte Real buried deceased sailors in the area.
Rainbow Gully Park
Behind the town's municipal building, you will see one of two major Recreation Parks in the Town: Rainbow Gully Park! This park features a range of facilities for people of all ages to enjoy.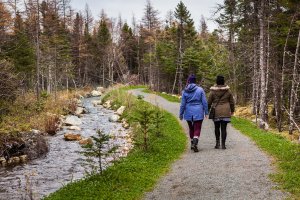 The Rainbow Gully turf multipurpose field is fully equipped with lights, full-sized soccer nets, half-sized soccer nets, player seating, and built-in bleachers. The large Rainbow Gully Park playground is used year round by families from our community and beyond. The popular basketball court and softball field are often used for tournaments and leagues, as well as visitors dropping by for fun and games! The skate park is another favourite, especially for children and teens. Rainbow Gully is also a great place to test your botany identification skills or grow your own fresh, local vegetables in the community garden! For details on rentals and facilities, click here.
Voisey's Brook Park & Trail System
Along Indian Meal Line, you will see Voisey's Brook Park, another of two major Recreation Parks in the Town! This park features a large 5km trail system, popular with families and people of all ages. Voisey's Brook Park is especially popular amongst dog owners, as there are two dog parks located within the park – one for small breed and one for large breeds, both featuring sand and grass surface. Much of the Town's softball takes place at Voisey's Brook Park, as there is both a mini softball diamond (includes small infield and backstop with benches) and full sized softball field (national size Slo-Pitch field (300 feet), with lights, enclosed dugouts, in-ground bases). Other recreation facilities at this park include a large playground, a full soccer field and a mini soccer field, a skateboard park, and a multipurpose building. For details on rentals and facilities, click here.
---
Beaches & Marinas

Beachy Cove
Located between Portugal Cove and St. Philip's, Beachy Cove holds a small piece of beach. The waters here are usually calm and warm, making it an ideal swimming location. When you visit the beach, you will bear witness to a beautiful waterfall dropping into the sea.
St. Philip's Beach and Marina (Broad Cove)
St. Philip's Beach/Broad Cove is located to the right of the wharf and is covered in medium-sized rocks typical of Newfoundland beaches.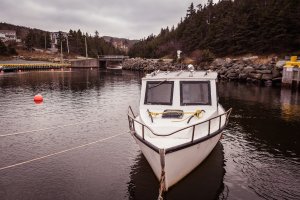 This beach attracts a lot of visitors in mid-summer when the capelin roll in on the beach.
Some people do swim at the beach, but is usually only done by the hardy, as the Atlantic Ocean makes for a cold tub! The Cove is used for many recreational uses. Recently, it has been used as a training area for scuba diving. The wharf is also a regular headquarter for sea kayaking, sail boating, and personal watercrafts.
The St. Philip's Beach and Marina is used to be a fishery marina. Today it is used mostly for leisure watercraft, diving, diver training, etc. It has always been a popular spot during tourism and capelin season. It is a beach with calm water, rocky shore and perfect for a beach stroll anytime. Every year the Town of Portugal Cove-St. Philip's hosts its annual Regatta which has been occurring since the 1870's with the exception of times of war. The Broad Cove River meets at the marina in a calm reservoir where boats are launched. Long before the Town amalgamated St. Philip's used to be called Broad Cove hence the name for the Broad Cove River.
Portugal Cove Marina
The Portugal Cove Marina is a located scenic harbour, which is home to the Bell Island Ferry Terminal. Alongside the ferry terminal, you will spot  a small rocky beach, which is also the launch point for the annual Tickle Swim for Mental Health. While you visit the marina, enjoy a meal at one of the delicious local restaurants in the area, Landings Seafood House or Wild Horses Pub & Eatery.
---
Ponds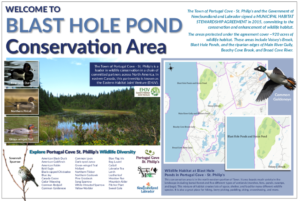 Blast Hole Ponds
The Blast Hole Ponds area is a large area of land that is beautiful for hiking and spending time outdoors. There is a hiking trail where you can overlook Conception Bay and a series of waterfalls from the Blast Hole Ponds River into the ocean.
This area is protected by the Town of Portugal Cove- St. Philip's through a Stewardship Agreement that was signed on June 19th, 2015. This agreement not only recognizes this area as a significant area to protect and conserve the wetland and habitats, but also only allows certain activities to take place in an effort to not disturb the area. As part of the agreement the Town plans to work towards a Habitat Conservation Plan.
Local lore suggests the name Blast Hole Ponds came from Bell Island Iron Ore miners who thought the ponds looked like holes caused by blasting.
It is very important to the Town that people enjoy this outdoor space as well as help us to protect it and care for it. We encourage residents and visitors to use the "leave no trace" philosophy when using our natural spaces. Please do not leave garbage or gear and dumping is prohibited in the area.
---
Sights

Emma Churchill Dawson Seniors Memorial Park 
Emma Churchill Dawson made a significant contribution to history by being the founder of the Salvation Army in Newfoundland. She was born in Portugal Cove where she lived with her family until she moved to Ontario as a young woman. In Ontario she was introduced to the Salvationists that were sent to Canada from England by General Booth. Emma became an officer of the Salvationist and moved back to Newfoundland. Once back in Newfoundland she held the first ever prayer meeting in 1883 and by 1886 she had officially begun a mission in Newfoundland.
Fanny Goff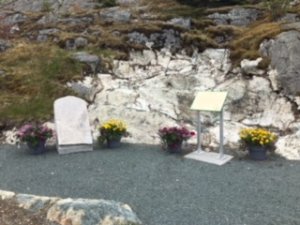 The Fanny Goff memorial site is located on Loop Drive right across from the War Memorial. The site includes a storyboard with the folklore story of resident Fanny Goff from the early 1800's and her headstone which was removed from her resting place several decades ago. The headstone spent some time in storage before it was donated to the Town of Portugal Cove- St. Philip's Heritage Committee.
The story of Fanny Goff is that she was one of the most beautiful ladies in Portugal Cove. She was known as a beauty inside and out and had a sweet voice that seemed to charm everyone she came across.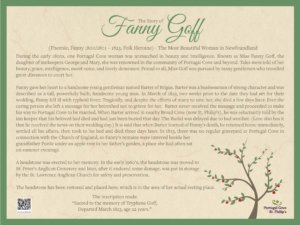 She had many suitors but she only had a heard for one. He was a young businessman from Brigus and they made plans to marry. The week before the wedding Fanny fell ill with typhoid fever and passed away. The news of her death did not reach Brigus in time and her husband to be found out that she had passed away while he was on his way to Portugal Cove to marry her. When he heard the news of her death he turned around and went to St. John's where he is said to have taken to bed and died shortly after of a broken heart.
Portugal Cove War Memorial
Located in historic Portugal Cove is a War Memorial site which was built in memory of those from the community who lost their lives during the first and second World Wars. The first monument was originally erected shortly after the end of World I, through generous donations from the people of Portugal Cove. After World War II, again through the support of community members, a second monument was built to remember those individuals. On November 11th, 2000, a third monument was erected by the Town with the names added that had been left off the original monuments, as well as adding names from the St. Philip's area.

In 2015 the War Memorial site again saw several upgrades. The memorial was redesigned by the Royal Canadian Legion Branch 10 Portugal Cove- St. Philip's. They fundraised and received grants to add another monument, benches, and memorial stones. These upgrades also included the restoration of the 3 original monuments. 97 names were added to the memorial site. 36 from WWI, 54 from WWII, 4 from the Korean War, and 3 Peacekeepers. The site now includes the names of the places and boats that residents from PCSP served or died and the insignias from the original brigade where solders were recruited are etched into the memorial stones.
West Point Cemetery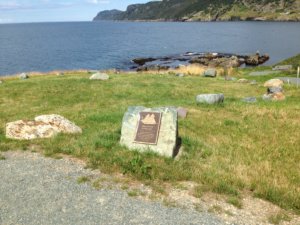 The West Point Cemetery was designated a Municipal Heritage Site in 2013. In August 2004 human remains of 13 individuals were discovered during excavation of a housing development project on West Point Road. West Point Cemetery, also known as Wester Point or The Old Burial Ground, has been a source of mystery and folklore for over 200 years. Some of the found remains were sent to MUN for testing and to California for carbon dating. Local folklore says that the burial ground could have had sailors who perished before ships came ashore similar to that on North Point but is also a well-known local cemetery of the Towns earliest settlers before there was a formal church or cemetery built.  During these times headstones would have faced the ocean so that those resting there could watch the fishermen and miners go back and forth on the water. The names that locals say were on the original headstones that are now long gone due to time were Hammond and Hanlon. In June 2013 the site was officially opened with a repatriation service.
---
Regatta
Each summer, the Town of Portugal Cove-St. Philip's hosts the annual Regatta Festival! The highlight of this week-long celebration is always Regatta Day, which takes place on the St. Philip's Marina. Families and visitors come from near and far to take in a day of games of chance, delicious foods, live music, and of course – the traditional dory boat regatta races! For further details, visit the page below.
---
Festivals & Events
Portugal Cove-St. Philip's is proud to offer annual festivals such as our Winter Carnival, Regatta Festival, and Fall Family Festival. The Town also hosts a variety of events every month, including an Environment Fair, Community Awards, and celebrations of the holidays. Please check the page below for further details, as we are always coming up with new ways to celebrate living in our great town in this fantastic province.
---
Restaurants
Portugal Cove-St. Philip's offers a unique combination of local restaurants, each with their own flare and flavours. Enjoy a tasty meal, dessert, or snack at one of the fabulous options below: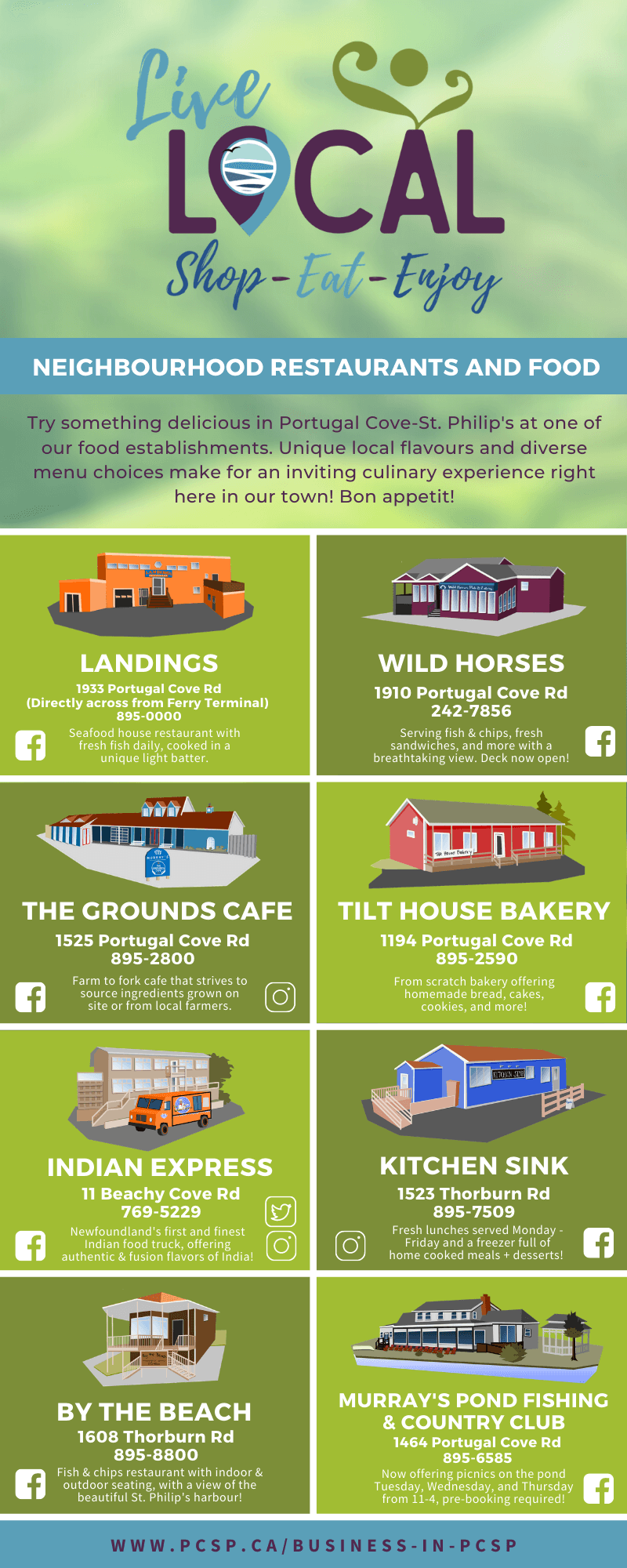 ---
Convenience Stores
Our local convenience stores in Portugal Cove-St. Philip's offer options far beyond the basics! Visit a store for nutritious choices, party supplies, hot fresh meals, and so much more!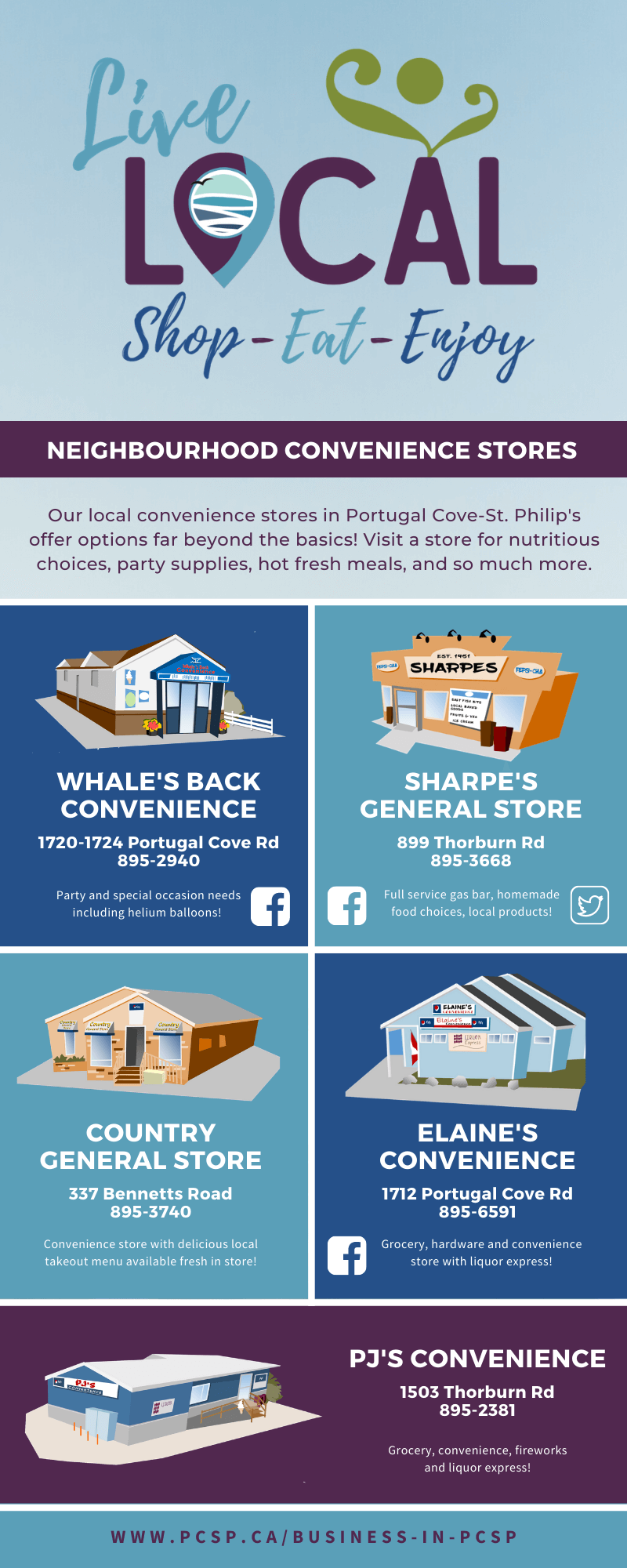 ---
Businesses
There are dozens of local businesses in Portugal Cove-St. Philip's in a range of industries, including:
Agriculture and Farming
Arts and Entertainment
Beauty and Personal Care
Building Contractors and Services
Daycare and Education
Food and Beverage
General Services and Repair
Health and Wellness
Media, Print and Communications
Pet Services
Professional Services
Retail Sales and Services
Sport and Fitness
Tourism, Transportation and Travel
Contact Our Staff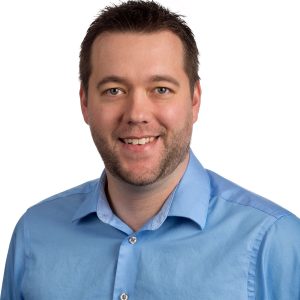 Jeff Lawlor
Director of Economic Development, Marketing and Communications
Send us a Message