Climate Change
Climate change requires action on two fronts; adapting to the impacts of a changing climate as well as mitigation of emissions to lessen further changes. The Town of Portugal Cove–St. Philip's is committed to climate action in terms of both adaptation and mitigation.
---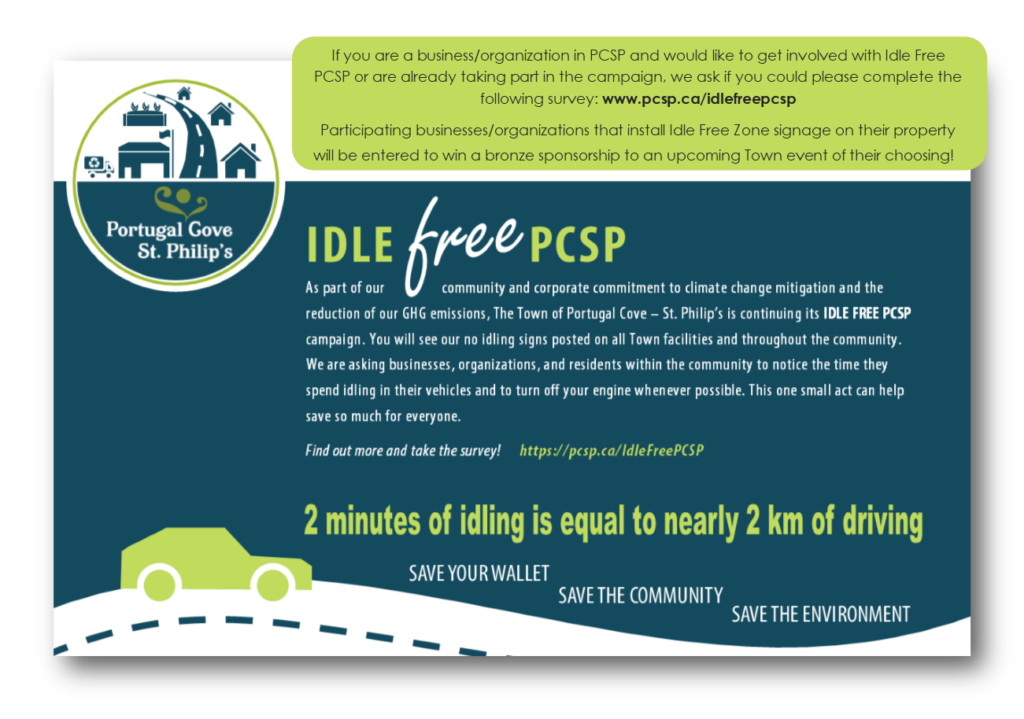 Take the survey, here:
---
Catch the recording of our presentation called Climate Change: Your Town & You, here:
---
Climate Change Mitigation:
To facilitate the mitigation of future emissions, the town of PCSP has joined the Partners for Climate Protection Program (PCP) through a collaboration between The Federation of Canadian Municipalities (FCM) and ICLEI – Local Governments for Sustainability (ICLEI Canada).
To date, the town has completed two of the program's five milestones, including the completion of a baseline greenhouse gas inventory and setting future reduction targets for both municipal operations and the community. To reach these emission reduction targets the town of Portugal Cove – St. Philip's is in the process of creating its climate mitigation action plan. This document will outline the actions and initiatives PCSP will implement to reduce its annual emissions, reach its reduction targets, and reduce its impact on the changing climate.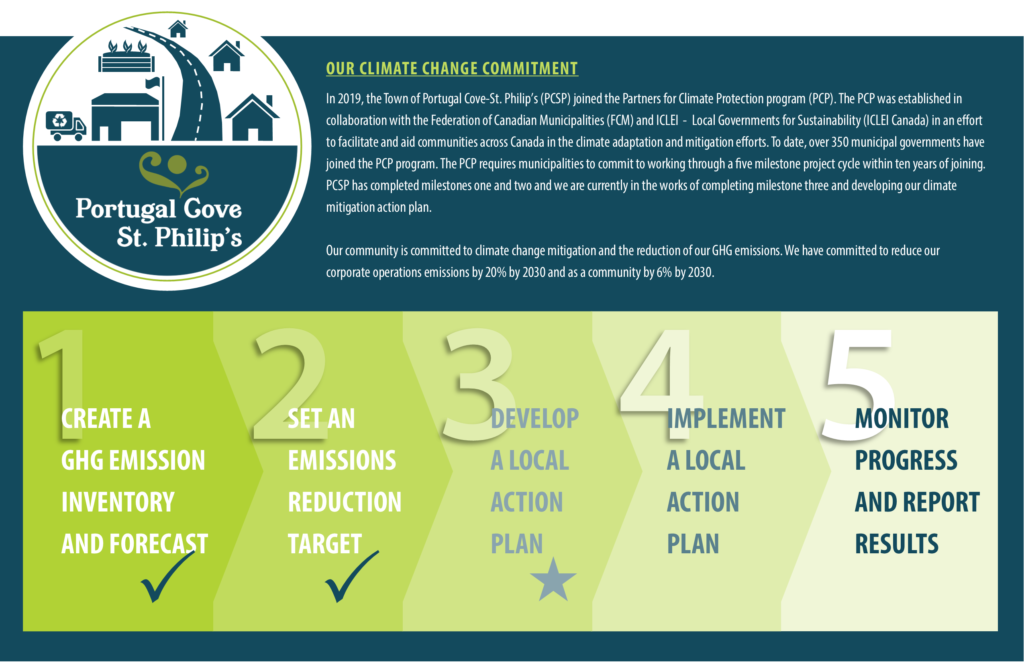 ---
Milestone 1
The completion of milestone 1 involved creating a greenhouse gas inventory for both municipal operations as well as for the entire community. These inventories were completed using 2018 data for its baseline year. From this inventory, it was found that as of 2018 the Town's municipal operations produced approximately 514 tons of Co2e per year and the Town as a whole produced approximately 53,323 tons of Co2e annually.
Milestone 2
Milestone 2 involved the Town setting greenhouse gas emission reduction targets with recommendations from the PCP program. The Town of Portugal Cove –St. Philip's has committed to a 20% reduction in annual GHG emissions from its municipal operations and a 6% reduction in annual emissions from the town as a whole by 2030. This would equate to a reduction of over 3300 tons of CO2e annually.
Milestone 3
To date, the Town has completed both milestones 1 and 2 and is in the process of developing its Climate Mitigation Action Plan to meet these reduction targets and complete milestone 3 of the PCP program. Actions currently in development to reduce the emissions in the community include further development of the town's electric vehicle charging and wastewater treatment infrastructure, expansion of the town's recycling, composting, and anti-idling programs, as well as continued education and outreach to our citizens regarding climate science and mitigation techniques. Actions for emission reductions from municipal operations include the electrification of the town's corporate vehicle fleet, green retrofitting of existing town buildings, as well as energy-efficient development of future municipal infrastructure.
For more information about some of our current mitigation actions please see the infographics below.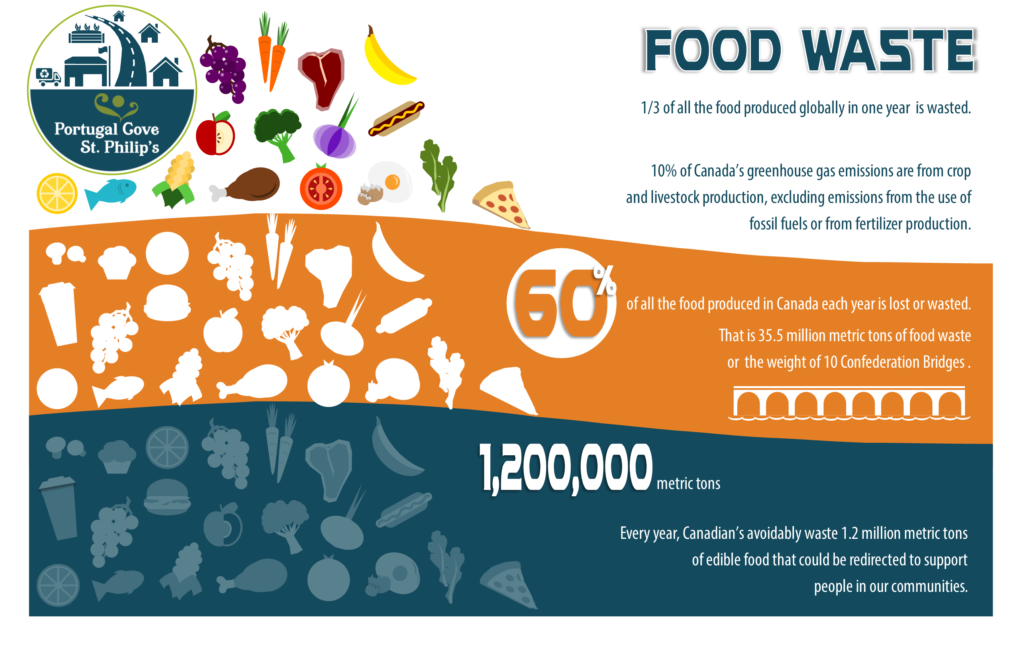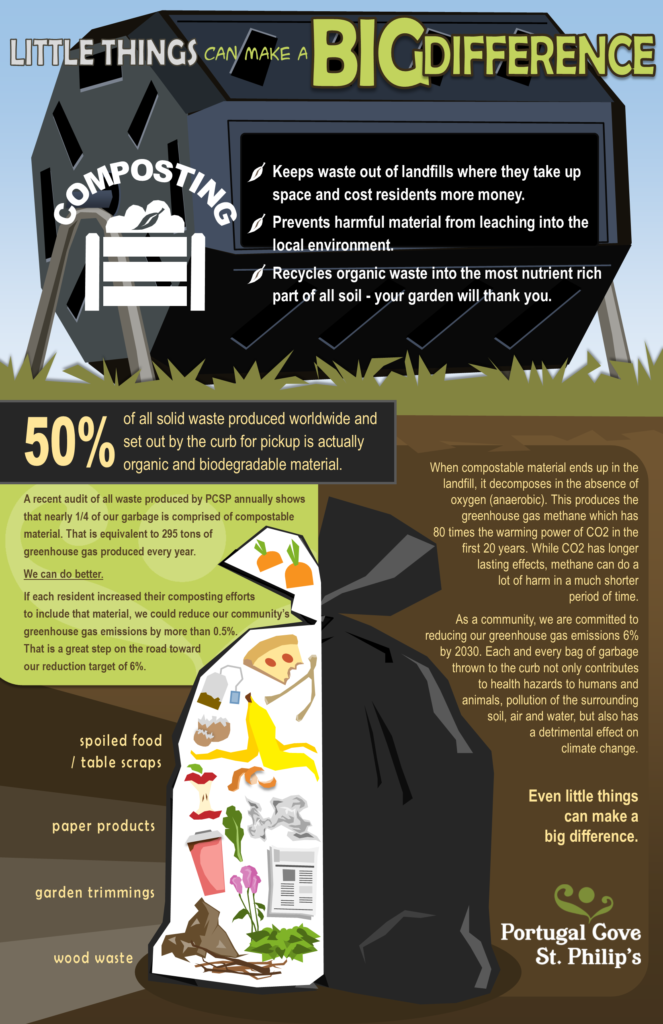 ---
Further actions will be developed and implemented throughout the process of creating the town's climate mitigation action plan.
Further details on the PCP Program Milestones can be found at the link below:
https://fcm.ca/en/programs/partners-climate-protection/milestone-framework
---
Climate Change Adaptation
The Town of Portugal Cove – St. Philip's recognizes that the climate is changing. Global climate change has local impacts, and while it is important to continue to reduce greenhouse gas emissions to avoid catastrophic levels of global warming, it is also important to proactively adapt to the impacts of climate change both now and in the future.
As such, the Town of Portugal Cove – St. Philip's has joined two climate adaptation initiatives; the Adaptation Changemakers project, a two-year initiative lead by ICLEI Canada that supported eight municipalities across Canada in developing a community climate change adaptation plan, as well as the Engaging and Supporting Municipalities to Build Capacity to Adapt to the Impacts of Climate Initiative, a program supporting municipalities in reducing their vulnerability to the Impacts of climate change, in partnership with Conservation Corps Newfoundland and Labrador (CCNL) and funded through the Federation of Canadian Municipalities (FCM).
In 2020 the Town of Portugal Cove – St. Philip's completed both its Climate Change Adaptation projects with assistance from the Government of Canada, the Federation of Canadian Municipalities, and Conservation Corps Newfoundland and Labrador. These reports outline potential risks and suggested actions to increase the Town's adaptive capacity to the impacts of climate change. These actions have been referred to a number of municipal departments and organizations within the Town for further development, costing, approvals and implementation.
The reports were based on available data from The Climate Atlas of Canada Tool, Environment Canada's Climate Change Data and Scenarios Tool, and a Climate Change Projections Study commissioned by the Government of Newfoundland in 2018. An infographic of projected changes for Portugal Cove-St. Philip's is provided below.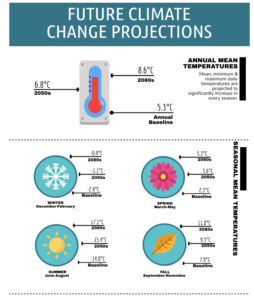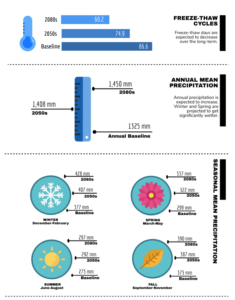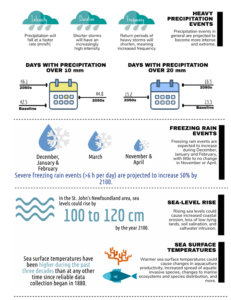 ---
Nature and Environment
Contact Our Staff
Send us a Message