Canada Day
Celebrate Canada Day 2023 in Portugal Cove-St. Philip's on Saturday, July 1st,
The Royal Canadian Legion's July 1st

Memorial

Day

Parade – 10:30am
Location: Parade congregate at 10:30am at St. Lawrence Anglican Church. The parade will proceed to the Cenetaph on Loop Drive and the ceremony will begin at 11:00 am.

There will be a short celebration at the Legion following the ceremony and all are welcome.
Memorial Day Parade Road Closures will be in effect from 8am to 11am and include Loop Drive, Anglican Church Road, and Hardings Hill.
Flag Raising – 11:30 am
Location: Fire Hall at 1119 Thorburn Road

Join the Mayor, Council and other dignitaries as they raise the Canada flag and sing our national anthem to start the day of celebrations.
Parade into the Park – 12:00pm
Location: Fire Hall at 1119 Thorburn Road to Rainbow Gully Park 

Wear your favourite red and white outfits, break out your bicycle, load up your wagon with the kids, and come participate in our annual Canada Day parade, starting from the Fire Hall and heading to Rainbow Gully Park to kick off the celebrations.
PCSP Community Canada Day Celebration – 12pm to 4pm
Location: Rainbow Gully Park

Join your friends and neighbours for an afternoon full of carnival games and activities for all ages!
Activities in the Park include:

Archery Range
Outdoor Laser-Tag
Bouncy Castles
Face painters
Carnival games and prizes
BBQ Canteen (cash only)

Hamburgers & hot dogs
Chips, Bars, Apples, Clementines
Water, Gatorade
Fireworks Show in Rainbow Gully Park – 10pm
Location: Rainbow Gully Park

Cap off a full day of fun with our fantastic fireworks display! View from the Recreation Centre parking lot, Brookside Intermediate, or other approved designated located. Spectators will not be permitted in the playground/park area or soccer field due to safety precautions. Fireworks shoot from the softball field.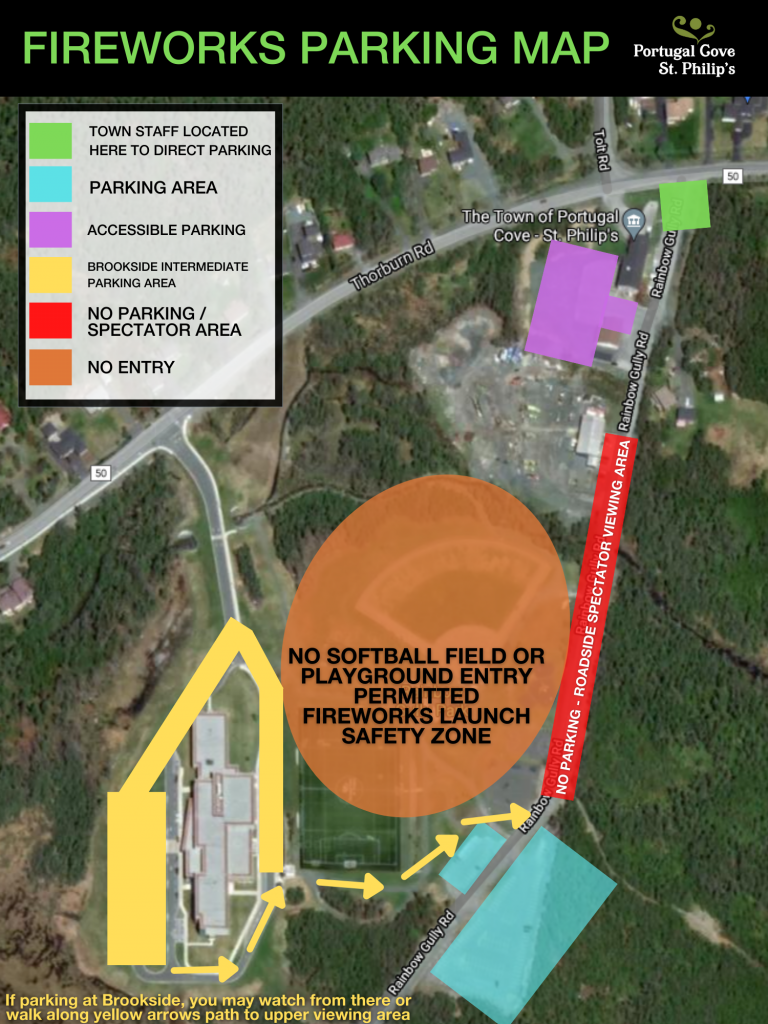 ---
The Town of Portugal Cove-St.Philip's is proud to be part of this great province, which is a part of this great country! Every July 1st we love to show our national pride and we invite you to join us. We have something for everyone, young and old. Our Canada Day events include our flag raising ceremony, the annual parade, the family fun day in the park, lots of musical entertainment, as well as children entertainment, and of course our fantastic fireworks display.
Send us a Message