Guy Fawkes Night
2022 Event Details
Celebrate Guys Fawkes Night in partnership with our Portugal Cove-St. Philip's Volunteer Fire Department at our huge community bonfire!
Location: Parking lot behind the Town Hall/Rec Centre at 1119 Thorburn Road
Date & Time: This event takes place on Saturday, November 5th, 2022 at 6:00PM to 7:30PM. The event is weather permitting.
Cost: FREE! Attendees are encouraged to bring along a non-perishable food item (or cash donation) to help support the local food banks. All food bank donors will be entered to win a prize!
There will be free hot dogs are hot chocolate served at this event. Please check back for any weather-related cancellations on the day of the event.
If you have any further questions, please contact Recreation Coordinator, Kyle McGuirk, at [email protected] or call 895-8000 ext. 233.
Remember, when you're having a recreational fire with family and friends – safety comes first! Follow all fire safety guidelines from our local Portugal Cove-St. Philip's Volunteer Fire Department and always have a water source or extinguisher nearby in case of emergency.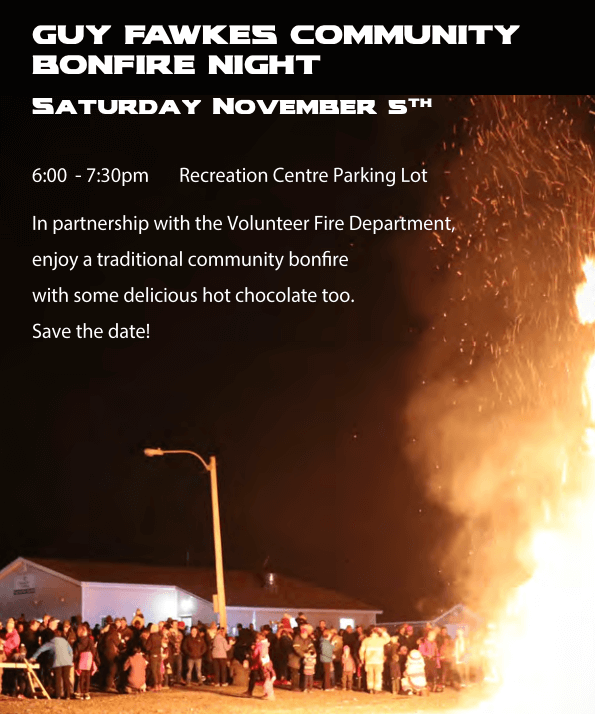 ---
Guy Fawkes Night is a night steeped in history and tradition, dating back to 1605. Bonfire Night or Guy Fawkes Night always takes place on November 5th, the original night of the Gunpowder Plot. The Town invites the community to come out enjoy a great bonfire together. For more on the history of Guy Fawkes Night/Bonfire Night, click here.
Send us a Message