Guy Fawkes Night
2022 Event Details
When: Saturday, November 5th, 2022 at 6:00PM to 7:30PM

Where: Behind the Town Hall/Recreation Centre
Event is weather permitting. If you have any further questions, please contact Recreation Coordinator, Kyle McGuirk, at [email protected] or call 895-8000 ext. 233.
Remember, when you're having a recreational fire with family and friends – safety comes first! Follow all fire safety guidelines from our local Portugal Cove-St. Philip's Volunteer Fire Department and always have a water source or extinguisher nearby in case of emergency.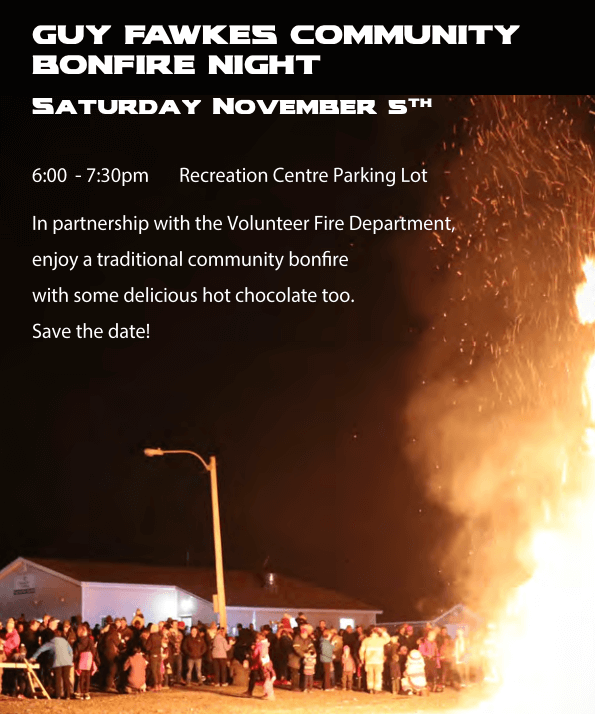 ---
Guy Fawkes Night is a night steeped in history and tradition, dating back to 1605. Bonfire Night or Guy Fawkes Night always takes place on November 5th, the original night of the Gunpowder Plot. The Town invites the community to come out enjoy a great bonfire together. For more on the history of Guy Fawkes Night/Bonfire Night, click here.
---
Registration through eServices
Many of our programs require online registration and payment through eServices. If you are a resident and you have not yet used eServices to pay for a program in PCSP, you will be prompted to enter a "sign up key" the first time you use eServices. Please contact Joe Donkers, Accounting Technician, at 895-5666 or [email protected] to receive your sign up key. If you are living in a rental property in PCSP and you are not the registered owner of the home, you will need to sign up as a guest account and you will not require a sign up key.
Send us a Message