Garbage & Recycling Services
Quick Links:
Garbage and Recycling Collection Map
---
Waste Collection Notices:
Protect your collectors! Place all needles and other sharps in a sharps disposal container before placing them in your garbage bags.
Reminder: Recycling and garbage must be placed out for collection by 8:30am on your scheduled day.
---
2023 Waste Collection Schedule:
 Download PDF: 2023 Waste Collection Schedule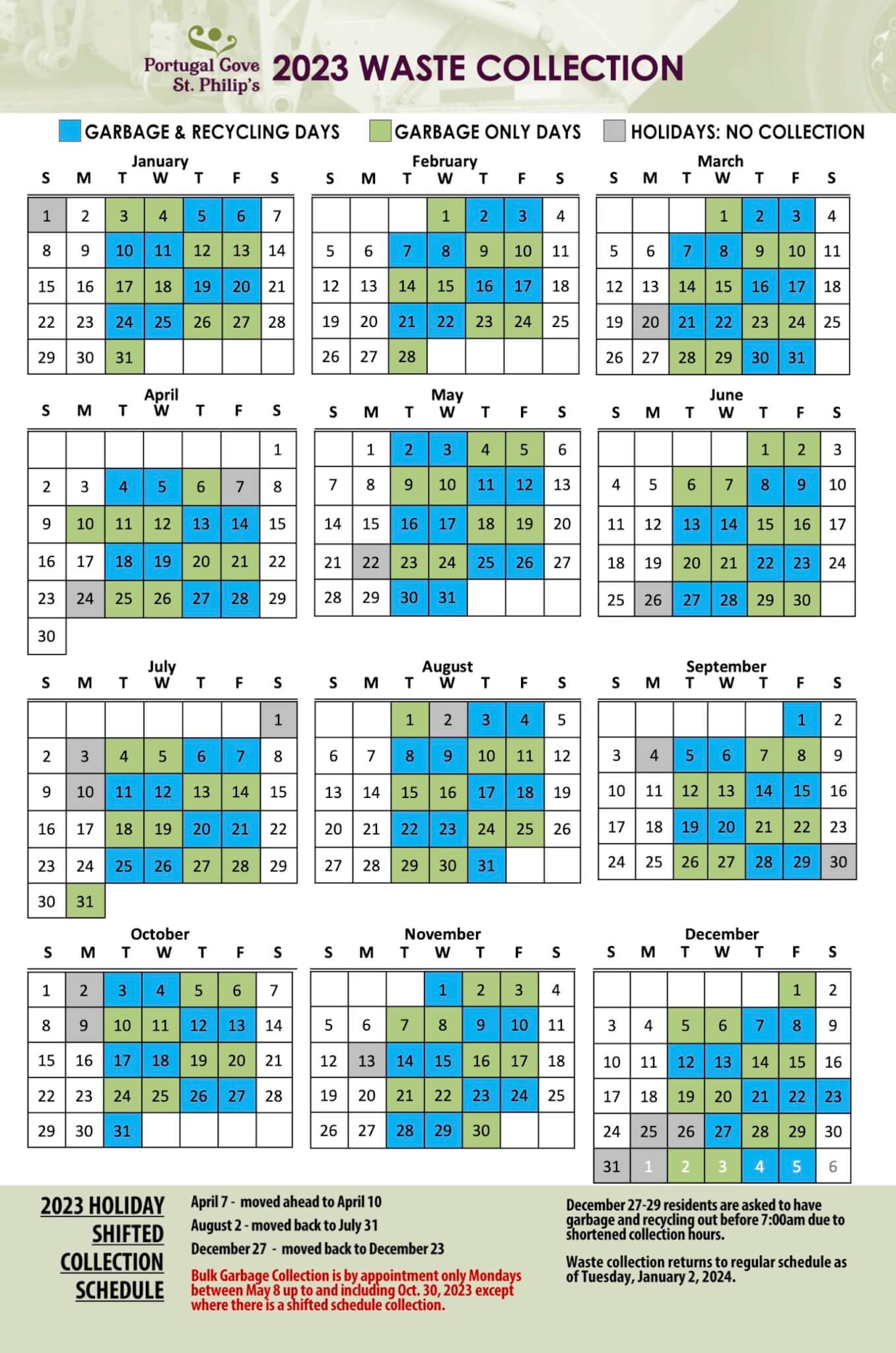 ---
Town Recycling Collection:
Recycling collection will take place every second week on your scheduled garbage route. We require two streams of recycling to be placed in clear blue bags. Below is the information on what to include and how to separate "paper products" and "containers."
Cardboard can be put in a tied up blue bag or can be broken down and placed in bundles at the curb. If bundled it must measure no more than 2ft by 2ft by 1ft. DO NOT bundle cardboard and then put it in a blue bag; either bundle it or bag it.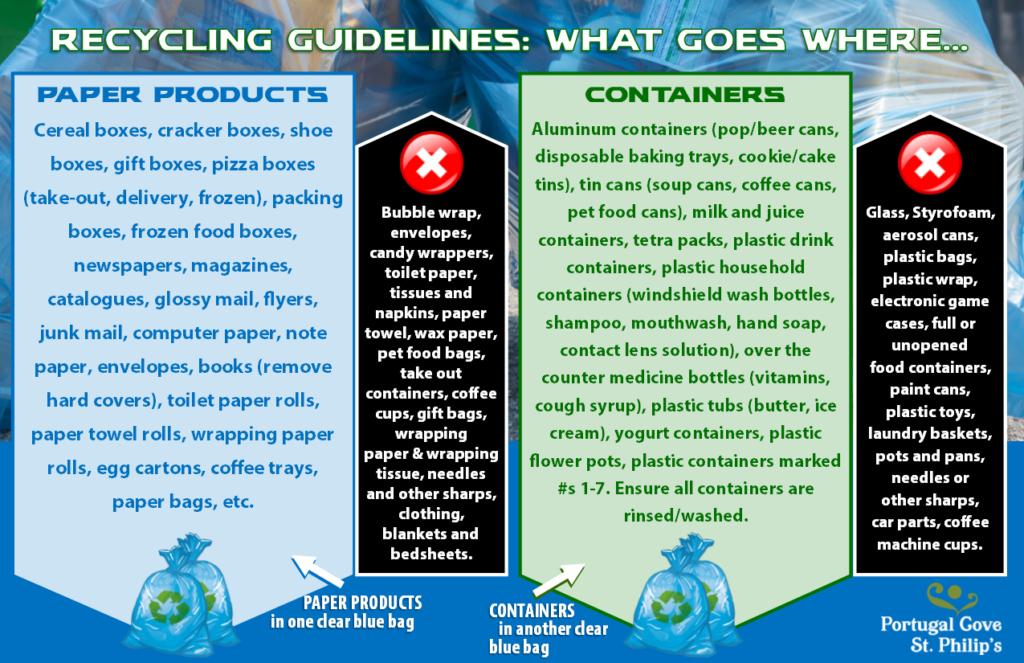 ---
Compost:
Tumbler-style compost bin sales are sold out for the 2022 year for residents of Portugal Cove-St. Philip's! Limited quantities are available in the spring of each year. Check back in Spring 2023 for our next compost tumbler sales. 
Composting is a great way to cut down on your waste, while also creating a rich and natural fertilizer for your garden. To learn more about the benefits of backyard composting, visit the Rethink Waste NL website, below: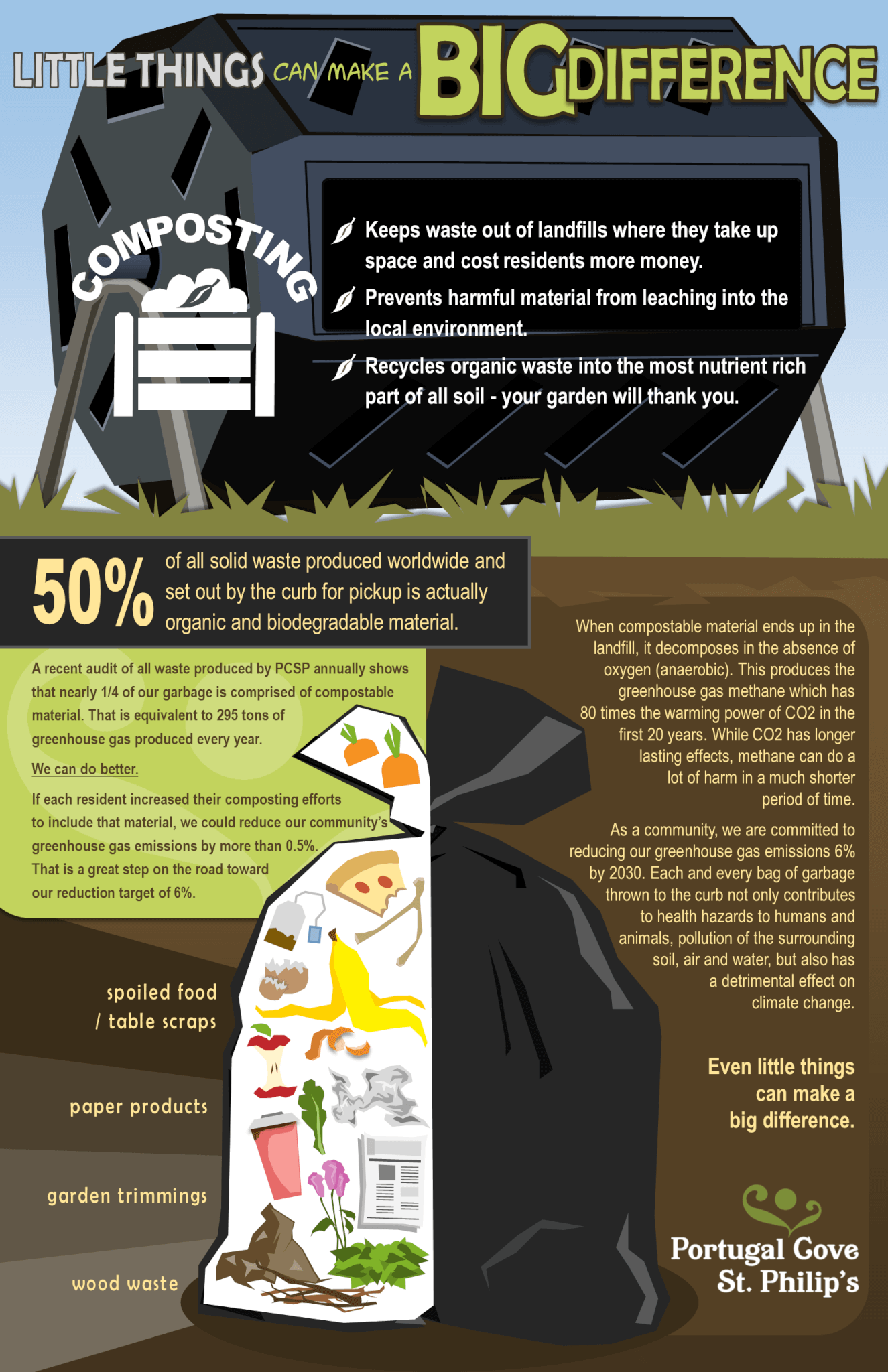 ---
Bulk Garbage:
Bulk garbage collection service is available by appointment from May to November and is on a first come first serve basis. To book an appointment, email: [email protected]
Those with bulk garbage for disposal may also consider bringing it to Robin Hood Bay Waste Management facility residential drop off from 8:00am to 4:00pm, Tuesday to Saturday.
Further information can be found here:
http://robinhoodbay.ca/information/hours-of-operation/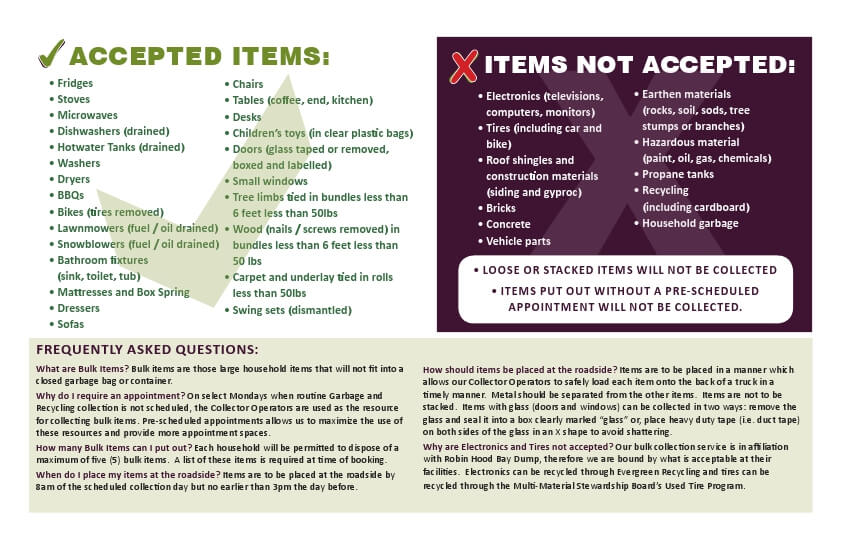 It is unlawful to place oil, oil products, gasoline, or diesel fuel for household or bulk garbage collection.
These items must be brought to the Hazardous Waste Station at Robin Hood Bay.
---
Electronics Recycling:
Electronics recycling can be dropped off at the Residential Drop-Off (RDO) Facility at Robin Hood Bay or at select Green Depot locations.
Click Here to learn more about the RDO
Click Here for RDO Hours of Operation
Click Here to check the Recycle My Electronics map to see if your preferred Green Depot also accepts electronics
---
Garden Material:
As of June 1st, 2006 the Town of Portugal Cove-St. Philip's will no longer collect garden material or, any other material that can be composted. Garden material includes any grass, hay weeds, leaves, sods, tress, stumps, and branches that can be readily composted.
Residential Garden Material Policy
---
Household Hazardous Waste:
Please bring household hazardous waste directly to Robin Hood Bay. For more information click here.
Send us a Message