National Seniors Day
2019 Event Details:
This year, we're celebrating National Seniors Day with hosting a Senior Prom on Friday, September 27th, 2019! Join us for a splendid evening of food, entertainment, and lots of dancing. Get your tickets starting on September 9th – just $10! Contact Mike Stone at 895-5671 or email [email protected]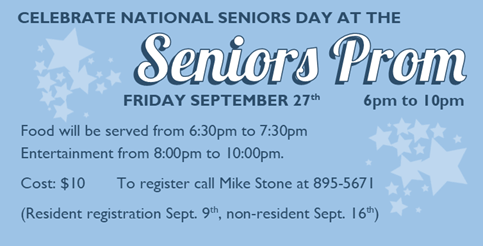 National Seniors Day is October 1
National Seniors Day is a nationally recognized celebration day where everyone can join in celebrating older adults across Canada – whether a parent, a co-worker, a neighbour, or a friend. We are proud to acknowledge the life-long contributions our town's seniors have made and continue to make to their families, communities and society.
It is easy to show your respect and gratitude for the older adults in your life. There are many options to thank the seniors in your life for all of their hard work and show them just how much they're appreciated. Here are just a few:
Say "thank you"
Take a walk together
Cook a meal together
Treat them to a day out
Contact Our Staff
Send us a Message