Pound Fitness
Fall 2020 Programming Overview:
The Town of Portugal Cove – St. Philip's is looking forward to seeing participants in the coming weeks. We have missed our fitness and program family! It has been a long, challenging few months for everyone due to the ongoing pandemic, and we hope the return of these programs bring some joyful activity to your lives.
It is important for all participants to recognize that programs will look much different than when things ended in the winter session, prior to the pandemic. There are new procedures and protocols in place to lower the risk of COVID-19 transmission. These include changes to the room layout, schedule, numbers of participants, and more.
Please ensure to read the Fall Programming 2020 Overview document in full and contact our recreation staff if you have any questions.
---
We're excited to offer a new and fun way to get active this fall – Pound Fitness!
When: Sundays from 7:00pm – 8:00pm
Where:  Recreation Centre, located behind the Town Hall at 1119 Thorburn Rd.
Ages: 18+
Cost: $45 (5-class session)
Dates: November 8th to December 6th, 2020
Registration opens: Opens through eServices on Friday October 16th at 9:00am
Resident registration opens on eServices Monday, September 28th.
Non-resident registration opens on Wednesday, September 30th.
Registration takes place through eServices
Participants must bring a water bottle.
All programs are pre-registration through e-services only; there will be no drop-in service available.
Class Description:
Instead of listening to music, you become the music in this exhilarating full-body workout. Pound combines cardio, conditioning, and strength training with pilates-inspired movements.
Using Ripstix®, lightly weighted drumsticks engineered specifically for exercising. POUND transforms drumming into an incredibly effective way of working out.
Designed for all fitness levels, POUND® provides the perfect atmosphere for letting loose, getting energized, toning up and rockin' out! The workout is easily modifiable and the alternative vibe and welcoming philosophy appeals to men and women of all ages and abilities.
---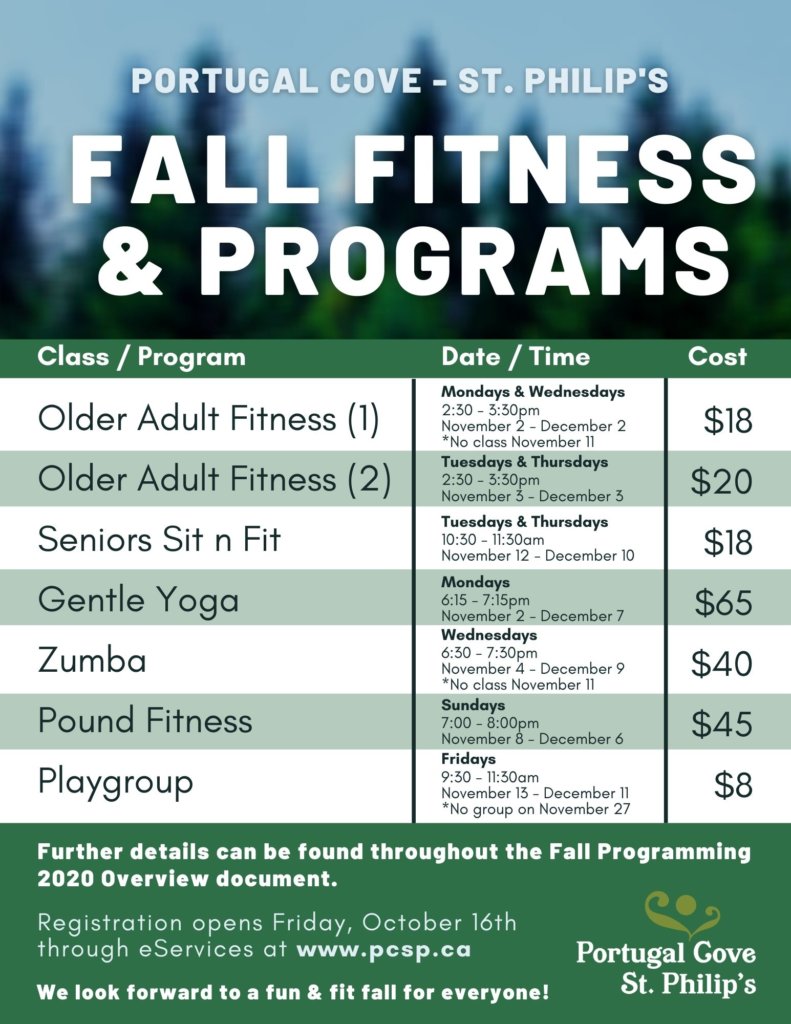 ---
NOTICE
Due to ongoing concerns related to COVID-19, programs may change throughout the season. For our most current updates and advisories, please visit the page linked below:
---
Try out one of our many exciting classes and courses in Portugal Cove-St. Philip's! There's something for people of all ages and abilities in our Town. Classes range from Yoga, to Zumba, to Seniors Sit n Fit, and lots more.
If you have questions on our programs, reach out to Mike Stone, Programs Coordinator, at [email protected] or 895-5671.
Send us a Message