Heritage Committee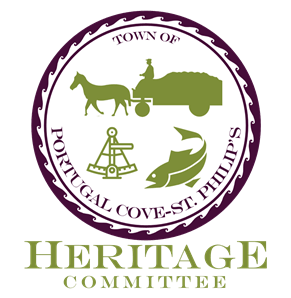 The Heritage Committee advises council on heritage considerations and the preservation and celebration of our history and culture.
Portugal Cove-St. Philip's Heritage + Heritage Committee
Heritage is who we are and can have a large impact on where we're going. The Town of Portugal Cove-St. Philip's is dedicated to preserving our history and we implement programs to continue to collect information that has formed the town into what it is today.
Picture Program: The archive collection would like to expand its picture collection across all decades. Whether it is pictures of people, events, houses, landscapes, or anything else, we will accept it. We will also make professional copies at no cost to you and return the originals to you if you wish.
Archives and Artifact Collection: Artifacts are items that are information based; pictures, stories, certificates, records etc. Artifacts are old items that represent a way of doing things that has changed over time. Collecting archival material and artifacts is a way of preserving our culture and heritage and making information available.
Our Archive is currently under construction with renovations happening at the Town Hall however when the renovations are complete, the archive will again be open to the public.
Click here to visit Ancestry Library Edition
Click here to view the latest Canadian update to Ancestry Library Edition
Our History Continues
We are always looking for more photos, artifacts, and stories about our lovely town! If you have anything to add, tales to tell, we would love to hear from you! Call Julie at 895-5657 or email her at [email protected].
Heritage Committee
The Heritage Committee works on projects and research of interest that are aimed at preserving the culture and heritage of the Town. New members are always welcome. Meetings take place on the 3rd Thursday of every month. Times and locations may vary- get in touch if you would like to attend a meeting, join the committee, or get involved. Call Julie at 895-8000 ext. 229 or email  [email protected].
Current Members 2022

Michael Pretty – Chairperson
Ed Bonnell
Mike Jackman
Tom Murphy
Katherine Miller
Doug Neary
Madonna Stewart-Sharpe – Council Liaison
Julie Pomeroy – Heritage and Environment Coordinator/Staff Liaison