Municipal Elections 2021
Congratulations to our new Town Council in Portugal Cove-St. Philip's!
---
Where Do I Vote?
Vote in person on election day on September 28th, 2021 from 8:00am to 8:00pm!
Vote By Mail
---
Meet the Candidates
COMING SOON – JEFF LAHAM
To learn more about Jeff Laham, view his bio in our Elections 2021 Booklet.
---
Candidates for 2021:
In person and mail in ballot options are available for all residents (proxy certificates are permitted).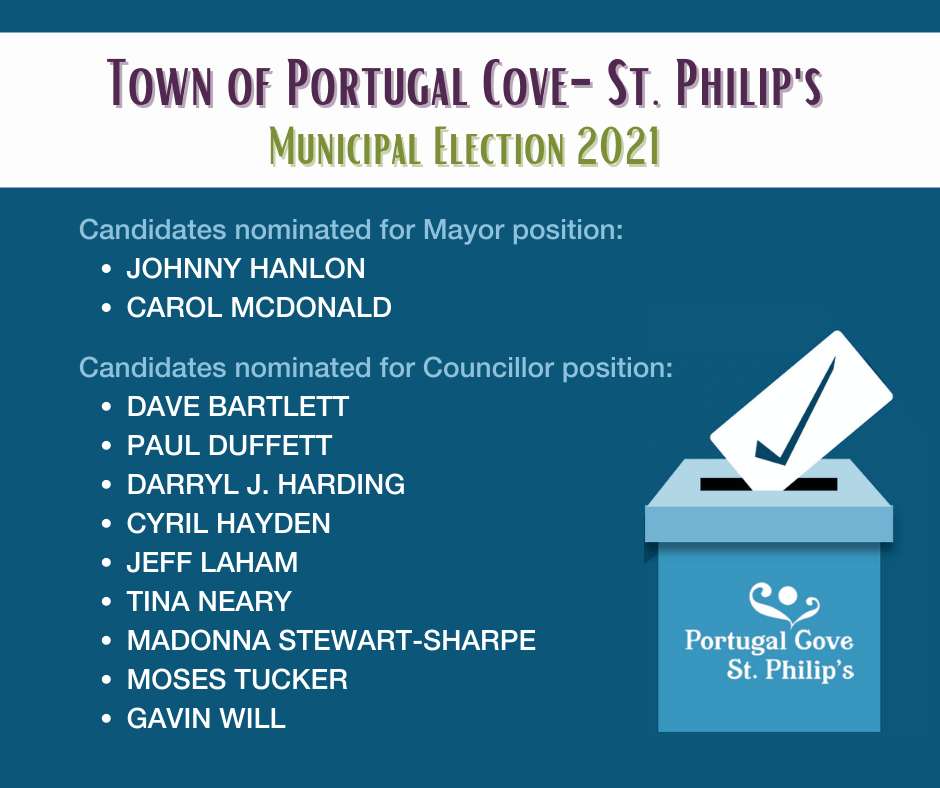 ---
Voting Information (Vote by Mail or In-Person):
Our election will look very similar this year to the ones you have participated in before. There will be polling stations throughout the community and you will be able to vote in person on September 28th, 2021 or at an advanced poll. However, in order to mitigate any potential issues regarding COVID-19, the Town will be introducing a Vote by Mail option this year. Any resident will be able to request that a Vote by Mail Kit be sent to them in the weeks leading up to the election. Residents can choose to mail back in their ballot prior to Election Day, they may also drop it off at the Town Hall the week prior to September 28th, 2021.
---
Election Overview:
The next municipal election in the town of Portugal Cove-St. Philip's is Tuesday, September 28, 2021. Casting a ballot for a Mayor and a ballot for six Councillors allows residents to participate in electing officials who will make decisions on their behalf.
Please note for PCSP elections, both in person and mail in ballot options are available to all residents. PCSP Vote by Mail Regulations (2021) have been approved by the Minister of Municipal and Provincial Affairs.
The vote for Mayor is held on a separate ballot from the Councillors ballot.  The successful Councillor with the most votes will be automatically nominated for the position of Deputy Mayor. At their first Council meeting, Council will vote for the Deputy Mayor position, if a second nominee is put forth.
---
Helpful Links and Further Information:
For details on municipal elections in Newfoundland and Labrador, please visit the following pages and legislation:
Further details will be posted as they become available.
Contact Our Staff
Send us a Message