Celebrating Pancake Day with a Contest
Pancake Day Contest Winner!
Thanks to all those who entered our Pancake Day contest, and congratulations to our winners, Emma and Nolan!
You have won a $25 local business gift card + a PCSP prize pack 🙂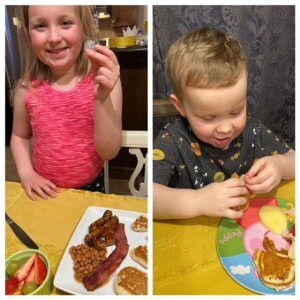 ---
Enter Our 2022 Contest
Is your family celebrating Pancake Day for supper tonight? We want to see you get creative! Use toppings or fruit to make a design, try coloured batter with food colouring, or make your sides into a fun shape with your pancakes! We want to see you have fun!!
Send a photo of your family's pancake creations to [email protected] or tag us in your photos on Twitter @PCSPnl by end of day today, Tuesday, March 1st, 2022 to enter for your chance to win a $25 local business gift card + a PCSP prize pack! We'll be drawing from all the entries tomorrow morning, Wednesday, March 2nd and we will announce the winner on our social media channels.
Check our the entries from last year's 2021 Pancake Day Contest for inspiration!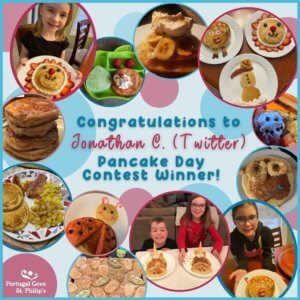 ---
What is Pancake Day?
Pancake Day is also known as Shrove Tuesday which is the day before Lent begins for Christians. The date of Pancake Day changes from year to year because Shrove Tuesday is always 47 days before Easter Sunday. Easter Sunday is calculated based on the first full moon that follows the spring equinox in March. This year Easter is on Sunday April 17th which means that Shrove Tuesday is March 1st.
Lent was always a time of abstinence where people would give up certain foods, or a particular treat. Shrove Tuesday became the last chance to indulge and to use up the foods that aren't allowed in Lent and therefore pancakes are eaten on this day because they contain fat, butter and eggs which were Lent.
---
Fun Facts: Items in a Pancake
Oftentimes pancakes were cooked with objects that had symbolic value and those who ate them had fun discovering the items and what they meant for their future.
Items that were traditionally put in pancakes and their meanings include:
Penny—to symbolize poverty
Nickel—to symbolize wealth
String—to symbolize a fisherman (if a boy got the string, he would be a fisherman, if a girl did, she would marry one)
Holy medal—the house blessed with a priest or a nun.
Hair clip—hairdresser or barber
Button — to symbolize that you would never marry – a bachelor or an old maid
Pencil stub – a career in teaching: imagine a lead pencil in your food!)
Thimble—to symbolize that you would be a seamstress (a girl) or a tailor (a boy)
Wedding ring—to symbolize that you would marry soon
Typically today if someone is going to put items in a pancake for someone to find it is money.