Health and Wellness Expo
Thank You!
We hope everyone enjoyed the PCSP Health and Wellness Expo. We had such a fantastic day learning new ways to live healthier lives!
Thanks to our vendors, exhibitors, and special guest speakers: Lisa Dempster (Minister of Children, Seniors, and Social Development), Dr. TA Loeffleur (our Keynote Speaker), Ray Down, Tara Antle, and Erin Gallant. We would also like to thank our special guests MHA David Brazil and Parliamentary Secretary Mr. John Finn for attending the Expo!
A special thank you to the wonderful team at Spirit Horse NL – Stable Life Inc. who generously sponsored this community event! Photos of the day can be viewed at the album below:
2019 PCSP Health and Wellness Expo:
When: January 12, 2019 from 9am – 4pm
Where: Brookside Intermediate School
Admission: $5 per person. Proceeds from each admission provide healthy snacks for community events
This event is focused on all around health: mental, physical, and social. It will feature a trade show, healthy food and drinks, demonstrations, guest speakers and lots more for the whole family. There is something for everyone planned at this exciting day and we hope to see many people come out to plan their New Years resolutions with us!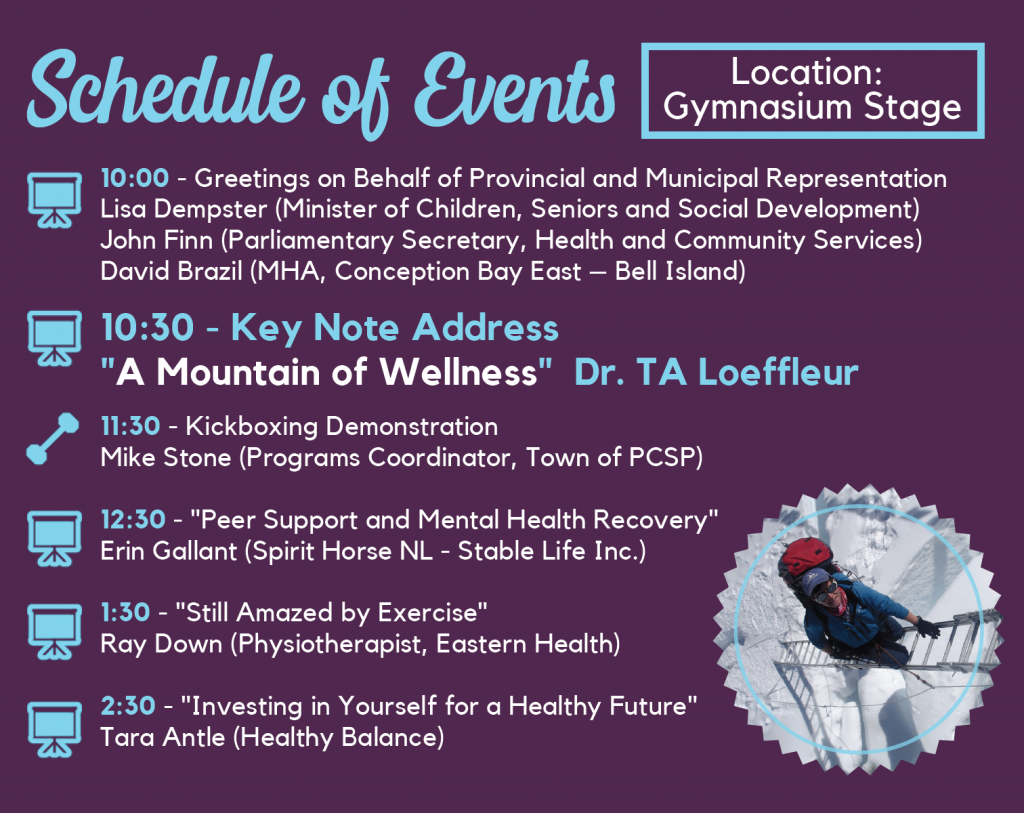 Keynote Speaker:
We are excited to announce the PCSP Health and Wellness Expo's keynote speaker: Dr. TA Loeffler! The keynote address takes place at 10:30am.
"Mountains are both journey and destination. They summon us to climb their slopes, explore their canyons, and attempt their summits. The summit, despite months of preparation and toil, is never guaranteed though tastes of sweet nectar when reached. If my only goal as a teacher and mountaineer is the summit, I risk cruel failure if I do not reach the highest apex. Instead, if I accept the mountain's invitation to journey and create meaning in each step, success is manifest in every moment." – Dr. TA Loeffler
Registered trade show exhibitors include:
Spirit Horse NL – Stable Life Inc. (Event Sponsor)
Beautycounter
Tiber River
Goodlife Fitness
Tupperware
Modere
Epicure
School Lunch Association
Isagenix
Breakwater Pharmacy
Get your freak on
Kelly Ryan Holistic Nutritionist
Dynamic Physio and Wellness
Elements Yoga
Flourish Energy Inc.
Smokers Helpline
AdvoCare
Healthy Balance
Falun Gong
NL Dental Association
Children's Education Fund
Young Living
Heal NL
Time to Heal
Eastern Health Primary Care
Eastern Health Chronic Disease
Canadian Blood Services
Cavedog Supplements
Hooked Recreation NL
Johns Ambulance Therapy Dogs
Life Strength and Wellness
Orange Therapy Fitness
Rene White Music Therapy
Eastern Health Remote Patient Monitoring Program
Luv21 Leggings
Hillary Cole Sleep Therapy
Riverside Therapeutics
Aerus
Chris Vardy – Home Life Real Estate
Promotional Videos:
---
Event Poster: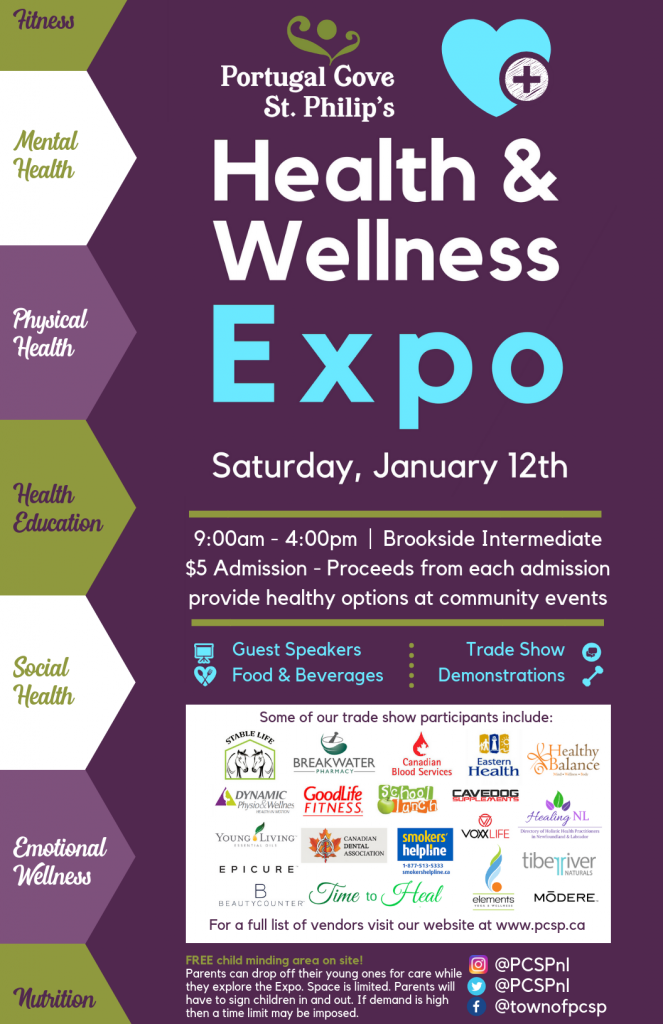 Contact Our Staff
Send us a Message