Municipal Election Advance Poll – Thursday, September 16th, 2021
It's time to elect your next council for the Town of Portugal Cove-St. Philip's!
All residents are welcome to vote in the Advance Poll, which takes place:
Date: Thursday, September 16th, 2021
Time: 8:00am to 8:00pm
Location: Council Chambers at the Town Office, 1119 Thorburn Road
Please note that all voters will be required to wear masks and practice social distancing while in the Town Office.
Those choosing to vote by mail are asked to please drop your completed vote-by-mail kit into a Canada Post mail box. These kits will only be accepted at the Town Office on September 21, 22, 23, 24 and 25, 2021.
Those who do not attend the advance poll have two other options to vote:
Mail in Ballots: Available Until Wednesday, September 27th, 2021

Your return envelope from your Vote by Mail kit must be received by 8:00 p.m. on Election Day to be accepted.
You have the following options for returning your vote by mail ballots:

Drop in a Canada Post mailbox by September 21, 2021.
Secure Drop Box at the Planning entrance of the Town Hall, 1119 Thorburn Road on September 21, 22, 23, 24 & 27.
Void your Vote By Mail kit and vote in-person on Election Day (Tuesday, September 28th) (check polling location here)

Election Day: Tuesday, September 28th, 2021.
Casting a ballot for a Mayor and a ballot for six Councillors allows residents to participate in electing officials who will make decisions on their behalf.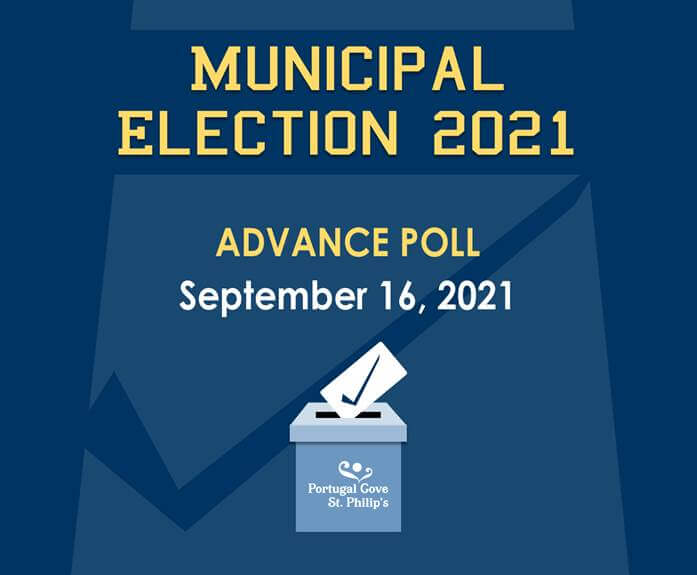 ---
For further details on the Municipal Election in Portugal Cove-St. Philip's, please visit: