Snow Shoe Rentals
Snowshoe Rentals This Weekend!
Let it snow! With the forecast of snow ahead, snowshoe rentals will be available this weekend (March 4th, 5th and 6th, 2022) by pre-booking only through eServices. Further details below!
This weekend, rentals will be available to pre-book for use on:

Friday: 6pm-9pm

Saturday & Sunday: 10am-1pm & 2pm-5pm
---

2022 Snowshoe Rental Program
Take an unguided snowshoe adventure on over 5km of trails, see the various wildlife that live in the park, and enjoy the outdoors. While you're at it – try out our geocaching and orienteering activities – fun for the whole family!
How to Rent:
Weekend rentals are available by pre-booking only through eServices. Rentals cannot be rented directly from the Voisey's Brook Park hut.
Each pair of snowshoes costs $5.00 to rent.
Max 3-hour rental period, please return the equipment to staff within this time frame. If your rental begins with less than 3 hours left until closing, you must return equipment before closing time. Equipment cannot be kept overnight or used outside of the hours or operation.
Rental booking will be open through eServices as weather permits.
The Town also has an Adaptive Snow Sled for use! Residents wishing to use the snow sled for winter activities in Voisey's Brook Park can contact Recreation Coordinator, Kyle McGuirk, at

[email protected]

for details. There is no cost to rent the adaptive snow sled. Click here for more details on the Town's Adaptive Snow Sled.
Hours of Operation:
Fridays: 6pm-9pm

Saturdays & Sundays: 10am-1pm & 2pm-5pm

Please note – hours of operation are weather permitting. Please check back to this page for Winter Activity Center updates or cancellations.
Registration Overview:
Registration takes place online through eServices and it is completed by time slot and snowshoe size (limited quantities available).
For example, if you were to rent snowshoes for a party of three, you would select the time slot, then select which size snowshoes to add to the cart:

16/17 inch (children's) – 40 to 80 lbs
19 inch – 50 to 90 lbs
21 inch – 80 to 120 lbs
25 inch – 110 to 160 lbs
28 inch – 150 to 190 lbs
30 inch – 160 to 210 lbs
36 inch – 210 to 260 lbs

In this example, since you are renting three pairs for $5.00 each, your total would be $15.00
Once you finalize checkout in your cart and pay for your rental, information will be sent to your email for details on pick up
Pickups will occur out of the Voisey's Brook Park Hut during your scheduled time
Click here to view our Snowshoe Rental Information video on Facebook!
---
Is your rental booking complete? Ready to get going? Make sure to read through our quick guidelines below before you hit the trails!
Contactless Pick-Up & Drop Off:

When you arrive, please approach the glass window of the building, Town Staff will need the name of the person who registered your group online and they'll leave your equipment on the side of the building.

Please wear a mask when approaching staff upon arrival

When you're done just leave the equipment outside the building in the same spot and Town Staff will take it from there.

Rules and Regulations:

Equipment

cannot

be purchased/rented onsite, must be done on eServices beforehand.

Max 3 hour rental, please return to the Hut at the designated end time regardless of when your rental started.

If there is a sizing issue and the snowshoes are too big or small we may be able to swap for the next closest size, we cannot guarantee a similar size is available.

Failure to return equipment will result in a $100 charge to renter.

Unreasonable or excessive damage will result in a $100 charge to renter.

Please stay on the trail for your safety and to reduce unwanted damage to the local environment & wildlife.

Trails are animal friendly – but all animals must be on a leash and all pet waste MUST be picked up by owner.

If you need assistance, contact 895-8000. In case of emergency call 911.

Washrooms:

Washrooms will be available for snowshoe users from the outside entrance.

Photos:
---
Trail Map and Activities
Try out our Winter Geocaching or Orienteering Challenges while you're on your snowshoes. Can you find all 20 signs throughout the park? 
For details on the Voisey's Brook Park trail system and park amenities, visit the page below: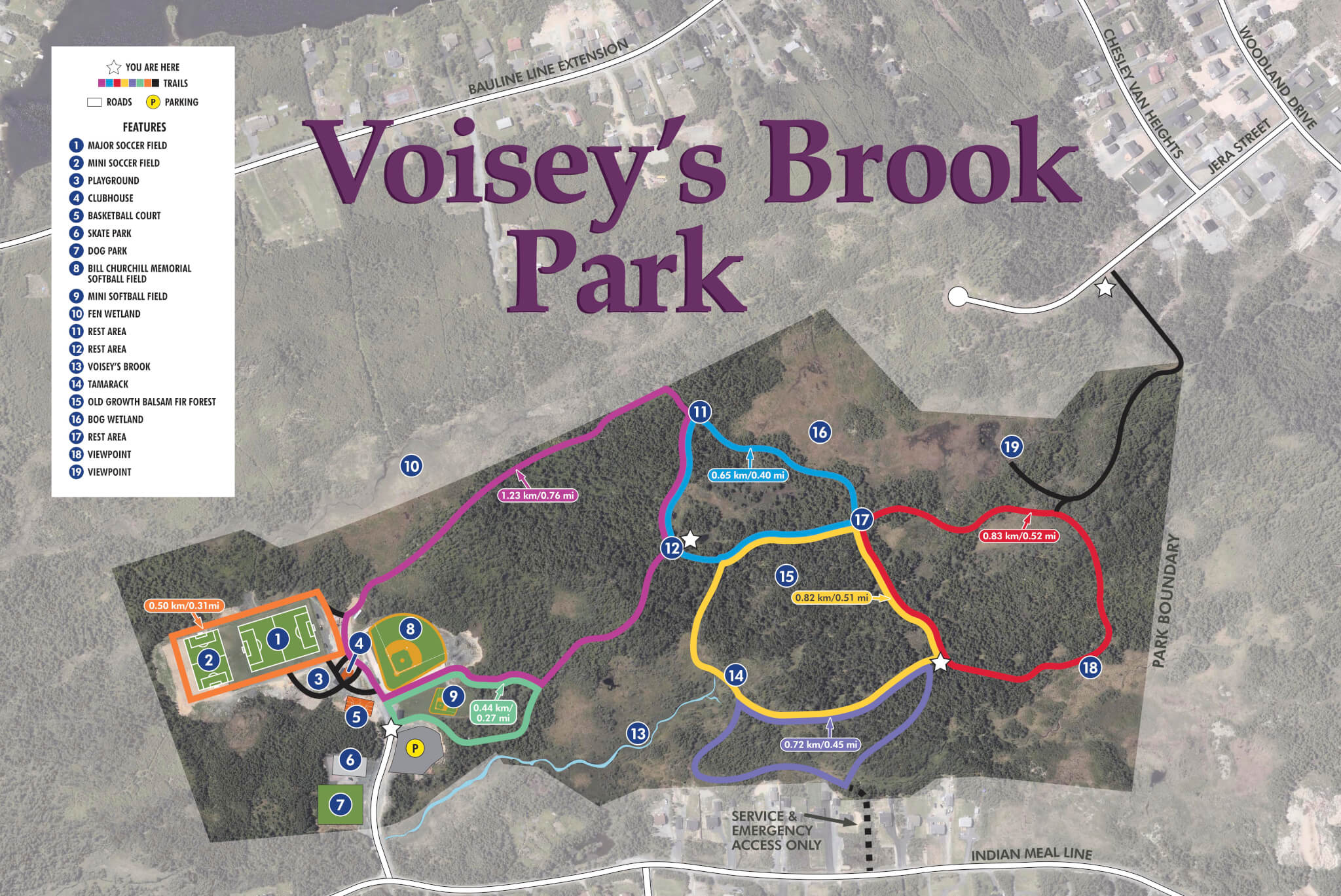 Contact Our Staff
Send us a Message