Sign Up for Safety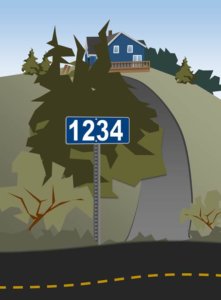 The Lions club are always finding new ways to help make our community a better place for everyone! The PCSP Lions Club, in partnership with the Town of Portugal Cove – St. Philip's are proud to continue the "Sign Up for Safety" civic numbering program. The campaign will help make sure all homes have civic number signs that can be clearly viewed.
Having an easily identifiable number sign helps emergency responders when they need to find a home quickly. By making a simple change and clearly numbering your home, you could save a life!
How to Order
The cost is $30.00 for a sign to be installed, which includes two-sided reflective numbers and a post.
To place your order, contact the Lions by phone at 895-0472 or via Facebook Messenger on their Facebook page at:
---
---
Connect with Us
The Lions meet twice monthly with service opportunities that can fit your lifestyle. New members are always welcome!
To learn more:
---
About the Lions
Lions Clubs International is the world's largest service club organization with more than 1.4 million members in approximately 46,000 clubs in more than 200 countries and geographical areas around the world. Our local lions show endless support and compassion for those in need in our community! Recently, the Lions have supported our community in the following ways:
Continued to collect prescription eyeglasses, readers, and sunglasses for those in need.
Purchasing a southpaw steamroller deluxe for the Special needs classroom at Beachy Cove Elementary, which helps children with autism with motor skills and muscle relief.
Purchased a BBQ grill for the Brookside Intermediate School.
Supported the Bell Island and Northeast Avalon Foodbanks.
Continued a fundraising partnership with Brookside Intermediate for weekly ice cream sales.
Purchased 10 white canes for the visually impaired.
Financial support to the Lion Max Simms Memorial Camp in Bishops Falls – a special place for special people!
Donated to the Lions Clubs International Disaster Relief fund.
For World Service Day the Lions conducted a community up throughout the Town.
Upcoming in the fall we are hosting a Seniors Digital Literacy program. Stay tuned for more info!
Send us a Message