Canning Workshop with Amanda Bulman
Join the Town of Portugal Cove – St.Philip's and author of Salt Beef Buckets, A Love Story, Amanda Bulman in our exclusive canning workshop on June 15th, 2023. Amanda will take participants through traditional canning basics and food preservation, that are a long standing tradition in Newfoundland and Labrador.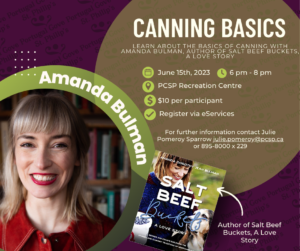 Thursday, June 15th, 2023
6:00 pm – 8:00 pm
PCSP Recreation Center
$10 per participant
Registration is now open via eServices, with limited spots remaining! Questions? Contact Julie at [email protected]
We can't wait to see you!