Road Closures for Annual Town of PCSP and Volunteer Fire Department Christmas Parade
Press Release
For Immediate Release: Wednesday, December 4th, 2019
Road Closures for Annual Town of PCSP and Volunteer Fire Department Christmas Parade
Temporary Closure of Thorburn Road from St. Philip's Marina to Recreation Centre
The Annual Town of Portugal Cove-St. Philip's (PCSP) and Volunteer Fire Department Christmas Parade is set to take place on Sunday, December 8th, 2019 at 2:00pm, weather permitting.
In the interest of public safety related to the growing number of parade spectators each year, and with the permission of the Department of Transportation and Works, Thorburn Road (from St. Philip's Marina to Recreation Centre, behind the Town Hall at 1119 Thorburn Road), will be closed on Sunday, December 8th, 2019 from 1:30pm – 3:30pm to allow for a safe parade route. All access to smaller roads and side streets along Thorburn Road between the St. Philip's Marina and Recreation Centre will also be closed starting at 1:30pm. There will be signage and traffic control staff identified throughout the route for the duration of the road closures in order to ensure the safety of all patrons. For further clarity, please see the map below outlining the exact location of the closure.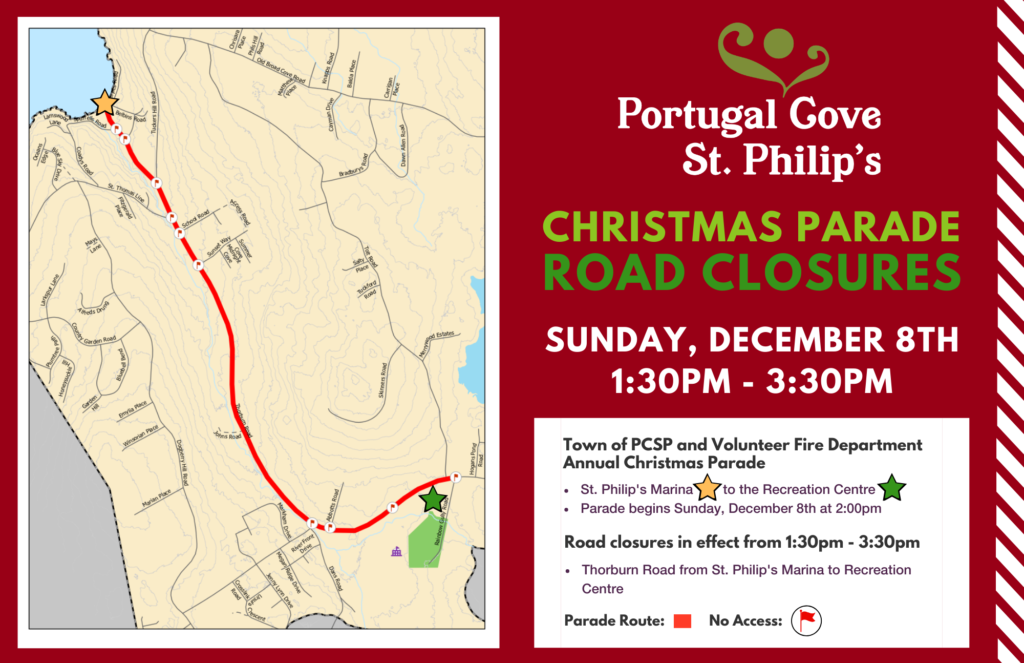 Drivers are asked to please use extra caution on the day of the parade, as a large number of families and young children are anticipated to be in attendance of the event.
Further details and a full schedule of Christmas events can be found online at:
https://pcsp.ca/recreation-programs
-30-
Media Contact:
Stephanie Tucker
Communications Coordinator
Town of Portugal Cove–St. Philip's
709-895-5676
[email protected]
Event Specific Contact:
Nicole Clark
Special Events Coordinator
Town of Portugal Cove-St. Philip's
709-895-5662
[email protected]
---
For a list of all our press releases, visit the page below: