Remembering Former Town Librarian Joanie White
The Town of Portugal Cove-St. Philip's is remembering Joanie White, a former member of the Town staff.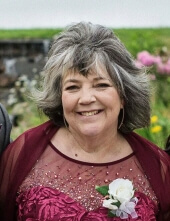 Joanie worked for the Town for over 25 years as the Librarian. She first worked for the Town of St. Philip's, and then the Town of Portugal Cove-St. Philip's after amalgamation in 1992. She was a wonderful person and a truly valued member of our team.
Kind, generous and supportive, Joanie was well-loved and always had a lot of love to give. Passionate for early childhood literacy and community, "Story Time" was the highlight of her career as librarian for the town of Portugal Cove – St Philips. Always swift to help others, Joanie lit up the room with her stories and bright outfits. She was proudly committed to the Women's Institute (PCSP chapter) and thoroughly enjoyed her time at the Retired Citizens' Association, particularly the exercise class group.
Town council and staff send condolences to all of Joanie's loved ones at this difficult time.
Those wishing to view her obituary or send condolences may visit the website below:
https://www.barretts.ca/obituaries/Joanie-Doreen-White-Morris-?obId=25263233