National Child Day – Celebrations All Week!
November 20 is National Child Day in Canada, a day to celebrate the rights of children everywhere to live happy, healthy lives, and to ensure they reach their full potential.
Throughout the COVID-19 pandemic, children and youth have demonstrated extraordinary resilience and leadership. They have been leaders within their families, schools, communities, and even at a national level.
---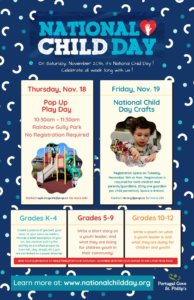 National Child Day Celebrations in the Town of Portugal Cove-St. Philip's:
Pop Up Play Day – Thursday, November 18th, 2021

Rainbow Gully Park
10:30am to 11:30am
No registration required
Contact

[email protected]

for more info

National Child Day Crafts in the Library – Friday, November 19th, 2021

Registration opens on Tuesday, November 16th at 9am through eServices
Registration is required for both children and parents/guardians
Only one guardian per child permitted. Space is limited.
Contact

[email protected]

for more info

Student Challenge – Monday, November 15th to Saturday, November 20th, 2021

Send your submissions to

[email protected]

by Saturday, November 20th for your chance to win a PCSP prize pack!
Grades K-4:

Create a picture of yourself, your class, or your peers as leaders. Provide a brief description of your art. Get creative and try this activity as a crafted project (ie. from felt, clay, dough, etc.) you are not limited to a paper drawing.

Grades 5-9

Write a short story on a youth leader, and what they are doing for children youth in their community!

Grades 10-12

Write a poem on what a youth leader is and what they are doing for children and youth!
---
Check out our plan for the week above or learn more on the National Child Day website!