MS Bike Tour to Take Place on Sunday, September 22nd, 2019
On Sunday, September 22nd the 2019 MS Bike Tour will be taking place throughout Portugal Cove-St. Philip's and St. John's. Please be advised that there may be traffic delays on the roads outlined on the map below due to this event.
Residents are advised to use extra caution on the roadways during this event in order to ensure the safety of all motorists and participants. Thank you for your understanding.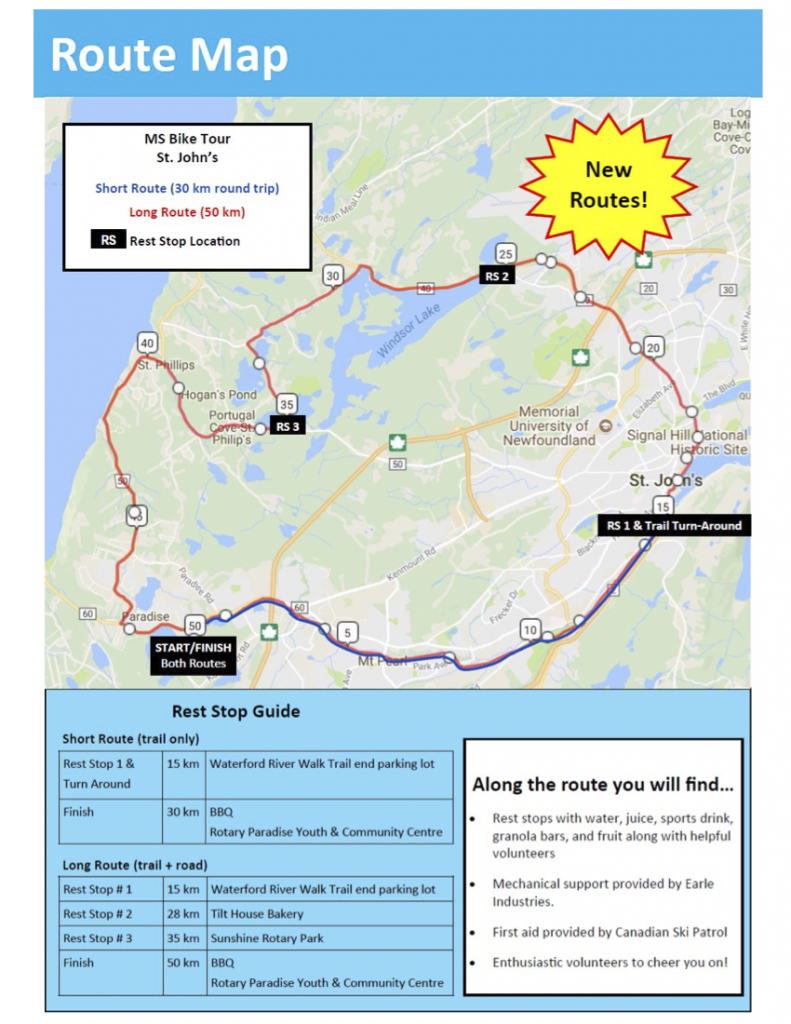 MS Bike Tour Route Descriptions
0 km       Start at the Paradise Rotary Youth & Community Centre
Left on McNamara Drive * Police*
Right on Newfoundland T'Railway
Right on Edison Place
Left on Brookfield Road *Route Marshal Priority 1*
Right on Perlin Street, slight left on Waterford River Walk
Continue on Waterford River Walk
Left on Southside Road
Left onto Waterford River Walk
15 km     Rest Stop #1 – Waterford River Walk Trail (end of parking lot)  (Reverse for completion of Short/Trail Route 30km round trip)
Continue to end of trail
Right on Water Street
Right on Harbour Drive
Right on Duckworth Street
Left on Cavendish Square *Route Marshal Priority 1*
Slight right on Kings Bridge Road
Left on New Cove Road *Route Marshal Priority 2*
Continue on Portugal Cove Road
26 km     Rest Stop #2 – Tilt House Bakery (1194 Portugal Cove Road)
Continue on Portugal Cove Road
Left on Old Broad Cove Road
Left on Bennetts Road
35 km     Rest Stop #3 – Sunshine Rotary Park (parking lot)
Right on Thorburn Road
Left on St. Thomas Line
Continue on St. Thomas Line
Left on Topsail Road *Route Marshal Priority 2*
Slight right on McNamara Drive
50 km     Finish (Long Route) – Paradise Rotary Youth & Community Centre