2020-2021 Best of PCSP Awards
UPDATE: We have extended the deadline to nominate for the Best of PCSP Awards this year. The nomination deadline has been extended to May 7th, 2021! We look forward to seeing the many wonderful nominations from our community members.
---
The Town of Portugal Cove-St. Philip's is pleased to announce we are now seeking nominations for the 2020-2021 Best of PCSP Awards. The deadline to submit nominations is April 30th, 2021 (Extended to May 7th, 2021).
Due to Covid-19, last year's awards were postponed and will now be combined with this year as the 2020-2021 Best of PCSP Awards. Anyone who submitted a nomination last year will be included this year and may send additional materials to support their submitted nomination. The annual Best of PCSP Awards celebrates outstanding community involvement, enthusiasm, and dedication.
CLICK HERE TO NOMINATE FOR THE 2020-2021 BEST OF PCSP AWARDS
The categories for the Best of PCSP Awards are:
NEW AWARD: Artist of the Year
NEW AWARD: Lifetime Achievement Award
Youth of the Year
Senior of the Year
Service Group of the Year
Female Athlete of the Year
Male Athlete of the Year
Team of the Year
Coach of the Year
New Business of the Year
Business of the Year
Employee of the Year
Volunteer of the Year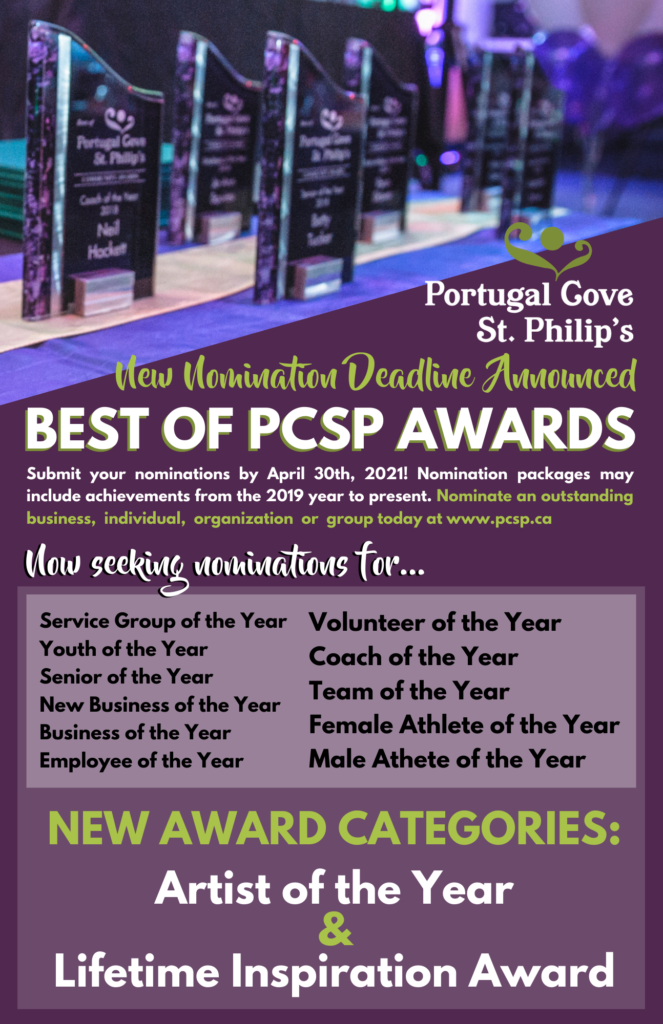 ---
Click here to watch our video about the new Artist of the Year award category!
---
Click on the links below for past recipients and further details: 
Send us a Message