PCSP Environment Fair
PCSP Environment Fair
Free Community Event
Saturday, April 22nd, 2017
10 a.m. – 2 p.m.
St. Lawrence Anglican Church Hall, Portugal Cove – St. Philip's (across from Post Office)
See a real 30 foot Minke Whale Skeleton and then test drive an electric car. These are just two of the very unqiue and exciting opportunities at the 2nd Annual PCSP Environment Fair, hosted by the Advisory Committee on the Environment and the Town of Portugal Cove – St. Philip's. With over 20 displays and featured presentations you will learn more about environmental issues facing our community and how you can help.
There will be free face painting, door prizes, givaways, dropoff for your used electronics and eye glasses for recycling and meet some live animals too!
Advisory Committee on the Environment
Electronic Products Recycling Association (EPRA NL)
Green Rock EVS
East Coast Trail Association
Nature NL
Food First NL
Stewardship Association of Municipalities (SAM)
Ducks Unlimited Canada
Beachy Cove Elementary School
Parks Canada
Whale Release and Stranding
Department of Forestry NL
PCSP Farmers
Murray's Garden Centre and Horticultural Services
Northeast Avalon Atlantic Coastal Action Project (NAACAP)
Boulder Publications
A Pygmy Goat
PCSP Hiking/Walking Club
Tiber River Naturals
Create a Face NL
Conservation Corps NL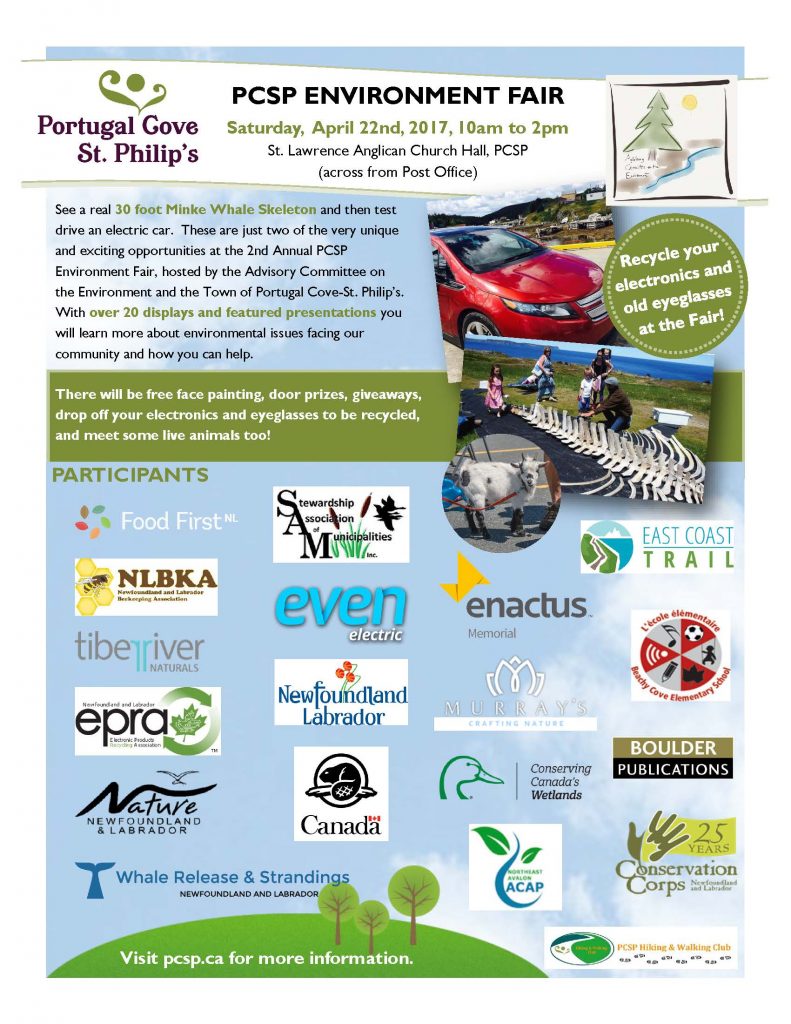 Send us a Message