Municipal Earth Day Contest
Municipal Earth Day Contest Overview
Looking for an easy way to make a difference for our environment? Switch to paperless ebills with Newfoundland Power.
From April 22 – June 22, the town that has the largest number (per capita) of residents sign up with ebills wins a prize pack worth $1000. Three individual participant prizes of Apple iPads will also be awarded!
The Town of Portugal Cove-St. Philip's is committed to protecting our environment. Saving paper is a great way to cut down on waste, conserve water, and save resources like trees!
Why should you go paperless? 
No clutter, no mess.
Access anytime, anywhere, even on your mobile device.
Get a reminder email two business days before your discount date.
Looks the same as your paper bill.
Need a copy? Save it electronically and eliminate the paper.
You can view up to 36 months of ebills and eletters.
Sign up here and switch to ebills today:
https://newfoundlandpower.com/en/My-Account/Billing/eBills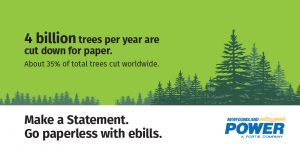 Send us a Message