Upcoming Boreal Poetry Garden Events
The Boreal Poetry Garden is an independent project by Portugal Cove-St. Philip's resident, Marlene Creates. Part multidisciplinary nature walk, part place-sensitive collaborative performance, part eco-poetry reading, part multi-sensorial live-art event, part socio-eco undertaking, and part creative gathering for arts and science.  This is the 11th year of public events in The Boreal Poetry Garden, which over 800 people have attended.
---
Rambles and Mammals: Feet Following Paws and Hooves
in The Boreal Poetry Garden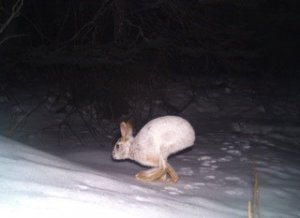 Details from the series What Came to Light at Blast Hole Pond River, Newfoundland 2015–ongoing by Marlene Creates (photos by motion-detection trail cameras)
This summer, the events in The Boreal Poetry Garden will focus on local wildlife and various human and animal  movement through the site. Some surprises will be afoot in The Boreal Poetry Garden.
Collaborators: Rita Anderson, Marlene Creates, Jack Eastwood, and Don McKay.
Saturday July 6 at 2:00 pm

 (rain date Sunday July 7 at 2:00 pm)

Tuesday July 16 at 7:00 pm

(rain date Wednesday July 17 at 7:00 pm

Wednesday July 24 at 7:00 pm

(rain date Thursday July 25 at 7:00 pm)
Limited to 25 people. All ages are welcome. Advance registration is required. To register and for directions: [email protected] or phone 709.895.1020
general $25 | students & seniors $20 | children $10
Rita Anderson is a cognitive scientist with a focus on the use of visual imagery in human cognition, while her research in animal behaviour examines canine (dog, wolf) social behaviour, as well as harbour seal and caribou behaviours. She is currently an Honorary Research Professor in the Department of Psychology at Memorial University. She says, "I fantasize that someday we will be able to experience our world through the senses of other species so as to gain a greater understanding of their realities."
Marlene Creates is an environmental artist and poet who received a 2019 Governor General's Award in Visual and Media Arts. A retrospective exhibition of her work, titled Marlene Creates: Places, Paths, and Pauses, is touring nationally and will open at The Rooms Provincial Art Gallery on Friday October 18, 2019. "I've learned recently that the events in The Boreal Poetry Garden could be seen as a genre of site-specific art called Environmental Performance Sculpture, which 'heightens the experience and awareness of life itself.' I really like the sound of that."
Jack Eastwood says, "Of the many talents that I exercise during the run of any given year, the one that has always eluded me is writing a bio. I was up at 5 a.m. thinking what will I say? That's the time in the morning when the mind's light goes on and shines onto what I perceive as an empty field or, if not empty, a field strewn with a carpenter's tools, a writer's pen, a designer's callipers, a plumber's torch, an actor's script, a garden's rake, a sculptor's chisel and, I say to myself, which of these?"
Don McKay is a poet and essayist who has published numerous books that have won many awards, including two Governor General's awards for Literature and the Order of Canada. Don says, "I began my career with The Boreal Poetry Garden as the parking attendant, and my duties now include security, box office, and assistant principal moose horn."