Town Flag Lowered to Half-Mast in Memory of Long-Time Town Staff Member Chris Neary
In honour and in memory of former staff member Chris Neary, the Town flag has been lowered to half-mast.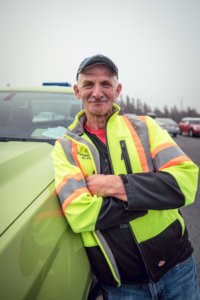 After a dedicated 20-year career with the town, Chris retired in September 2021. He began his career with Portugal Cove-St. Philip's in 2001 as a Heavy Equipment Operator, following the purchase of the first Town-owned piece of heavy equipment.  Chris continued to work many years in Public Works, including as Foreman of Public Works, Foreman of the Streets Fleet, and Waste Management division, and as Lead Hand. Most recently he worked in the role of Special Projects & Occupational Health and Safety Advisor for the town, where he made a huge positive impact on the workplace safety of all staff members. His commitment and contributions to the town are highly valued, as he poured his heart and soul into his job.
Chris' coworkers and friends agree, you would be hard put to find a truer gentlemen. His kind spirit and gentle nature were admired and respected by all who knew him in the workplace.
On behalf of Council and staff, we send sincerest condolences to the family and all those who knew Chris. May he rest in peace.