Super Science PD Play Day Scheduled for November 27th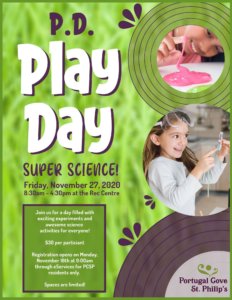 The Town of Portugal Cove – St. Philip's would like to welcome participants to a PD Play Day – Super Science!
During this time, there is much uncertainty regarding regular programming, given the situation is ever-changing, we have to be flexible. There are many restrictions in place for the alert levels that we must adhere to in order to offer a program.
The goal of this program is offer participants socialization while having active, fun, and safe days with their peers. We ask for everyone's co-operation in following the procedures in place for these days to run successfully and within a safe manner.
PLEASE CLICK HERE TO READ THE PD PLAY DAY OVERVIEW DOCUMENT FOR FULL PROGRAM DETAILS
Registration:
Registration for PCSP residents will take place on Monday, November 16th, 2020 beginning at 9:00am.
Registration will be completed via eServices, and open to Portugal Cove – St. Philip's Residents only. Please make sure your eServices account is up to date, subaccounts created for participants prior to November 13th.
Program Date:
Friday, November 27th, 2020
Hours: 8:30am – 4:30pm
Drop off will run from 8:30am to 9:00am, and pick up from 4:00pm – 4:30pm. Participants will not be permitted to be signed in or out outside of these times.
Ages:
Beachy Cove Elementary ages K (born 2015) to Grade 4 (born 2011) may participate. All participants must be residents of Portugal Cove – St. Philip's.
Cost:
The cost per day, per participant is $30.
Location:
Program will run from the Portugal Cove – St. Philip's Recreation Centre, as well as Rainbow Gully Park.
---
Further details can be found in the PD Play Day Program Overview Document