PCSP Tourism Information Session Taking Place on Wednesday, January 9th, 2018
Join the Chamber of Commerce, Town Council, and Department of Tourism, Culture, Industry, and Innovation for a series of Tourism Planning workshops and events.
The first session is coming up this Wednesday, January 9th from 6:30pm to 9:00pm at Murray's Pond Fishing and Country Club. This Tourism Information Session will be followed by the Chamber of Commerce AGM. All are welcome and encouraged to attend!
PCSP Tourism Information Session

Let's build a vision that supports tourism in PCSP together!Join us on Wednesday, January 9th from 6:30pm – 9pm for a Tourism Information Session at Murray's Pond Fishing & Country Club.More: https://pcsp.ca/article/pcsp-tourism-information-session-taking-place-on-wednesday-january-9th-2018/

Posted by The Town of Portugal Cove – St. Philip's on Monday, January 7, 2019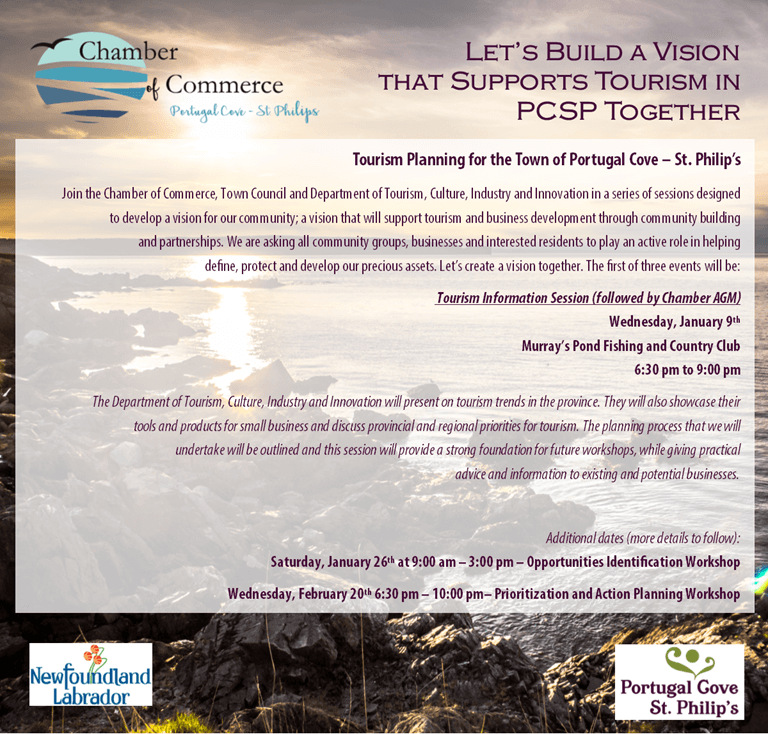 PCSP Tourism Information Session

Let's build a vision that supports tourism in PCSP together!Join us on Wednesday, January 9th from 6:30pm – 9pm for a Tourism Information Session at Murray's Pond Fishing & Country Club.More: https://pcsp.ca/article/pcsp-tourism-information-session-taking-place-on-wednesday-january-9th-2018/

Posted by The Town of Portugal Cove – St. Philip's on Monday, January 7, 2019