National Child Day 2022
November 20 is National Child Day in Canada, a day to celebrate the rights of children everywhere to live happy, healthy lives, and to ensure they reach their full potential.
Children and youth demonstrate extraordinary resilience and leadership –  they have been leaders within their families, schools, communities, and even at a national level.
We're celebrating National Child Day with a contest for all ages:
Child & Youth Challenge – Tuesday, November 15th to Sunday, November 20th, 2022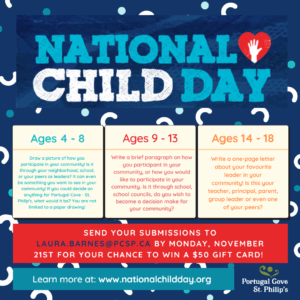 Children 4 – 8 years old:

Draw a picture of how you participate in your community! Is it through your neighborhood, school, or your peers as leaders? It can even be something you want to see in your community! If you could decide on anything for Portugal Cove – St. Philip's, what would it be? You are not limited to a paper drawing!

Children 9 – 13 years old:

Write a brief paragraph on how you participant in your community, or how you would like to participate in your community. Is it through school, school councils, do you wish to become a decision make for your community?

Youth 14 – 18 years old:

Write a one-page  letter about your favourite leader in your community! Is this your teacher, principal, parent, group leader or even one of your peers?
Have your guardian/parent send your submissions to [email protected] by Monday, November 21st at 4 pm  for your chance to win a gift card of $50! There will be one winner per age group, and submissions will be property of the Town of Portugal Cove – St. Philip's.
You can learn more about National Child Day here and download fun colouring pages, resources and more!