Holiday Waste Collection Notice and Reminders
If your regular collection day is Friday, please note the slight schedule change for Friday, December 24th and Friday, December 31st, 2021. Your collection day remains the same, but we are asking all residents to have garbage and recycling out by 7am on the 24th and 31st due to a shortened collection schedule for the holidays.
Due to the upcoming holidays, the Town Office and facilities are closed from:
Closed on Friday, December 24 (update: please note, the office will now close as of Thursday, December 23), re-opening on Tuesday, January 4th
In case of emergency, our Town phone line is available to residents 24/7 by calling 895-8000
Thank you for your cooperation. Wishing you and your family a wonderful holiday season from the council and staff of the Town of Portugal Cove-St. Philip's.
---
Waste Collection Notices:
Please ensure your garbage boxes or bins are cleared of snow, salt the area, and there is a clear access to the box.
We encourage residents to use snow stakes, markers, or plow stakes to mark your garbage boxes. These simple visual aids are a great way to assist our snow plow operators and protect your property and garbage boxes during our snowy winter season.
If you are placing your garbage or recycling bags curbside, please remember to net/secure your bags during the winter season so they do not blow away.
Waste Disposal Tips:
Gift wrap (excluding the cardboard roll it comes on), tissue paper, and gift bags are not recyclable. Please place these items in your regular garbage bags for disposal. A full list of what is and isn't recyclable can be found here.
Protect your collectors! Place all needles and other sharps in a sharps disposal container before placing them in your garbage bags.
Parking and Snow Clearing Reminders:
The parking ban is in effect until April 30th, 2022. Please ensure your vehicles are not parked on the roadside during this period.
When there is a snow event, please do not throw, blow, or plow snow into the roadway as this is a hazard to everyone and will result in fines. The complete Snow Clearing Regulations can be found here.
If possible, we ask that residents use reflective markers on their property boundaries to help prevent damage during snow clearing operations.
Please remember your neighbours who may not be able to clear access to their property and check on them from time to time.
The Town of Portugal Cove-St. Philip's Department of Public Works wishes all residents a wonderful holiday season and a very merry Christmas!
---
Our 2022 Waste Collection Schedule is also now available. A copy of this schedule will be mailed to all households in the coming weeks.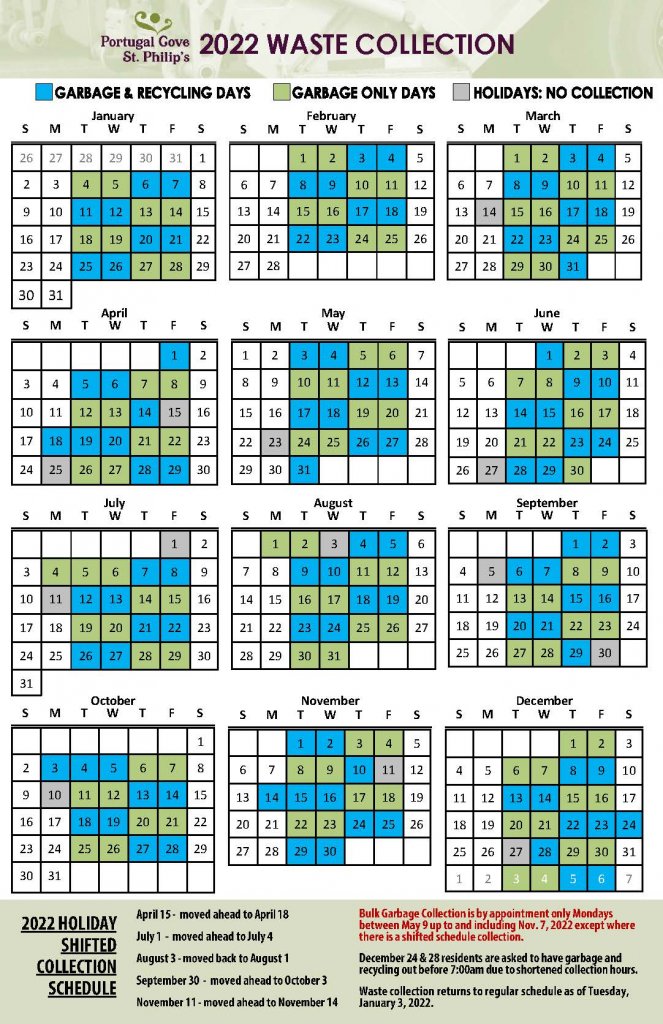 ---
For further details on waste collection in PCSP, please visit: