2022 Summer Camp Details Released
Save the Date: Registration will take place at 9:00am on Thursday, May 12th, 2022 via eServices for PCSP residents only.
* If space allows, a non-resident registration will take place on Thursday, May 19th, 2022. *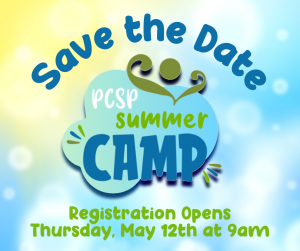 ---
Overview
Summer camp is back for another exciting year of fun in Portugal Cove-St. Philip's! Camp runs each week from Monday, July 4th to Friday, August, 26th, 2022. This summer, camp will take place at:
Brookside Intermediate
Beachy Cove Elementary
PCSP Recreation Centre
Registration
Registration will take place on Thursday, May 12th, at 9:00am for residents of Portugal Cove-St. Philip's only. If space permits, a non-resident registration date will be announced.
Registration will be completed via eServices, and open to Portugal Cove – St. Philip's residents only. Please make sure your eServices account is up to date, and subaccounts created for all participants prior May 9th, 2022.
To create a new account if you have not used eServices before, a Sign-Up Key can be found on your Tax Bill, or by contacting our Accounting Technician, Joe Donkers, by phone at 895-8000 ext. 260 or by email at [email protected]

A Sign-Up Key is 8 characters (could be numbers or letters) located in a box at the bottom of your tax bill.

Once registration is opened, an event for each site will be displayed. In each event there is a drop down box per week (eight weeks of summer program).
If you wish to add particiant(s) to the cart you'll select the week and hit "add to cart."
To add additional weeks, change the drop down menu in the event to the weeks desired and continue to add to cart.
When you're ready to check out, click on the cart, make sure to read the terms and conditions of the Town (link in blue), and then check out with credit card or a Visa-debit card. American Express is NOT accepted.
Pay Later is an option, but you will need to then create the Town of Portugal Cove – St. Philip's as a bill payee through online banking and transfer the funds. Email transfer is not accepted if you choose the pay later option.
Program Dates:
Week 1: July 4th to July 8th, 2022
Week 2: July 11th to July 15th, 2022
Week 3: July 18th to July 22th, 2022
Week 4: July 25th to July 29th, 2022
Week 5: August 1st to August 5th, 2022 (*4 day week, Regatta Day Closure)
Week 6: August 8th to August 12th, 2022
Week 7: August 15th to August 19th, 2022
Week 8: August 22nd to August 26th, 2022
---
For more information, contact Mike Stone at 895-5671 or [email protected]